Find below the pictures of celebrity hairstyles at HBO's "True Blood" Season 4 Premiere
Anna Paquin hairstyle: Neat and chic hair up do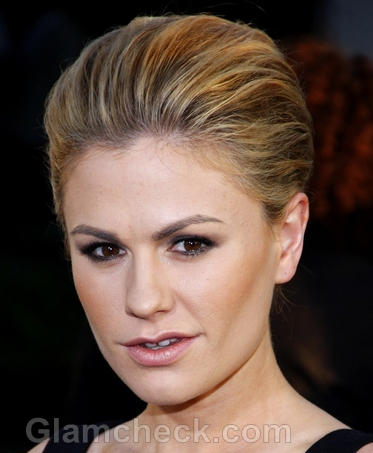 Anna Paquin also known as Sookie Stackhouse in the True Blood series on HBO was her usual stylish self at the recently held premiere of True Blood Season 4 at Los Angeles.
Anna Paquin wore a black sheer square neck, mini dress from the 2011 fall/ winter collection of Versus.  Hair up-dos are always great at a formal event and Anna sure knew how to nail the look. She wore her golden brown hair in a super sleek up do, by combing all of her hair back. The back of her hair was tied into a neat French roll, lending her the maturity and elegance that so worked for her. No wonder then, that Anna was voted as one of the most stylish stars present at the premiere.
What do you think of Anna's stylish hair up do?
Carrie Preston Hairstyle : Red Hair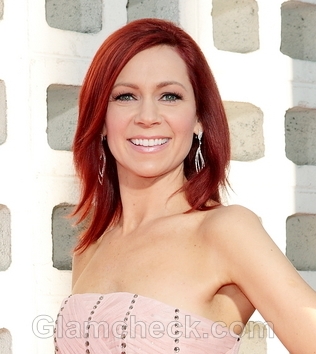 As a vampire who is loved by a lot of telly watchers, Carrie Preston, sure does one hell of a job, in playing the role of a waitress Arlene Fowler in the popular TV series True Blood.
At the recent premiere of True Blood – season 4, at Los Angeles, Carrie Preston arrived wearing her on screen hair colour – a beautiful red. The only thing was, during the filming of season 3, Carrie actually dyed her blonde hair to a walnut reddish brown, similar to the character of Arlene, she is playing on screen.
We can easily see why – the red colour really suits her and we have millions of fans of the TV show to vouch for that. Her hairstyle at the premiere event was a modest open hair style, with the razor sharp edges of her shoulder length hair framing her face.
Carrie looked confident and we wish her the very best for an outstanding performance for the soon to be aired season 4 on HBO!
Evan Rachel Wood Hairstyle : Pixie cut!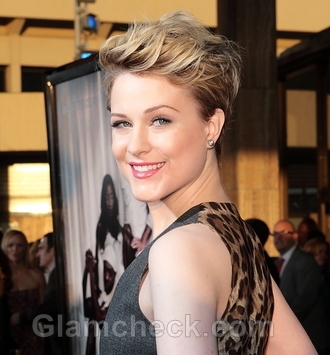 The fun, bold and fearless Evan Rachel Wood, who plays the character of Sophie Anne Leclerq in the popular HBO series True Blood, arrived looking smart in a short pixie cut hairstyle at the Season 4 premiere at Los Angeles recently.
Evan previously had shoulder length hair. The new pixie cut, with the front hair blown upwards carelessly, suits the androgynous style of Evan, who was also dressed in a grey Dolce and Gabbana grey pants and vest with blood red suspenders and an animal print back. The blonde hair colour has always suited the light skin tone of Evan and the new hair cut takes the style statement of Evan a notch higher than her contemporaries.
Deborah Ann Woll Hairstyle : Pulled back and tied into a low bun
Deborah Ann Woll, who has been a part of the earlier seasons as well and plays the character of Jessica arrived at the premiere of the season 4 of one of the most popular Vampire inspired series on HBO – True Blood looking every inch the beauty that she is.
Deborah's light golden hair were parted neatly on to one side and were neatly combed back to form a low bun, resting at her nape. Deborah's pulled back hairstyle was simple yet elegant and suited her a lot and brought focus to her smoky eyes and red lips.
Alexandra Breckenridge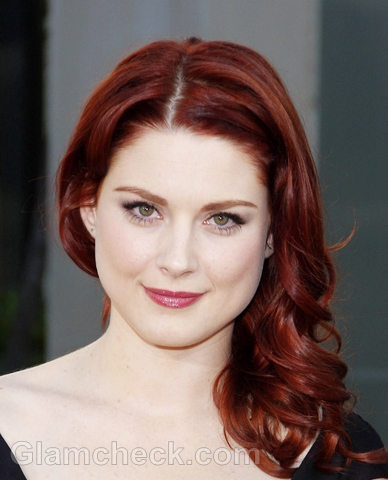 Alexandra Breckenridge, who is rumoured to be playing Daisy in the upcoming True Blood – season 4 series of HBO, arrived at the premiere of the show recently held in Los Angeles.
Alexandra looked chic in a black fitted sleeveless dress. However, it was her simple yet classic hairstyle that caught our attention. We know that red as a hair colour is in, thanks to Rihanna. But the hair colour which Alexandra was sporting was not exactly red – a shade darker than red and bordering on mahogany suited her pale skin tone.
Alexandra had parted her hair in the middle and swept the open hair to one side. Her hair ends were loosely falling in curves on her shoulder.
We adore the simple yet elegant and richly coloured hairstyle of Alexandra!
Image: P R Photos