Traveling is definitely one of the most fulfilling experiences. Whether it is for recreation or work, traveling to another place always leaves you with a bunch of memories and loads of fun. But to ensure that you have a pleasant and memorable journey, choose clothes that not only make you relax but also increase your style quotient on the go.
Travel Clothing for Women
When it comes to travel clothing for women, there are loads of options in the style and materials available that are made specifically for ease during travel. New technology is making travel clothing for women even more exciting and hassle free. Fabrics such as extra light cotton fabric, sweat resistant clothing, wrinkle free fabric and stretchable clothes are a boon to frequent travelers. While choosing travel clothing, one must always keep in mind the climate of the place where one is headed. A hot or tropical weather will require a completely different set of travel clothes as compared to a colder area. But the bottom line for choosing travel clothing is comfort. The clothes must be comfortably fit and durable enough to withstand wear and tear.
Here are some staples when it comes to travel clothing for women:
Travel Clothing : Women Bottom wear
Women linen pants are both classy and comfortable. A pair of lose linen pants of good quality can work well for most kinds of travel. This particular travel clothing item can pass off as formal as well as casual wear, depending on what you wear on the top or how you accessorize it. 
A set of shorts or capris are a must keep when traveling, especially if you are going to a warm climate. Try not carrying denims because they are heavy and will take up a good amount of space in your suitcase.
Travel Clothing : Women Top wear  
For warm climate, cotton shirts or kurtis are ideal. A long shirt will make you feel both comfortable and covered. Long jersey tops are also a good option as they can be rolled up and stored easily. Also, make sure to carry tank tops which come handy for layering and can also be worn solo.
A summer dress is a good option to slip into on a hectic day of travel. Make sure the fabric is light weight and the dress is not too clingy.
Footwear for travel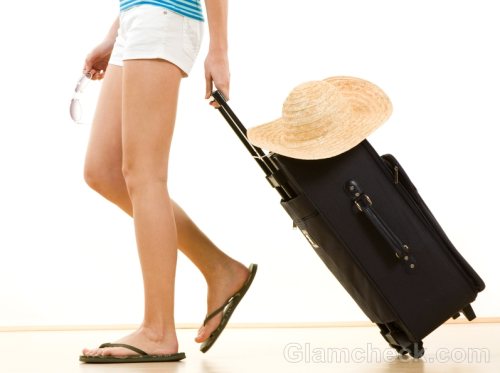 Travel footwear for Women
This is one of the most important aspects of travel clothing for women. Footwear must look good at the same time, not leave you with blisters. Pick flip flops with cushioning if your journey requires a lot of walking. A pair of shoes that fit you well must also be carried.
Accessories for travel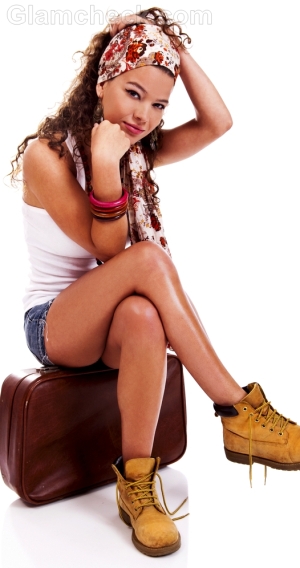 Scarves can prove to be an amazingly useful accessory while traveling. They can be used in various ways and help you overcome the sun and cold winds alike. Scarves not only give you a stylish look but can also help protect your hair from dust and pollution.
A pair of your favorite sunglasses must always be there in your checklist while packing for travel. We will also recommend a foldable hat to battle the sun.
 Do not forget a sarong with your swimwear if you plan on visiting the beach.
A small sling bag becomes really important for carrying cash, tissues and other useful items while keeping your pockets free. 
Be smart while selecting your clothes for travel and opt for items that can be worn twice and paired with numerous other items of clothing in order to carry less but still look new everyday you travel.
Image: Shutterstock