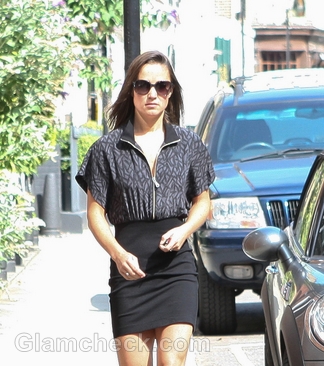 We are not contesting the fact that the new darling of the tabloids and fashion watchers alike – Pippa Middleton is one chic lady. This was reconfirmed when the camera caught her on a casual day's outing on King's Road in London.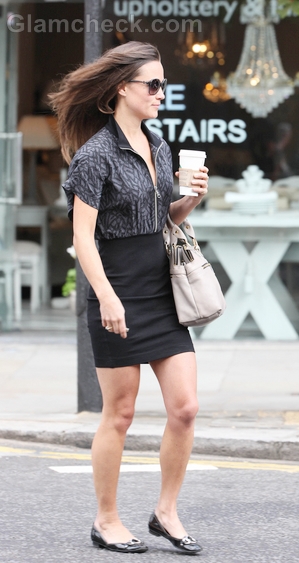 What works for Pippa is the fact that she never "overdoes", whether the occasion is a wedding or a shopping expedition – when it comes to her dressing style. She knows what suits her, and follows her own fashion instinct, which has not really let her down. We have come to recognize her personal style as being fuss free and her clothes usually border on clean cut lines.
A grey and black collared outfit, may look sombre on many, but not on the youngest Ms Middleton. She looked smart in the outfit that had a zipped grey top with black criss cross style prints, and a skirt that ended mid thigh. She paired the ensemble with spiffy black ballerinas and a beige handbag with gold detailing. Her eyes were shaded with black sunglasses. Pippa kept her hair open.
Her chic sense of dressing went hand in hand with her enviably toned body – both of which we admire.
Image: P R Photos