The former American top model was photographed at the Cartier International Polo day at the Windsor Great Park, looking stunning.
The 57-year old celebrity looked so gorgeous she could give any 20-something a run for her money. The long legged model wore a faux-wrap dress in royal blue. The form fitting cocktail dress made the model look delectable. The knee length dress had a v-neck, which accentuated her beautiful, svelte figure. The dress had a skinny belt at the waist, giving her an hour glass figure.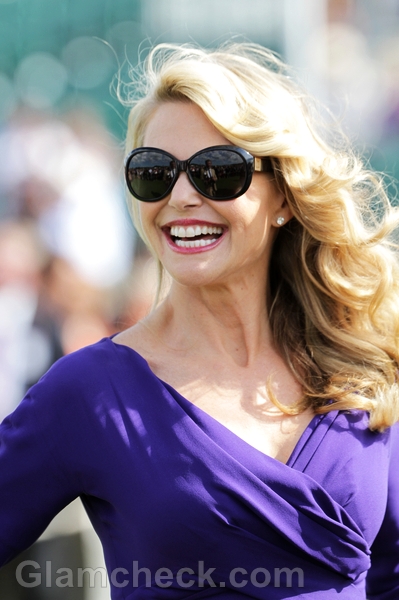 She wore black peep-toes Christian Louboutin heels, adding glamour to the look. The 'Uptown girl' kept the look lithe and carried a black bag matching her footwear.
She accessorised with just a pair of silver ear-studs and a simple yet elegant watch. She wore a pair of black Hollywood shades to protect her from the summer sun in Britain.
She had her blonde locks rolled in perfect curls, to complete the look. The side swept blonde hair gave her a 'barbie'ish look. The tresses took 20 years away from her. They made her look younger and gave her face a delicacy. The vintage hair style is ultra-feminine. The side swept curls are perfect for hair this length and look very polished. This layered hair was styled in such a way that it gave her hair a lot of movement. It complimented her face and gave her a flirty aura. 
The slender, mother of three, looked age defying and relentlessly gorgeous. She stole the thunder from everybody at the event and enjoyed all the attention a lot.
Image: P R Photos