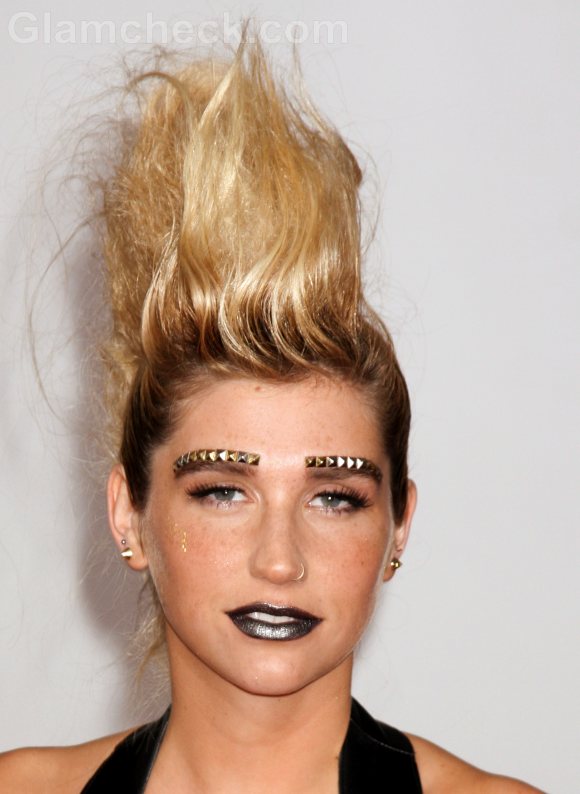 Kesha pulls off dramatic makeup rather easily – I don't know many, Lady Gaga not counting, who would want to sport such makeup or carry it like they were born for it! So, you need to have a bit of courage if you want to pull off such makeup.
Kesha Dramatic Makeup
This look does not need a well applied base. The more your freckles, or for that matter any marks that you consider as imperfection, show, the better it is.
Apply 2-3 coats of mascara and use eyeliner to delicately line your upper eyelid – close to the lashes.
With the help of some adhesive, apply spiky metallic studs in a straight line just above your eyebrows. Alternatively, you can also use crystals, sequins and even rhinestones.
Apply the darkest shade of brown lipstick that you can find, in the market, on your lips. Dab some silver gloss right in the middle of your lower lip and slightly spread it on both sides. Don't forget to outline your lips with a deep dark brown pencil lip liner.
Add some glitter on your cheek.
Kesha Mohawk Hair
Kesha's hair here can be best described as a mohawk done on hair that is longer than what is seen in a normal mohawk generally.
The secret to achieving this hairstyle is to get a hairspray that doubles up as a good holding agent.
Part your hair into two sections in the middle, going from ear to ear.
Tie the back portion of your hair into a tight top knot.
Hold the front portion of your hair up on the middle of your head, between your hands joined together as if in a prayer gesture, and spray liberally with hairspray.
Don't remove the hand until you can feel the hair feeling "firmer" and in place – and, lo behold, you have a mohawk.
Blow dry the hair, for more hold.
You need some false hair, fret not as these are easily available in the market, for achieving the final look. Pin the false hair, in line with your mohawk, on top of your knot – extending till your neck. It should look like the mohawk is naturally progressing into the false hair – to give the impression of one vertical segment from the top of your hair to the neck.
Now ruffle up the false hair to give it a messy, candy floss look. And, repeat the procedure that you followed to create the mohawk on this strip of hair.
If you cannot manage the "holding the hair in place" part or "pinning the false hair in place" part, then take the help of someone around you – maybe your friend, roommate or even your sister or brother – of course you might have to bribe them, but still it will cost you cheaper than the beauty salon.
Image: Shutterstock