Singer Kesha's makeup and hair borders on goth, grunge, edge, messy, punk and rock star, along with her own personal touch, all rolled into one which can be spelled as – F.E.A.R.L.E.S.S. The brand of Kesha makeup and hairstyle definitely draws attention for the right reason and wrong – whatever is the case, one thing is sure that you cannot ignore her.
If you are inspired by Kesha's makeup and hair styles then you are at the right place – we have collected some of her trademark looks on this page and will also unravel how you can do it yourself, i.e. if you want to do so!
Kesha Makeup and Hair: Funky Makeup and Tousled Hair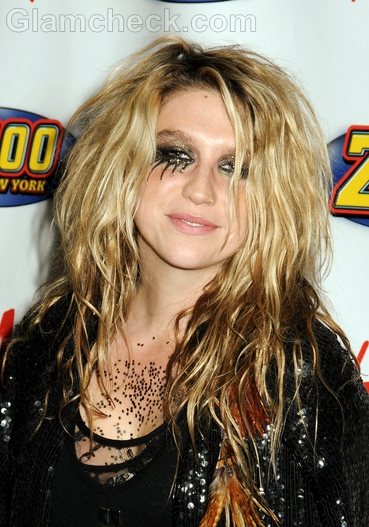 Kesha looks right at home with her funky makeup that makes her look like the Joker – I meant the character from the Batman series. For all you brave hearts out there, who want to sport this look themselves, we have the instructions right here. To do it yourself:
Liberally apply some foundation all over your face and neck to get an even skin tone.
Use a rosy blush on the apples of your cheek.
Apply a generous dose of gold glittery eye shadow all over your upper eyelid, with a touch of gray eye shadow on the inner creases of the eye.
Fill your upper and lower rim with black kohl.
Apply 2-3 coats of mascara. The next stage would be to use your "artistic skills" – you have to start by "drawing" five consecutive "sunray-like" vertical black lines with your kohl pencil. These lines will be equidistant from each other, that is drawn at equal gaps, and should be etched in a descending order – from the outer crease of the eye to the inner crease (see photo).
Now, apply black eye shadow just below the lower lid, and top it up with the gold glittery eye shadow.
Finish the Kesha makeup with a touch of rose-pink shade on your lips.
The hairstyle that Kesha has over here can be easily done at home. To do it yourself:
Apply mousse, even a curling hair product will do for that matter, to slightly wet hair and tie it in a plait and blow dry it. Alternatively, you can wear the plait overnight or for at least 5-6 hours before stepping out. Once you open your hair – believe it or not – your hair will actually resemble Kesha's hair, you just have to shake it out a bit. It is as easy as that!
Kesha Makeup and Hair: Tribal Art Makeup and Messy Hair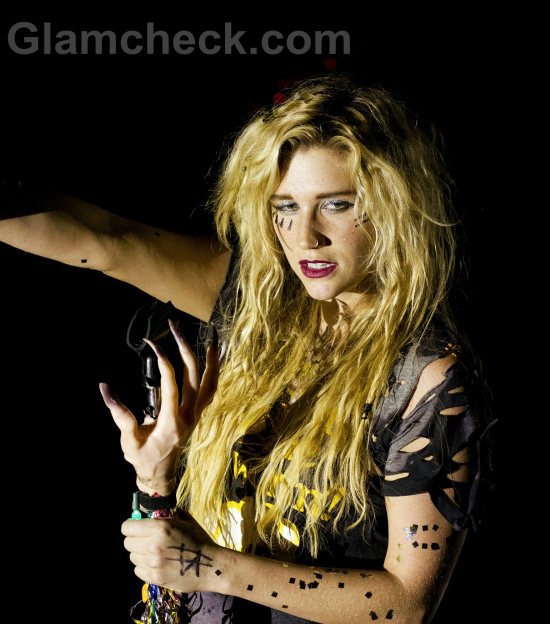 Very few girls can look as at home with mess as Kesha. She shows that one can create an individual brand centered on mess, and some tribal face and body art thrown in for good measure. To do it yourself:
You can skip the base.
Apply some glittery silver-gray eye shadow on your upper eyelid and top up with a coat of mascara – both on the upper and lower eyelashes.
Put a dark shade of magenta on your lips.
Draw random lines near your eyes – think "Red Indian Warrior Chief", and you will know what to do!
To get this particular hairstyle of Kesha – all you need to do is not wash or brush your hair 3 days in a row, and va va voom you will have Kesha hair. It cannot get simpler!
Face Art Makeup and 80s Rock Star Hair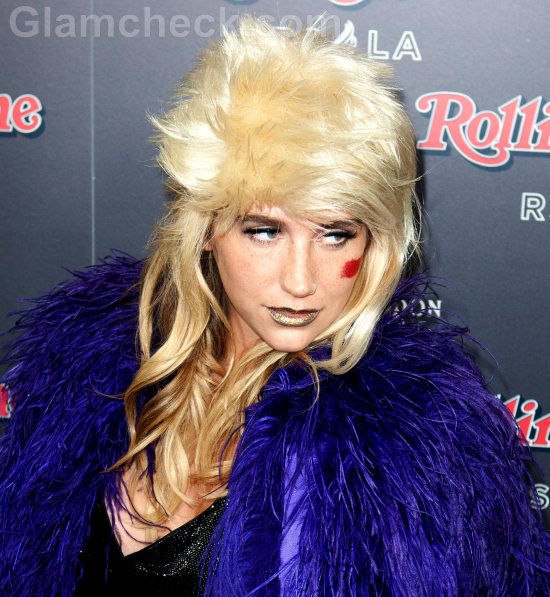 One thing with Kesha is that she is not scared of experimenting with face art – so whether it is tribal art, random designs or "an out of the blue" red circle on her cheeks, she looks comfortable with all. To do it yourself:
Apply a heavy line of black eye liner along the lashes of your upper lip and some mascara on the eyelashes.
Put on a brown lippy and add some gold glitter right in the middle of the lips. If you are not too comfortable with glitter, in which case you should not even try to imitate Kesha's style in the first place, you can apply some shiny gold gloss.
Draw a circle with a red lipstick on your cheek bone and fill it in with the same color. You can even add a star or a butterfly design instead of a circle. It is all about adding your own personal touch!
It might be a bit tricky to copy Kesha's 80s rock hairstyle unless you don't have a similar cut – so you might want to pay a hairdresser a visit. Alternatively, you can buy a wig in this style and sport it with aplomb!
Kesha Makeup and Hair: Smokey Eye Makeup and Bed Head Curly Hair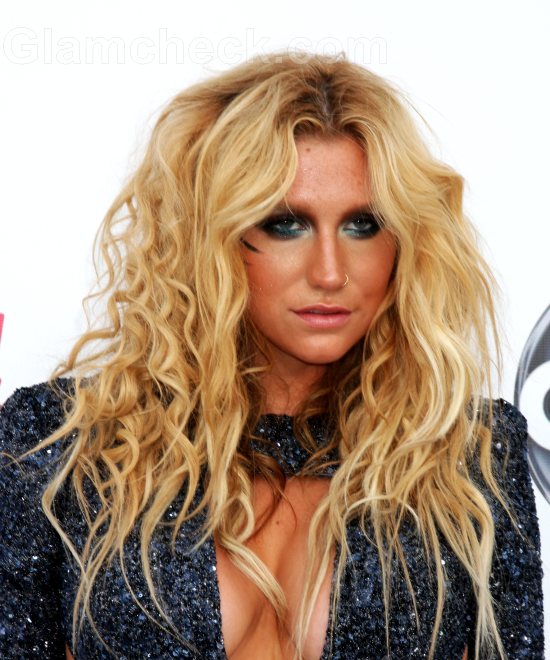 This particular Kesha makeup and hairstyle is easier to pull off in real life as compared to the rest – but then again it all depends on your own personal style. Kesha is seen wearing smokey eyes in this look. To do it yourself:
Apply kohl all around your eyes – on the upper as well as lower eye lid, close to the lashes, and then smudge it with the help of a brush or a q-tip. After this, apply blackish green eye shadow on top of the smudged kohl for added effect. Finish it by applying golden eye shadow on the inner creases of the eye.
A subtle shade of nude pink is all that you need on the lips.
Kesha's hairstyle, as seen in this particular photo, can also be easily recreated. The trick to getting this hairstyle is using hair rollers on wet hair/moussed up hair and blow drying it, before removing the rollers. You can also curl your hair at home with a huge range of hairstyling products and hairstyling tools.
Don't forget to read  tutorial's on Kesha Dramatic Makeup and Mohawk Hair & Kesha Egyptian Eye Makeup
So, if you thought that it would take a lot of effort to bag Ke$ha's style then you couldn't be further from the true – it can be easily recreated and all you need is the right "don't care" attitude to carry it off. I hope you have fun trying out the Kesha makeup and hair!
Image: P R Photos, Shutterstock