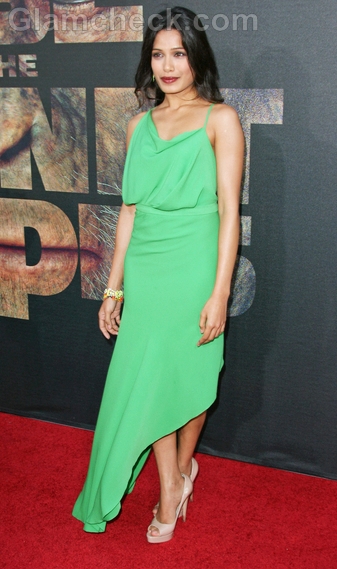 Actress Frieda Pinto was spotted at the Planet of Apes Premiere in Los Angeles in a Juan Carlos Obando gown.
Now the main thing is that I don't know whether to like or dislike Frieda's look. The gown in itself has an interesting drape and Frieda looks fine in it – but it is the color that I have a problem with. This shade of green may not have been the best choice because it makes her look drab. It takes away from her. However, what I do like are the accessories on her arm and ears – very funky pieces there BUT they look more underground club than red carpet.
She paired her dress with nude peep toe pumps. Peep toe pumps in nude or beige seem to be a huge hit with celebrities this season, with every other person sporting them.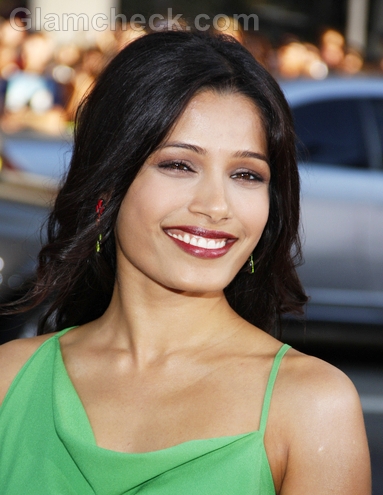 What I definitely do not like is the actress's makeup – it is plain BAD. Frieda is known for her red carpet perfection, and a being stylish. So, it is a wonder, how she could let anyone do that makeup on her face because it does nothing for her! That shade of brownish-red lipstick makes her look as if her blood has been sucked out like one of them vampire movies, and I am not trying to be offensive! There was just too much of brown going on there with the eye shadow being in the same shade. I mean look at it! It makes her look dull, which is a pity. A lighter shade of lipper would have worked wonders here. Frieda kept the hair open in casual waves.
This is definitely not one of Frieda's best look, and we just hope that she is better turned out and looks more like the Frieda we know – for her next appearance.
Image: P R Photos