Model Kelly Brook looked downright stylish, peppy, youthful, refreshing – and we are running out of words here, when she made an appearance in a pair of red shorts as the host for the launch of Bulmers Cider Garden V1 on The Southbank in London recently.
Her look was well put, and nothing about it can draw criticism. She wore a white blouse with her coral red shorts, and gave the ensemble a funky element with a jazzy pair of yellow shades. It was a refreshing burst of color that had something very playful going for it. Bright and colorful shorts seem to be a big trend this season. We recently saw Jameela Jamil in frayed yellow shorts.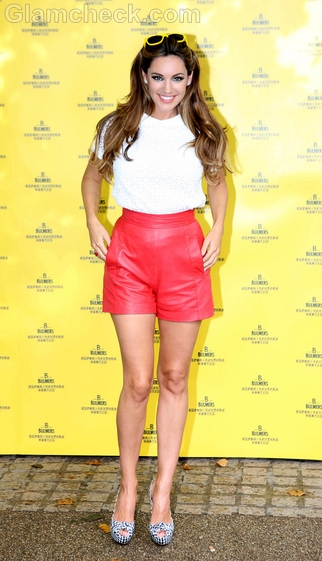 Kelly Brook Coral Red Shorts
What we really dig are those black and white check peep toe pumps – they are gorgeous! And while you are it, can you miss that eye catching red ring? We bet not! She kept the earrings simple. This is what the perfect vibrant look should be, one that is so right and doesn't go overboard.
Kelly's lovely brown hair that has been done in waves is a stunner too. It looks, healthy, glossy and glamorous. The makeup, too, is absolutely delicious. She focused on highlighting her eyes by accentuating them nicely with black liner and mascara. Her lips were a reflection of her coral red shorts – she stuck to the same shade for her lipstick.
The lovely lass looks like any fashionista's dream here and we can go on and on with our praises, because this is one look that we don't mind copying to the T – now only if we had that body!
Image: P R Photos