The recently held CBS, The CW and Showtime TCA Party at the Pagoda in Beverly Hills, California showed us how celebrities are following the sheath dress trend to the brink. There was a large turnout of media personalities who were nattily dressed in this one piece outfit which made us conclude that the celeb sheath dress trend is growing bigger by the day.
When we use the term "sheath dress", a lot of us have the visual imagery of a sleeveless one piece dress – however, this is not all that is there to it. A sheath dress has a lot of different variations in itself, and this point was clearly highlighted by a good number of celebrities who wore this outfit to the event. So, in one evening itself, we were shown a wide range of sheath dresses.  
So, who wore what?
Bianca Kajlich in belted sheath dress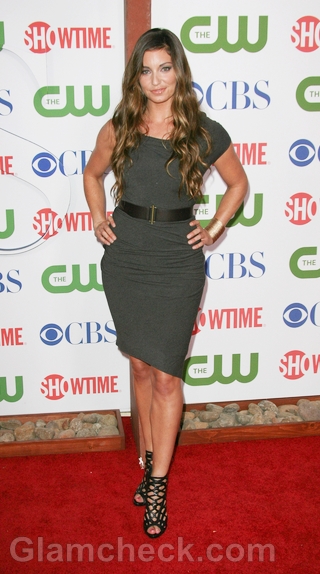 One could see Bianca Kajlich in a grey sheath dress that was cinched at the waist with a belt. The cut of the dress was in the classic sheath dress form. On a different note, I think she could have done a better job with the footwear.
Hill Harper in one shoulder sheath dress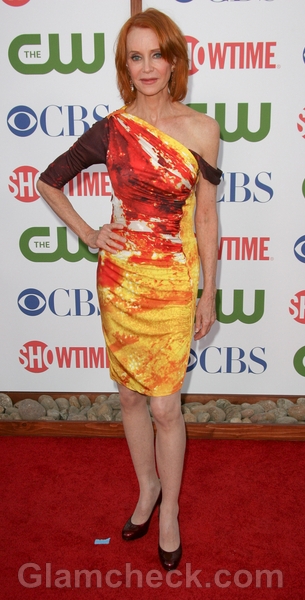 One does not usually relate a sheath dress with a "nearly" one shoulder colourful dress, but Hill Harper showed us differently. A sheath dress does not have to be "typical", and Harper's vibrant take, in yellow, orange, white and ruby – was quite appealing.
Morena Baccarin in ruffled sheath dress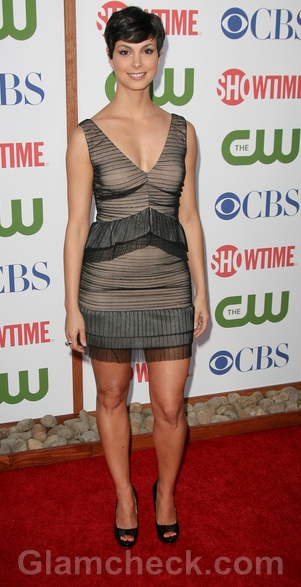 Though I don't particularly like Morena Baccarin's tan and black sheath dress, still I have to say that the outfit is an interesting take on the sheath dress. Like it was mentioned earlier, a sheath dress does not necessarily have to be a strict "sleeveless-body fit-till the knee garment". As long as the basic form is present, the sheath dress can be spiced up with ruffles, lace, tiers, layers and the like. So, we can see how Ms Morena's dress has the typical sheath cut – but it has two extra layers running around the waist, that gives this sheath dress a different interpretation.
Mircea Monroe in zipper sheath dress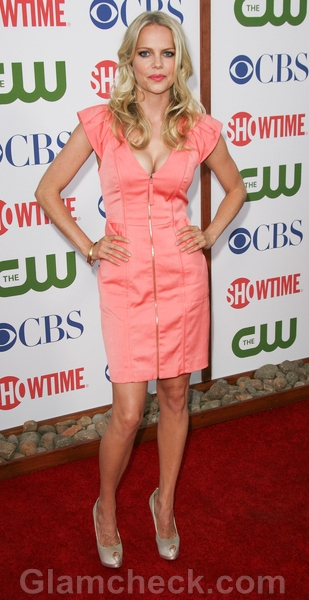 Mircea Monroe's peach pink dress shows how a sheath dress can look cool with a zipper running down its front. Her shoes are however a bit too harsh according to me; another pair could have added more to the dress. 
Poppy Montgomery in off shoulder sheath dress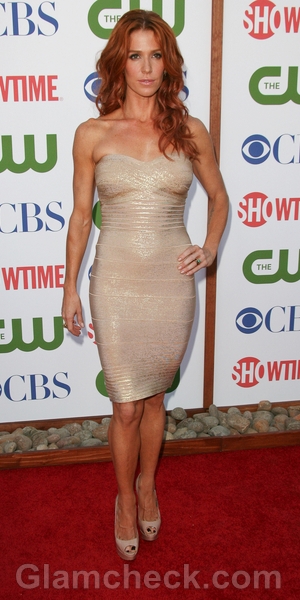 I positively love Poppy Montgomery's shimmery beige off shoulder, bandage styled sheath dress. It surely has the oomph factor and is lending quite a bit of sizzle to the wearer.
So, as you can see, the sheath dress ranges from casual to fun, playful to flirty, vibrant to sizzling – which makes it great for a wide range of occasions. This is the reason why the celeb sheath dress trend is something that we would like to follow too.
However, don't forget to read how to wear sheath dress to know more about the trend and what sheath dress styles to opt for – after all, you don't want to feel left out and ignorant about the celeb sheath dress trend! Do you?
Image: P R Photos