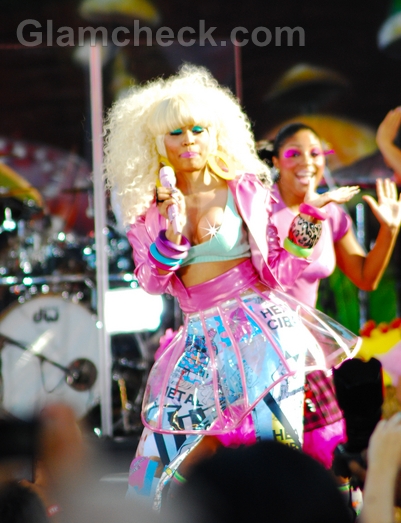 The audience, the media, and of course us (thanks to the media), got more than was bargained for at the Good Morning America, Nicki Minaj Concert in Central Park, NYC when everyone was treated to another kind of show – that of getting more than a glimpse of the singer's bare b****, with her n*****s making quite a spectacle for everyone.
Now, we don't know whether it was a wardrobe malfunction or a well thought of ploy, however it certainly catapulted Nicki Minaj's popularity – at least here on the internet. So, publicity stunt or not, Nicki did get more than a fair share of publicity. And, as they say in tinsel town – any publicity is good publicity.
However, sadly for Nicki, she is not the first singer – whose n*****s were accidentally revealed during the show. That coveted spot, ofcourse, belongs to Janet Jackson – the Superbowl anyone? (Sometimes, I wish they made "wink" emoticons valid for articles as well! But that's a different story) So perhaps, Nicki was trying to take a leaf out of her successful senior's book, and well it did kind of work – maybe not in the same way as Janet's though, that was a different league altogether. But Hey! We are writing about Minaj too, aren't we?
A point of advice for Nicki though – next time you have an "accidental" slip, keep the rest of the clothes a bit subtler. Your ploy nearly failed this time, because it was a bit difficult to spot the n*****s with such a bevy of colors, props, accessories and garments surrounding it! I mean pink, purple, green, teal, blue, leopard print, pink microphone, nipples, wig, bangles, jacket, bustier, pop art prints, weird umbrella skirt – there is just too much going! You get it, right? So, beloved readers, wasn't that such a clever sentence on my part? I mean, you had to actually spot the nips in the sentence like you had to in that ensemble. Didn't you? I am sure you wouldn't have, had I not pointed it out first. After all it does take a bit of eye adjustment to get used to all of THAT to finally notice the n*****s.
Image: P R Photos