Most women desire to have beautiful long hair. It not only adds glitter to your looks but at the same time it even makes you stand out in the crowd. With beautiful long hair you can not only try out different sorts of styling, but come up with a wide variety of looks and styles. If you do a little bit of research into the past ages, you will find that most of the beautiful women used to have long and beautiful hair.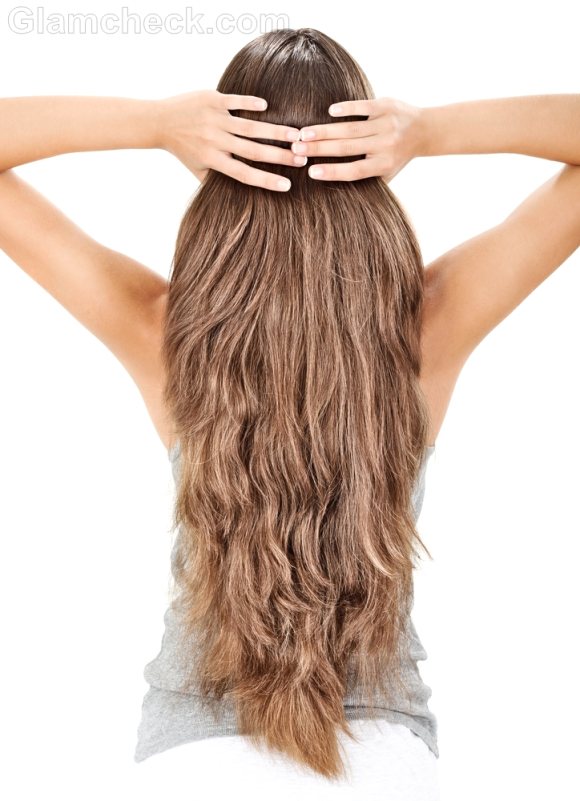 Nowadays, most women prefer to have short hair. The reason for such a change can be attributed to the increasing rate of pollution, lack of time, wrong food habits, chemicals that are continuously ruining the quality of the hair etc. In a scenario like this, maintaining long hair can be quite a challenging job. Moreover, girls who work don't get appropriate time to take care of the hair which ultimately results in cutting off the beautiful long hair. But nothing can really be a substitute for long and beautiful hair. If you follow some of the simple steps for long hair care mentioned below, then you might be able to give in to your dream of having long and lustrous healthy hair.
However, before we get into the various long hair care tips, let us first check out some of the simple factors that damage long hair.
A Careless Attitude towards Hair
Careless behavior is one of the commonest traits that can be seen in most women, when it comes to hair. Women, who have long hair, often carelessly treat their sensitive hair with harmful chemicals, detergent shampoo and excessive coloring. All of these factors make the hair dry, brittle, stiff and lastly may lead to a hair loss problem.
Poor Hygiene
Hair loss also happens when we don't wash our hair properly. Poor hygiene is the basic of all the hair problems.
Pollution
Pollution is also a major factor that affects our hair adversely.
Bad Diet
Wrong food habit is also another factor that affects our hair in a negative way. Too much of junk and oily food can become the cause of hair damage.
Climatic change, stress, tension, addictions, regular shifting from one hair care brand to another, improper sleep, sun rays, bad quality of water, serious illness, family hereditary, hormonal changes, and pregnancy can also trigger causes that are detrimental for the well being of hair.
Long Hair Care Tips
Let us see some of the simple long hair care tips that will help you in maintaining your tresses and at the same time will make them beautiful and healthy.
Do not tie your hair with a too tight contraption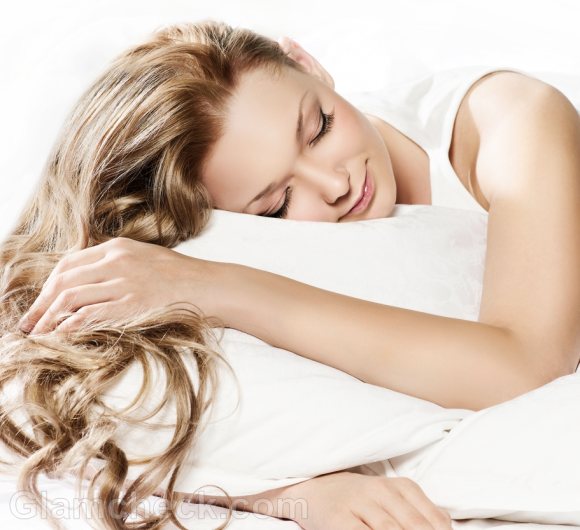 Before going off to sleep try not to tie your hair too strongly with a rubber band. This process can break your hair from the root. So, instead of tying strongly, try to tie your hair loosely.  Even when you go out try not to tie your hair too tightly.
Regular Trimming
Treat your hair like a delicate baby. In every 3 to 4 months you must trim your hair, because long hair is more prone to split ends. So in order to avoid that, get it trimmed properly.
Detangle Hair Carefully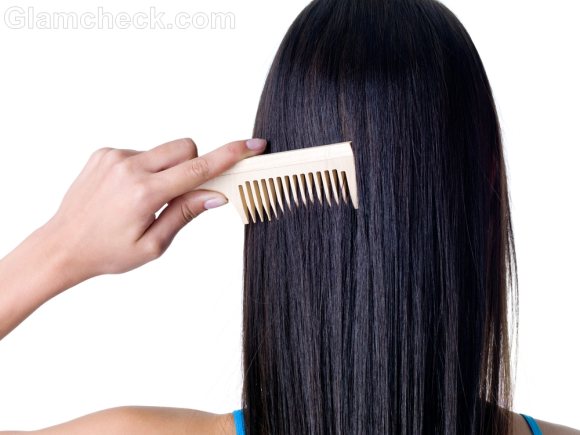 Due to dryness and pollution, our hair often gets detangled. In order to untangle this mess, use your finger instead of a brush. The brush can cause hair breakage so try not to use it. While releasing the tangled hair you must follow a systematic process, first of all divide your hair into 4 sections and untangle the knots of one section at a time with your finger. This will prevent hair damage and will open up the knots without hurting you. Do not open the hair knots forcefully, as said earlier treat your hair like a sensitive baby, so open the hair knots slowly and steadily.
In order to avoid these hair knots in the first place you must not rub your wet hair with a towel. This is because once you start rubbing, it will cause your hair to get tangled which will finally result in hair loss. You can also try out the big combs to untangle hair, proceed with big strokes so that your hair doesn't get broken.
Use the Right Hair Products
In the market you will get a huge variety of hair products that are exclusively meant for long hair care. But before you actually get them, you must make sure that the product doesn't contain harmful chemicals. Try to stick to one brand of hair products, as our hair is very sensitive, so too much of experimentation can completely ruin the quality of the hair.
Easy Homemade Tips
You can try out some homemade long hair care tips that will not only make your locks healthy and strong but at the same time it will even help in good hair growth.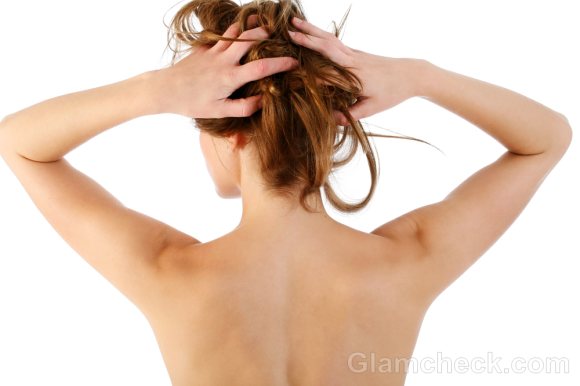 Proper massaging of the scalp helps in good blood circulation. It is this blood circulation only that will not only make your hair long but will keep them healthy and strong too.
Try to oil your long hair regularly with jojoba oil, olive oil, rosemary and neem oil. These oils won't let your scalp go dry and will increase the growth of the hair.
While you apply shampoo on your hair, try to use the shampoo twice. In the first wash, the unwanted dirt will get washed away whereas in the second round the essential extracts of the oil present in the shampoo will nourish the scalp.
Conditioning the hair is an essential part of hair treatment, but often people use the conditioner in the wrong way. You should never apply the conditioner directly on the scalp as this will close the pores present there and affect your long hair badly. It will also deter hair growth. So, apply the conditioner only to the hair, while avoiding the scalp.
In order to make your long hair healthy and shiny you can apply a mixture of neem leaves with the seeds of methi and onion added to it, also you need to add the juice of lemon extract into it. Mix these ingredients properly and add a cup of curd to it. Here, all you need to do is just apply this paste on your scalp. Often long hair tends to get dried up very quickly and the reason behind it can be the climatic change and pollution. The hair concoction described here can help counter dryness.
Other than applying the conditioner you can even try out mayonnaise, as according to many beauty experts it is considered to be one of the best conditioners for dry hair.
You can even apply henna leaves blended with egg, tea water, lemon and curd to make your hair healthy and increase its volume.
You can apply castor oil on your hair, as this will grow your hair faster and give it a shiny look.
Tea has got its own herbal effect so if possible try to rinse your hair with tea at least twice in a week; this will add shine to your hair.
You can even try out a mixture of milk and gooseberries on your scalp for shiny, strong and long hair.
You could also prepare a mixture of glycerin, white portion of the egg, castor oil and apply it on the hair.
If you are looking for a natural shampoo then you can surely try out a hair pack made of methi and ritha water blended with egg white.
You can even try out the mixture of egg, curd and beer as it has a strong and effective impact on hair and promotes luster and length.
These homemade long hair care tips will ensure that your hair is not just only long but also strong and shiny at the same time.
Improve your Food Habits
Try to incorporate good food habits in your daily diet. Your diet must contain all sorts of vitamins, minerals and proteins as this will make your hair healthy and shiny.  Unless and until you are strong from inside you cannot make your hair strong from outside. Drink plenty of water in a day, in order to keep your inside hydrated, this will also have a positive impact upon the scalp and the hair.
Whenever you go out try to tie your hair, as the dirt and pollution in the air can damage your long hair completely. Also do not forget to carry an umbrella in order to protect your hair from the harmful effects of direct sunlight. Try to avoid too much of colouring, straightening of hair, as these will have an adverse effect on the root of the hair causing it to fall. So, adopt a healthy lifestyle, which also includes proper exercise, meditation, yoga, and avoid all sorts of addiction. That coupled with the simple homemade remedies for long hair care will enable you to get the most lustrous, shiny and long hair that will make you look beautiful naturally.
Also, please don't forget to read dry hair care tips in order to know more about keeping your tresses healthy.
Image: Shutterstock