To quote a popular television advertisement, "are you afraid of wearing black?" often many people tend to avoid black clothes just because they fear the embarrassment that can be caused by the shedding of dead cells from their scalp. These dead cells are white in color and are easily visible on black clothes. More than just an embarrassment, they are also a symptom of your weak scalp condition. Dandruff is the name given to these dead cells, which continuously shed from the head. A person affected by dandruff generally sheds these dead cells throughout the entire day and this continues until and unless proper care is taken.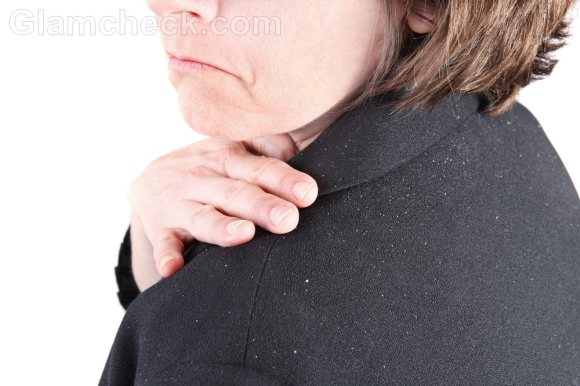 If you are also a victim of dandruff then there is no need to worry, as it is considered to be one of the most common and general skin problems that affect most of us. In fact, you will hardly find any person who hasn't experienced this skin problem. Thus, it is a very normal affliction, however if proper care is not taken at the right time then this skin disorder can lead to others problems that include scalp itching among others.
Dandruff is a common problem which is not only experienced by women who have longer hair but even men too experience this skin problem. If the hair is long then we are more prone to dandruff as we often tend to neglect a lot of factors that protect our long hair, the reason for such attitude can be laziness and lack of time. It is very easy to handle short hair but still dandruff doesn't spare anyone. So, it doesn't matter whether you have long hair or short, you must pay attention towards your hair care.
In order to deal with this skin problem we first need to know the core aspects of dandruff causes. Dandruff is caused due to a wide variety of factors. There are various medical, hormonal as well as general factors that constitute the dandruff causes. So now let's take a detailed look at the major reasons, because you can fight dandruff better once you know the reasons that trigger it.
Dandruff causes in children
Dandruff is a common problem among all age group. Starting from infants to older people dandruff can happen at any time. When an infant is affected by dandruff we often call it as cradle cap. The causes of infant dandruff can be due to the seasonal changes or even the clearing cycle which happens periodically.
One of the major dandruff causes among children can be the wrong usage of shampoo. Often, children are unaware of the right use of shampoo and tend to use too much on their scalp. Also, as children are quiet impatient they often do not rinse their hair properly. Improper hair rinse leaves the shampoo in the scalp for a longer time which dries up on the scalp itself and causes dandruff. So, if you are concerned about your child's dandruff issues then ensure they know the right method of applying and rinsing shampoo.
Some of the other factors that cause dandruff among kids can be psoriasis and eczema. Eczema is a common problem that is noticed mostly in children. More than 25% of the small kids are affected by eczema. If your baby is also affected by this affliction then you will see scaly and dry skin occurring on your baby's scalp as well as other parts of the body. After a certain point of time this dry skin tends to crack and it starts shedding. In case the situation gets worse, your child might have problems like itchiness. This affliction can be caused due to family hereditary and can get worse if proper care is not taken.
Now let's check out some of the common dandruff causes for adults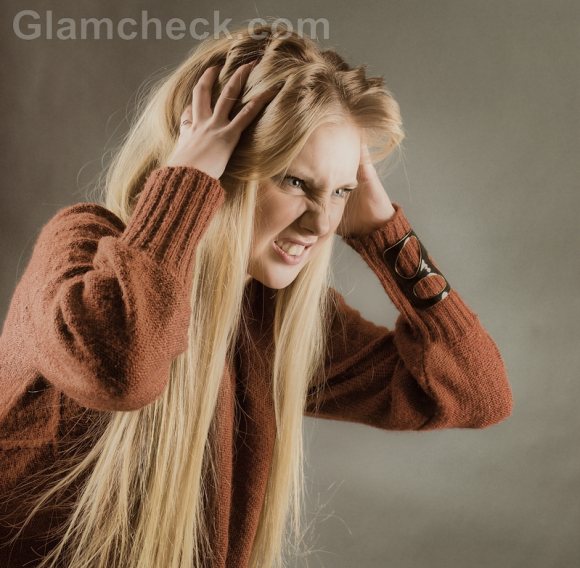 Malassezia
Malassezia, which is one kind of a fungus, seems to be one of the common dandruff causes. Malassezia is usually present on our scalp, in fact a small quantity of this fungus doesn't really make any difference, but the problem starts occurring when the ratio of the fungus starts exceeding its normal count. This situation causes the birth of many more skin cells on the scalp and the number of cells exceeds its normal limit. The older cell starts shedding off which causes dandruff. The growth of this fungus can take place if you are in a state of hormonal change. Even sickness can also be the reason for the rapid increase of this fungus.
Excess Oil Production
Our scalp has got certain oil glands which secrete a particular type of oil. This oil is very necessary for our scalp but generally during the state of puberty these particular glands secrete excess quantity of oil. This excess oil gets stored in the follicle of hair and after a certain point of time small flakes seem to appear on the scalp which later on starts shedding.
Wrong Hair Products
Just like our skin, even our scalp is also very sensitive. When it comes to the face, we tend to choose the right kind of cream that complements our skin type but in case of the scalp we usually take a more nonchalant approach. People who have hyper sensitive skin tend to get affected by normal hair products like shampoo and conditioner. Excessive use of chemicals like hair gels, colour and detergent shampoo can cause contact dermatitis. Over styling can not only damage your hair but can completely ruin your scalp and cause contact dermatitis that will finally result in dandruff.
It should also be noted that the using of an anti dandruff shampoo can often worsen the scalp condition and aggravate the dandruff condition. Anti dandruff products are usually meant for eliminating the dandruff problem, but in some of the products their remains toxic substances, which are very bad for our scalp and thus causes extreme dandruff. Therefore, it is advisable to use a dandruff shampoo after consulting with a dermatologist.
Pityrosporum-ovle
According to many medical research it is been found that pityrosporum-ovle is one of the major reasons for causing dandruff. This is one type of micro-organism that is found on our scalp, but when the number of these microbes increases at a rapid speed due to pollution, harmful chemicals, sunrays, it gives rise to dandruff problem. So an excess quantity of these microbes is one of the major dandruff causes.
Seborrheic Dermatitis
Seborrheic dermatitis is one of the factors that cause dandruff. Seasonal change, sickness and stress can badly affect the Seborrheic dermatitis and give rise to problems like dandruff. Winter season is the most common time when we all tend to face a dandruff problem, because this the time when the growth of the skin cells increases and they die soon which, in turn,  becomes a dandruff cause.
Poor Hygiene
Poor Hygiene is also a very vital factor for causing dandruff problem. Due to lack of time we often tend to avoid regular washing and cleaning of hair. On a daily basis, we usually are affected by the harmful dusts, sun rays, harmful chemicals, industrial fumes, car fumes etc. All of these factors in culmination lead to built up on our scalp and only proper cleaning of hair with a good shampoo can free our scalp from this unwanted dirt.  If we ignore cleaning, this dirt gets stored on the scalp, causing dandruff.
Scalp Psoriasis
Scalp psoriasis is another trigger factor that causes dandruff. The basic symptom of this skin disorder is dry flakes appearing on the skin. This skin disorder not only affects the scalp but it also affects the rest of our body too. Here the skin and the scalp become red and skin flakes starts coming out.
Improper Food Habits
Improper food habit is also one of the important factors that give rise to dandruff causes. Wrong food habits not only ruin the quality of hair but at the same time it often gives rise to problems like dandruff. People who are a victim of malnutrition usually face this problem. If your diet doesn't have proper calcium and zinc then also it can directly affect your scalp and result in dandruff. So, in order to get beautiful and healthy hair you must incorporate a proper diet that will include all vegetables, fruits and of course water. Drinking good quantity of water will help you to avoid most of the hair related problems.
Extreme Health Problem
If you are a victim of any chronic disease then too you might find yourself as a victim of dandruff.
Family History
Often dandruff is seen to be a hereditary problem. So, if in your family you have problems like this then you might also be a victim of this skin problem.
Increasing Pollution
This is also one of the important factors that trigger dandruff.
Bad Immunity
If you have a poor immunity then also you can be on the receiving end of dandruff.
Some of the other dandruff causes are sweat, oily skin, climatic changes etc. However, whatever is the reason if you desire to have beautiful hair then start taking care of your scalp.
Image: Shutterstock