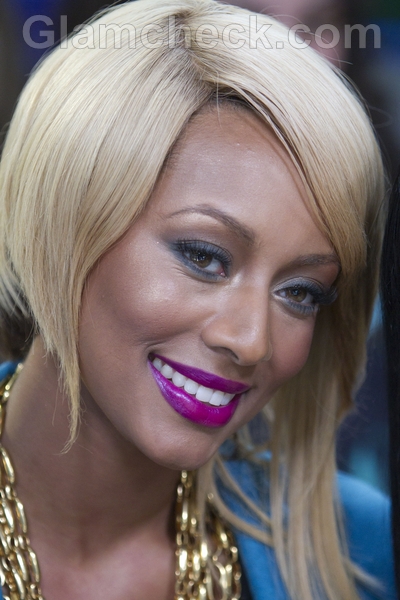 All fashion eyes were on Keri Hilson's purple lipstick when she visited the New.Music.Live in Toronto. Purple is a strong color and more so when it is sported on the lips. So, what's our verdict? Well, we think Hilson pulled off her purple lippie rather well, and looked quite the fashionista – with the rich hue that she sported.
For all those of you, who want to sport purple lips but get cold feet at the thought of it, we have some tips for you – so that you too can step out in style like Keri:
Choose a shade of purple that looks good on you. Like the color red, purple too has various sub shades – so you might want to pick up a hue that adds the right effect.
Keep the rest of the makeup neutral – remember the motive here is to look trendy and not like a drag queen. So, unless you want to look more like the latter and less like the former, keep the eye and cheek makeup subtle. The focus should be on the lip.
Neutral eye shadows go well with purple lipstick, so stay away from smokey eyes and pop burst colors – unless, of course you are Lady Gaga (and you are reading our article) or you have a theme based party where you are planning to dress up like a rainbow.
Keri shows us that it is possible to pull off purple lipstick effortlessly, and so can you!
Image: P R Photos