Factors responsible for dry scalp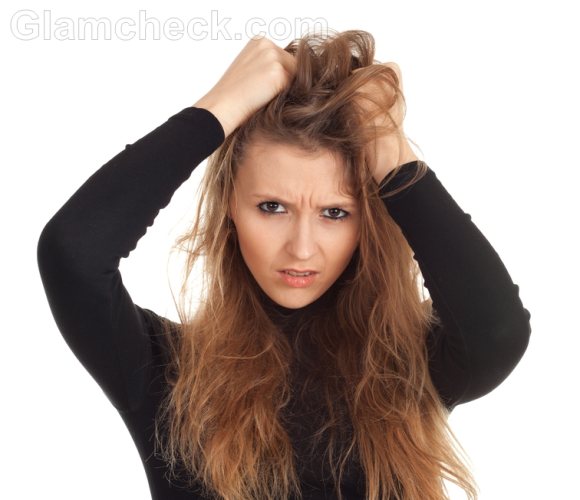 Nobody likes an excessive dry scalp, as it leads to a host of problems that range from dandruff to an itchy scalp. And no one, at least that I know of, finds the prospect of itching their scalp in public – appealing. So, how can one treat a dry scalp effectively to combat this problem? Listed below are some remedial procedures, however before we look into the treatments, let us first understand what the factors are that lead to a dry scalp.
Pollution
The level of pollution is increasing at a rapid rate with each passing day, and it has a deteriorating effect on us and leads to problems like a dry scalp. The unwanted particles in the atmosphere like dust, germs and dirt often gets collected on our hair follicles, thus taking away all the oil from the scalp – thereby, giving rise to a dry scalp.
Poor Hygiene
If you are leading a life of poor hygiene then you might further trigger the problem of dry scalp. The dust and dirt that gets stuck on our hair follicles needs to be washed away at regular intervals, but in case we do not clean our scalp properly then this dirt will further aggravate the problem of a dry scalp.
Cold Temperature
Dry scalp is a very common problem during the winter season. When it is very cold, the level of humidity drops drastically which directly affects our scalp – thus, making it dry and rough. So, you need to take special care during the winter season. During this period, wash your hair with warm water as this will not only maintain the temperature but also the natural oil in your scalp too. However, many people tend to wash their hair with extreme hot water, which on the contrary may be detrimental for your scalp and can even ruin your hair follicle too. So, try to use lukewarm water instead of extreme hot water.
Inadequate Moisture Treatment
Often we believe in the misconception that our face and scalp have the similar kind of skin, but that's not the right belief. Our scalp is covered with hair which makes it different from our face. So, the kind of moisture you use on your skin won't be appropriate for your scalp. Therefore, you need to use the right hair products.
Dry Scalp Treatment
Using the right hair products
Many a times, the products that we use on our hair – namely the shampoo or the conditioner, may be one of the culprits that aggravate the dry scalp condition. Therefore, you might want to make a switch. Whenever you wash your hair try to use strong conditioner that works best for your dry scalp. A good conditioner will make your hair and scalp soft and supple. Try to stick to one shampoo and conditioner brand rather than switching it again and again. Just like our skin, our scalp is also very sensitive, so try to stick to that one brand that suits you the most.
Use a shampoo that consists of a gentler formula, and stay away from overtly harsh shampoos. If you have a tendency of shampooing your hair every day, then stop that! Excess shampooing will only make the scalp drier. The water that is used for rinsing the hair should be lukewarm and neither too cold nor too hot.
One thing that you should remember is that though the hair dryer is one of the greatest allies that our hair can have, this is far from true for those who have a dry scalp. So, see that you air dry your hair and keep that blow drier away from you. Also try not to use too much of hair dryers on your hair especially during the winter season. Dryers can make your hair rough and brittle and it even takes away the natural oil from your scalp.
Hair products that contain alcohol should be avoided and so should be an excessive use of hair mousses, gels and sprays. Nowadays many people opt for different sorts of hair styling methods that include straightening, curling etc that require the use of the above mentioned hair products. This can become the primary cause for dry scalp. Therefore, try to avoid over styling if you are looking for naturally beautiful hair.
Scalp Massage and Deep Conditioning Treatments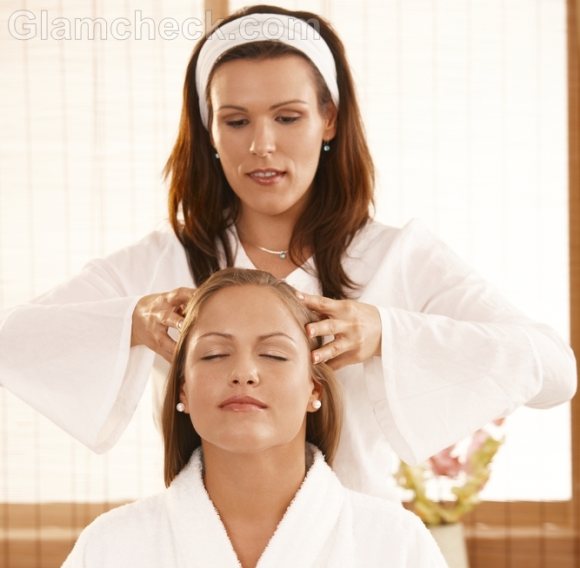 You should know that until and unless you moisturize and massage your scalp properly you cannot get rid of the dry scalp problem. So, you must engage in a good scalp massage in order to promote proper blood circulation. It is this blood circulation that will help you get back the natural oil that your scalp has lost. Proper blood circulation will stop your scalp from getting dried up, and more over it will maintain the level of moisture that your scalp requires the most.
Treat your scalp to a nourishing massage at frequent intervals. A hot oil or deep conditioning treatment can work like wonder. However, do ensure that you use your fingers gently on your scalp; because you do not want to scratch your scalp in your zest to get the job done! The hair oil/nourishing treatment conditioner should be applied evenly all over your scalp and then massaged in. This routine can be followed two to three times a week.
If you have extreme dry scalp then you can try out various herbal and natural oils for hair, some of which are lavender oil, neem oil, jojoba oil, chamomile oil, coconut oil and many more. All you need to do is just massage the oil on your scalp for ten minutes and then wrap your hair with a hot towel and leave it for another fifteen minutes and then wash the hair. This process will not only make your hair soft but at the same time it will help you to overcome an overtly dry scalp.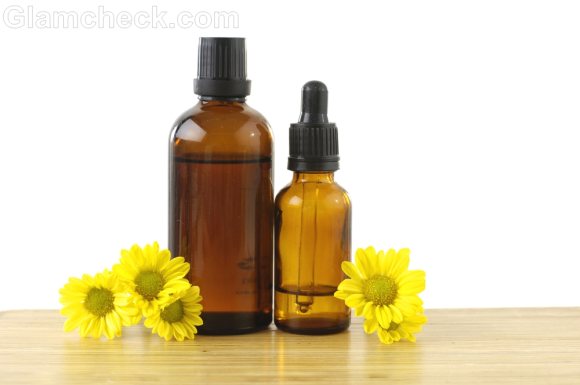 You can even try out olive oil, as it has got nutrients that will make your hair and scalp shiny and soft. Simply massage the oil on your scalp and leave it for the entire night and rinse it the next day.
If you are looking for instant relief from dry scalp then opt for the tea tree oil massage for your scalp. Tea tree oil has got powerful and effective herbs that will help your scalp to regain its oil and moisture.
In order to get rid of the dry scalp you can use products that have ingredients like urea, salicylic lactic acid and coal tar into it. These ingredients will re-vitalize the skin cells and generate extra natural oil from your scalp.
Massaging your scalp with a proper moisturising solution will surely help you to re-gain your beautiful hair and a healthy scalp. In the market you will get a huge variety of various forms of hair products that are meant just for the dry scalp. However, you must take note that not every product in the market is trustworthy; in fact, trying out these different forms of products might worsen the entire situation and can make your scalp dryness problem more serious. So, instead of relying upon the chemical products you could opt for natural and herbal products that include homemade remedies. Homemade remedies are not only easy to make but at the same time gives effective results too without any side effects. So, let us check out some of the best homemade remedies that are meant just for treating a dry scalp.
If you have Shea butter at your home then you can try it as a conditioning mask, as its extra-ordinary moisturising effect will help you to get rid of dry scalp. It is a really therapeutic cream and you should allow it to penetrate into your scalp for the entire night and then rinse it off the next morning. This will give you an instant effect upon your dry scalp.
In order to reduce your scalp dryness you can apply a mixture of white vinegar and warm water on your scalp. This particular mixture will make your hair soft and will reduce dryness of the scalp.
In case, you are using a chemical shampoo then before you actually rinse your hair you must massage table salt on your scalp, this will reduce the harsh effect of a chemical shampoo on your scalp.
You can even resort to an easy remedy, where all you have to do is soak oatmeal into water and leave it for twenty minutes. After twenty minutes just drain out the water and put it in a cup. Then, add rosemary and lavender oil into the water and apply this mixture on the scalp – and massage it evenly on your head, in order to combat dry scalp problem.  
Dietary Considerations
Often, we get so engrossed in directly trying to cure a dry scalp that we pay no heed to the fact that the right diet can also help us in our goal. A wrong diet can be one of the trigger factors that may have caused your dry scalp. So, you must pay special attention towards your food habits. Try to eat more of vegetables and fruits. You must stay away from an excessive intake of fried and junk foods. Drink lots of water as it will hydrate your body and help to generate more natural oil from your scalp. Eat food items that have vitamin C and B in it, as dry scalp is often caused by the deficiency of Vitamin B and C.
So, if you are also a victim of dry scalp then stop worrying about it and embark on these easy and simple remedies from today. Keep in mind that beauty comes with a disciplined lifestyle, which includes proper hygiene and good food habits. Never ever neglect your hygiene as it is one of the most important factors that may trigger dry scalp problems. Before you buy any hair product from the market, see that you check out its ingredients, and then only try it out. Also, next time when you eat something think twice, as whatever you eat, will have a direct effect upon your health and beauty. Therefore, try to stick to healthy food and natural/herb based products – instead of those harmful chemical ones. Natural beauty usually comes naturally with natural based products.
Image: Shutterstock