Shorts really are the flavor of the season. Celebs young and old have been sporting shorts in surprisingly versatile looks for the last few months. Hailee Steinfeld joined the brigade when she donned a pair of cute blue denim shorts by J Brand when she attended the 5th annual Power of Youth event at Paramount Studios in Hollywood, California on 22nd October.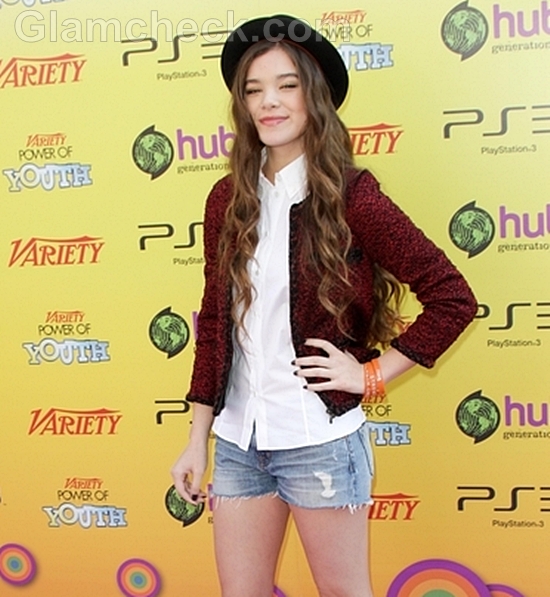 The 14-year-old actress teamed the frayed shorts with a white top by Jill Sanders and a cropped red and black jacket by Chanel. To accessorise, she wore a quirky pork pie hat and knee-length socks with Chanel's steel toe cap brogues. She also had on orange bracelets on her left hand.
The True Grit starlet went with nude makeup and soft pink lips. Her long brown hair was left loose with curls at the ends.
The young Academy Award Nominee looked youthful and perky – a far cry from her style during her Miu Miu days when she was required to dress in more mature fashions. There was life, color and some eccentricity in her ensemble. However, those brogues are quite ugly, even if they are Chanel. And while that jacket is really, really cute the look would have benefited more without it.
Get The Look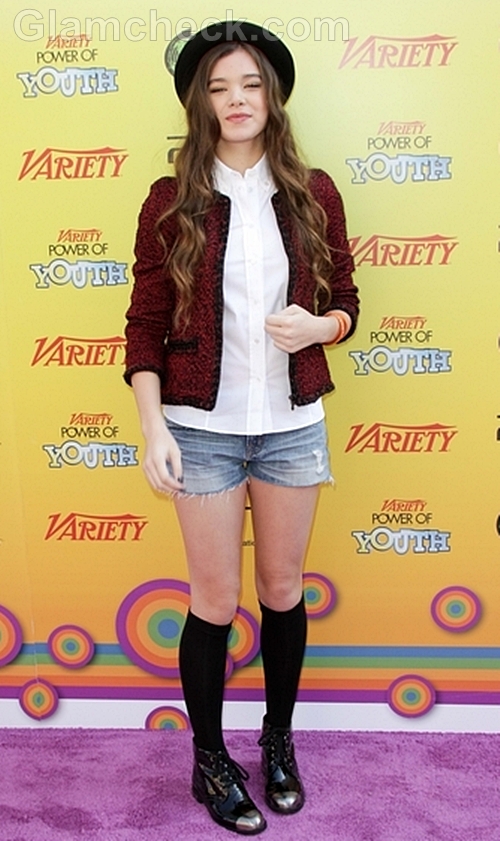 When wearing shorts, the key is to be as minimalistic as possible. Don't accessorize too much and do not try to add too many levels to it. Hailee could have done without the jacket. Or perhaps left the jacket on but chosen different footwear. Make sure that there aren't too many points of focus to your outfit otherwise it will be too busy.
This look can be worn to a casual event, preferably in the day time. Ditch the jacket and socks and wear a pair of high heels to up the class factor and make this more night-time worthy.
Learn how to wear shorts from celebs Selena Gomez, Jameela Jamil, Nicole Scherzinger and Molly Burnet – all of who have successfully pulled off the trend in every style from casual to provocative.
Image: P R Photos