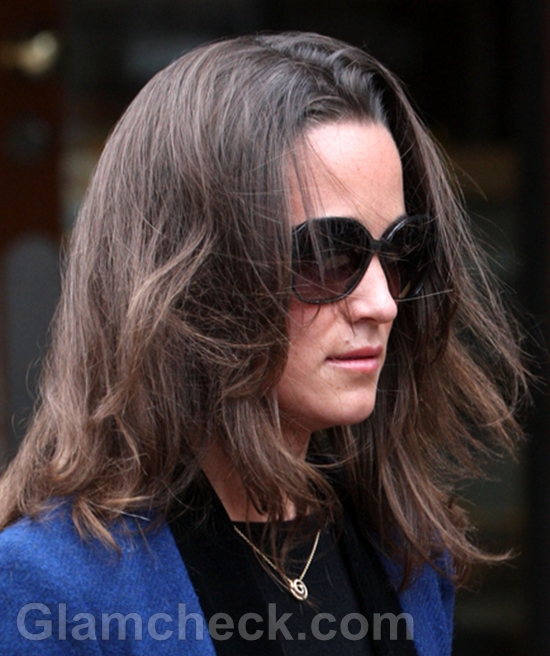 Being sister to the new Duchess of Cambridge can't be easy. The paparazzi follow Pippa Middleton around almost as much as they do her royal sister. Perhaps that's why she always looks like she stepped out of the pages of a fashion magazine as she gets her morning cuppa. The 23-year-old is usually spotted in stylish ensembles as she gets out for coffee or even just for a walk, both of which she was doing on November 3 in South Kensington, London.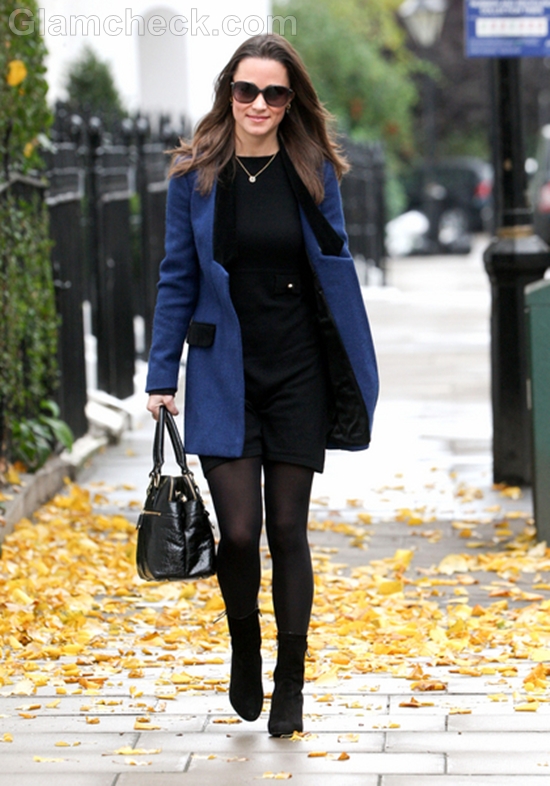 Pippa chose black and blue colors for the day. She wore black shorts with a black top, black stockings and black boots. Her handbag was black, and even the trimmings on her blue overcoat were black. Great color combination and a stylish take on winter wear.
She wore a pretty gold pendant in the shape of a spiral, plus a pair of earrings that were hidden by her brown hair which was left loose and messy to blow about in the wind, giving her a devil-may-care aura.
Used to the media onslaught by now, she was also wearing the large sun glasses that she's been spotted in often during the last few months. She sure takes care of details. The jacket was well-tailored, the boots were cute, and she looked stylish – as becomes the sister of the (maybe) future queen. And yet, it looked fun, casual and effortless – a tough effect to achieve.
Get the Look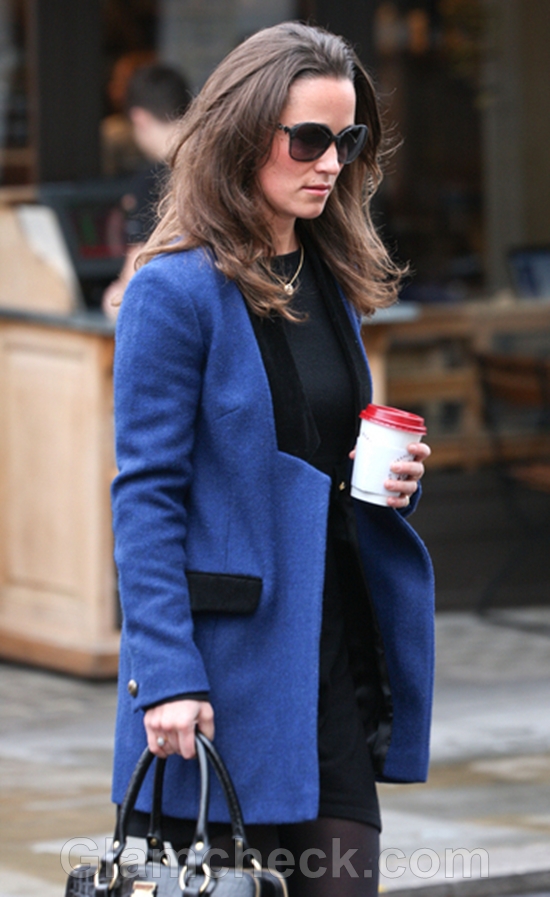 The best thing about winter is that you can wear many different kinds of clothes to keep warm so there is plenty of potential to add color and accessorize. Pippa's look is a combination of several simple items of clothing and put together it looks fabulous. It's functional and yet aesthetically appealing – two of the main components of art.
Her trick here is to stick to just a couple of colors. All she has done is wear all black on the inside and team it with the bright blue coat for the burst of color. And it works wonderfully, for day or night. But make sure the color you choose is not garish – unless that's the effect you are going for.
If you feel that this look is too simple and do not like the minimal color, feel free to wear a different colored blouse or a whacky coat, opt for more bling. You can wear this ensemble at work, for an outing, and even to a casual dinner. It can be glammed up or muted, depending on your mood with just a few simple additions or subtractions. A thick belt with a gold buckle or a low cut blouse could easily convert this outfit into the perfect look for a formal event too.
Image: P R Photos