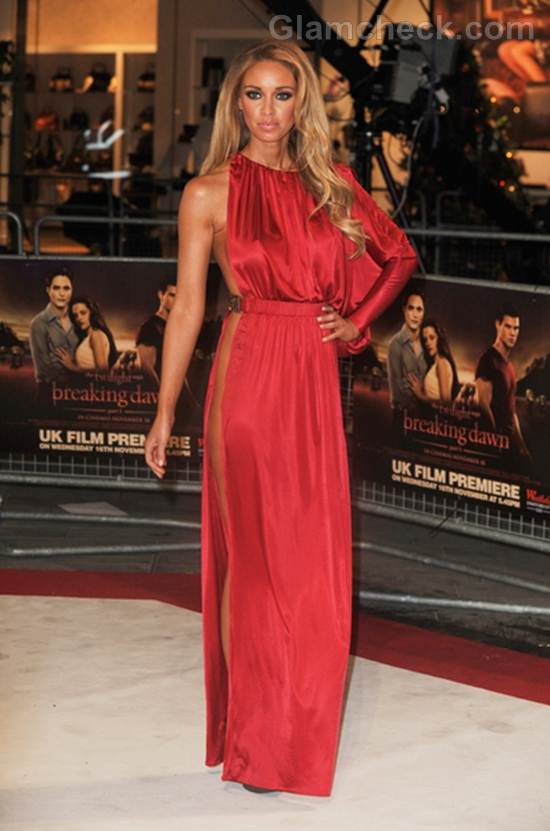 As The Twilight Saga: Breaking Down Part 1 made its UK premiere at Westfield Stratford on November 16, we were sure that we would see a lot of stars in their best trying desperately to seek attention. But with Lauren Pope, we have to admit that we got to see a lot more than we bargained for.
The Brit DJ turned up almost naked, well, partly anyway, in one of the more daring gowns we have seen all year.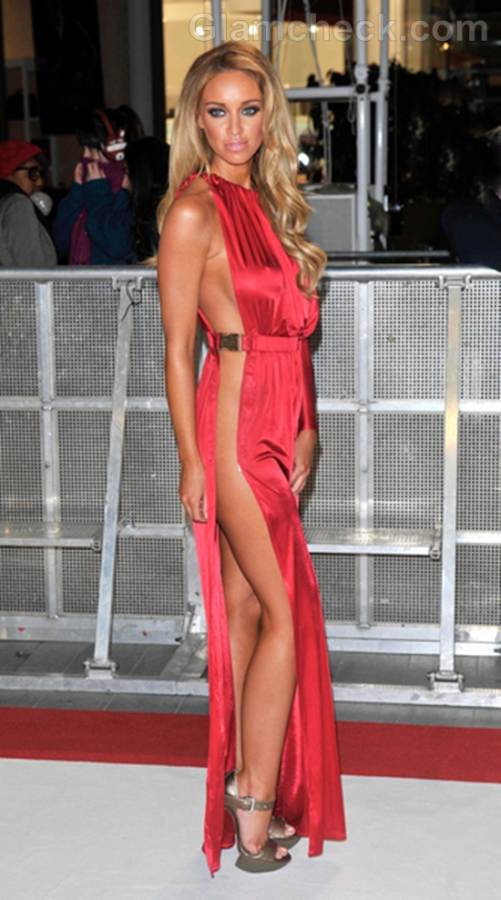 The red gown, which was custom-designed for Lauren by Louis Heal, had a slit on the right side that went from her shoulder all the way to the end of the gown. The only thing keeping her modesty in check was a tiny diamante clasp around the waist. No panties in sight.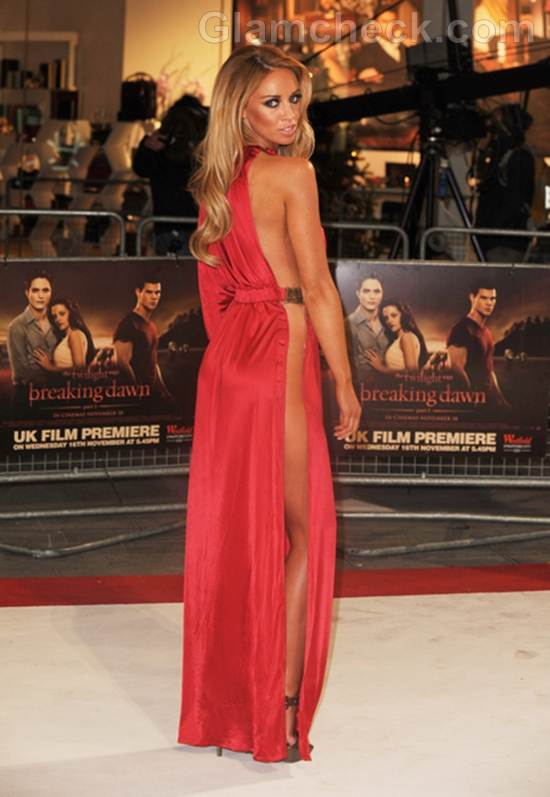 She must have used a whole lot of tape to keep that flimsy material from flying off – you can see how the dress stick unnaturally to her buttocks, and the front and back of her upper thigh. The left side of the gown was the picture of demureness, all covered up with full sleeves in an attempt to compensate for the over-exposure on the right, and for the lack of underwear, of course. But we doubt that anyone was looking at that half of the dress. The only other thing this 28-year-old wore were a pair of really high metallic bronze heels.     
Her long blond hair fell in curls down the modest side of the dress, and was brushed behind the shoulders on the naughty side. Her makeup was appropriately vixen-ish with pink gloss on her lips and dark, dark eyes.
While Lauren has always been a little bold when it comes to her dressing style, she's really pushing the envelope with this outfit. Even she looked a bit uncomfortable as she posed almost stiffly, probably fearing that too much movement would expose more than she intended to reveal. This is a bit of a tacky and desperate move for media attention, which worked superbly. The shutterbugs were a-flutter as much for her as for… ummm… what is this event again?
Image: P R Photos