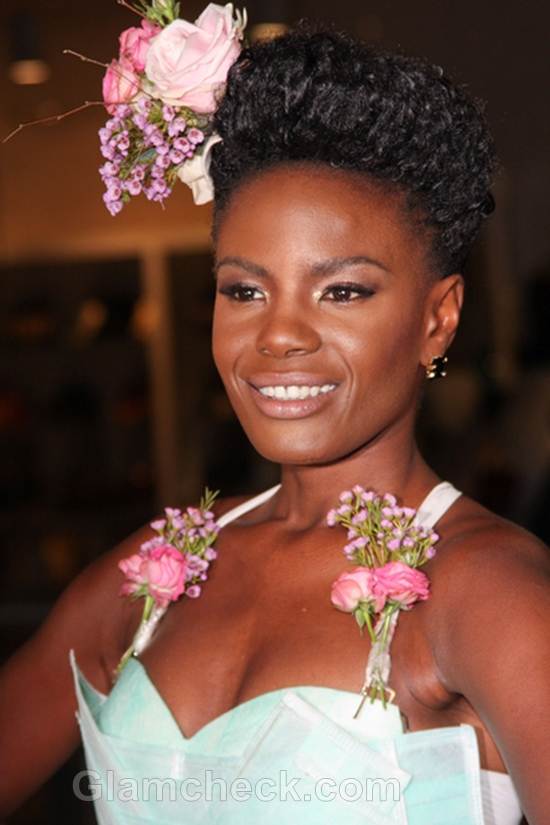 Singer Shingai Shoniwa made quite an appearance as she arrived at Westfield Stratford for the UK premiere of The Twilight Sage: Breaking Dawn – Part 1 on November 16 in an exquisite mermaid gown from the Alpana & Neeraj Spring 2012 Collection.
The brilliant creation is made of – wait for it – surgical masks. It has been named the Industrial 3D Surgical Mask Mermaid and made its theatrical debut at the India Fashion Week in October.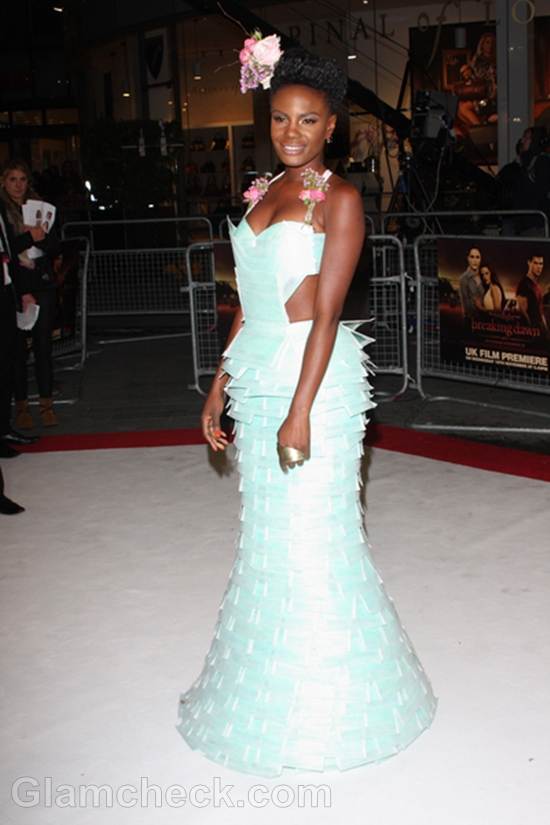 The gown consisted of a cut bodice held up by halter straps, and an hour-glass shaped skirt. Shingai looked stunning, unique and statuesque as she walked down the red carpet in this fantastical full-length dress.
Those flowers on the straps and in her hair are her own addition though. A very pretty touch of color and style, making this dress more feminine and fun.
Not much jewelry needed to jazz up this look. She wore only a dainty pair of black and gold stud earrings. Her makeup too was very natural – not that the flawless beauty needs much to show up her fine features. She chose a ballerina top bun hairdo, accentuated with a larger version of the flowery pieces which adorned the straps of the outfit.
This gown, the entire ensemble in fact, is an absolute work of art. It's imaginative, it's sexy, figure-flattering, a show-stopper, and what a lovely color! Who thought surgical equipment could look so damn good? Shingai's chocolate skin really sets off that light teal, or is it the other way around? Either way, this gown is a hit and one of the more enviable ensembles at the fashion-filled premiere. The floral little pieces are inspired. Two thumbs up, Shingai, and that's just because I have only two hands.
Image: P R Photos