"Which shoes do I wear with this?" is the question which haunts every fashion conscious woman. And jeans despite being one the most often worn and a quintessential favourite in every girl's wardrobe pose this question more often than others, the reason being simple: they can be paired with almost everything! So, the question is more about the occasion, the kind of jeans and the wearer.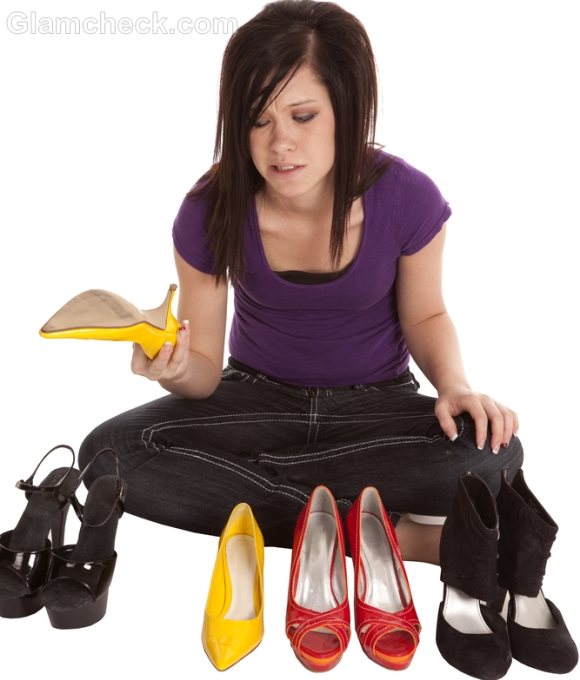 Here we take you through the different kind of shoes which you can team up with your favourite pair of jeans. So sit back and gear up as we take up one of your biggest fashion queries, "Which shoes to wear with jeans?"
To give you a lowdown on what shoes to wear with jeans, let us segregate our jeans into 3 broad categories: skinny, boot-leg and the latest trend, boyfriend jeans.
Shoes to wear with Skinny Jeans
Skinny jeans have a snug and tight fit throughout. They have been huge on the fashion scene for a long time now and things are likely to remain that way. Skinny jeans tend to take away from your height and lay a lot of emphasis on your curves, so it makes sense to team them up with the kind of shoes which accentuate them further, like a stunning pair of heels. But don't despair, if you are not much of a heels person or like to keep it comfy, skinny jeans go well with boots and flats shoes too, you just need to know how!
Pumps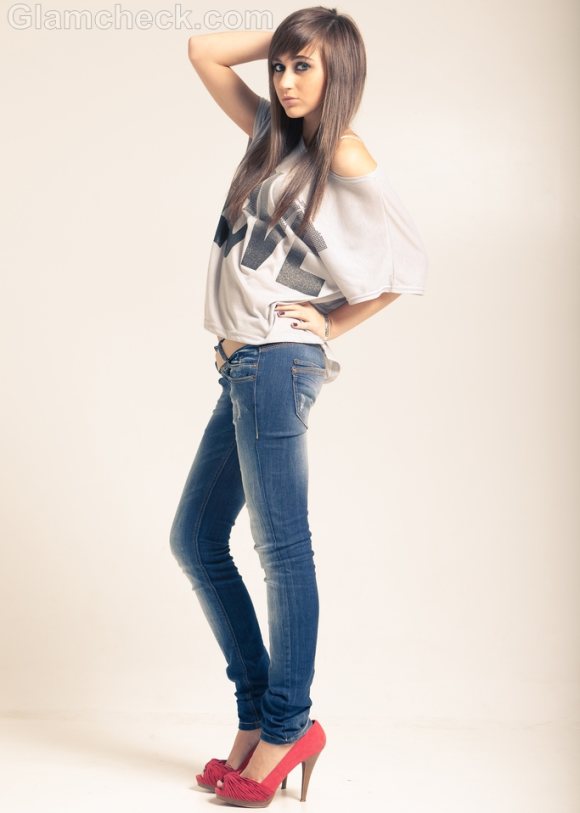 Pump shoes are the best bet to pimp up skinny jeans; they add height and give an illusion of longer and more slender legs – every girl's dream! Steer clear of huge broad ones and opt for delicate heels which give a sleek and sexy look to the wearer while accentuating the tapered silhouette of the jeans.
Boots or ankle booties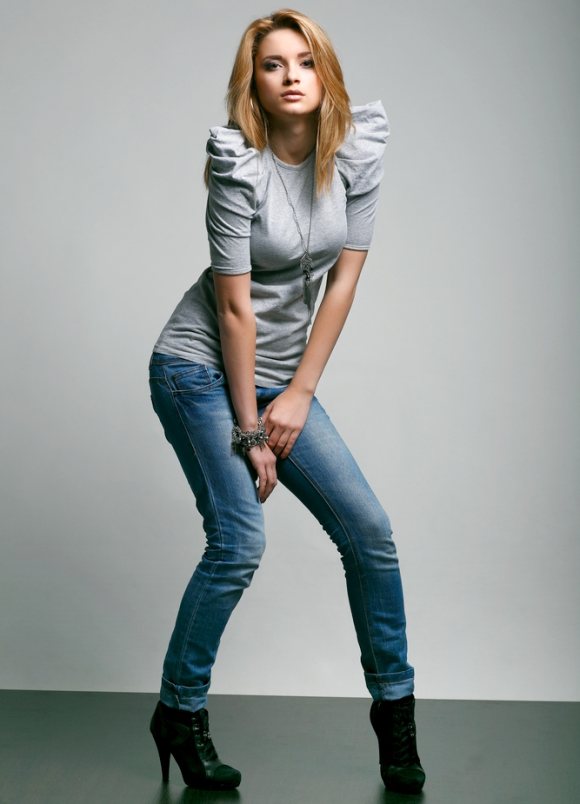 Skinny jeans can be tucked easily under a pair of boots, making it a great choice for winters. The kind of boots you choose should depend on the look you want to project for yourself. For example, a nicely waxed pair of leather boots with rugged sandblasted skinny jeans can give you the edge of a biker chic while you can go high on sophistication with dark jeans teamed up with high heeled boots. For ankle booties, be sure to tuck your jeans inside them as a gap between boots and jeans can lead to a shorter appearance.
Flats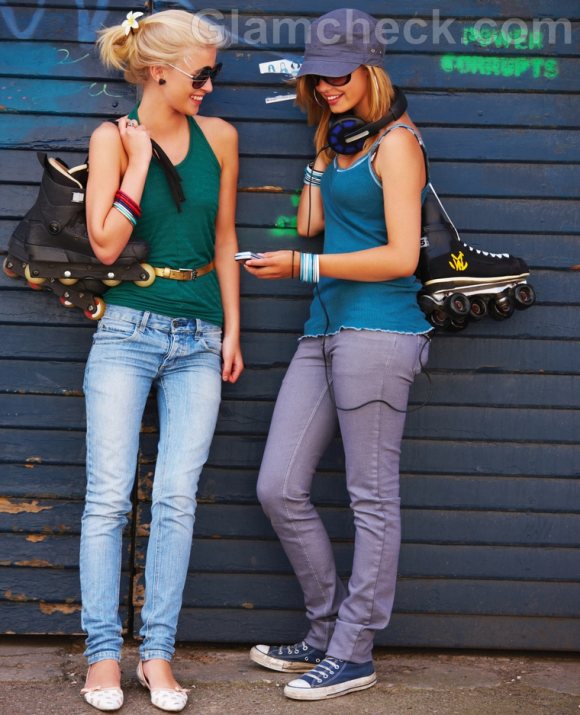 The best kind of flat shoes to wear with skinny jeans are ballet flats. They give the same kind of look to your jeans as pump shoes, sans the extra height of course. So, if you are blessed in the height department or don't mind looking a tad shorter for the sake of comfort, we recommend ballet flats for you.
Canvas Shoes
If you want to go for an athletic look, canvas shoes can complete your look. Choose a pair of sleek ones and stay away from bulky sneakers with imbalance the simple and sleek silhouette of your skinny jeans.
Shoes to wear with Boot – Leg Jeans
Boot – leg jeans are the kind which have a slight flare at the end and therefore flatter a curvy woman very well. If you have a bootylicious body, boot – leg jeans balance out ample hips and thighs to give a more visually proportionate and attractive look. The extra fabric at the hem creates a wide leg appearance which can be appropriately paired up with wedges or chunky heels. Dainty shoes do not work very well with this style nor do sneakers.
Boots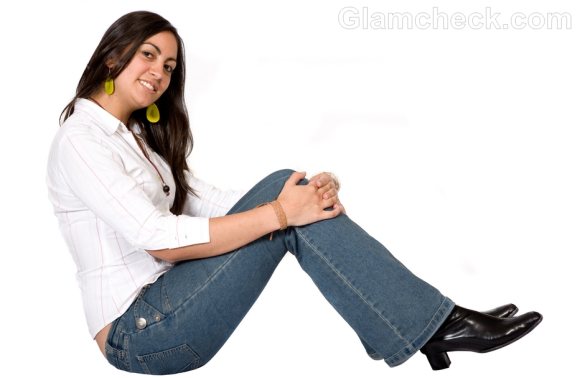 Most boots do not look good with bell – bottoms since it is difficult to tuck in the wide legs inside though you can experiment with the jeans on the outside. Choose wide heels instead of stiletto ones – we cannot emphasize enough the importance of balancing your overall look!
Platform or wedge heels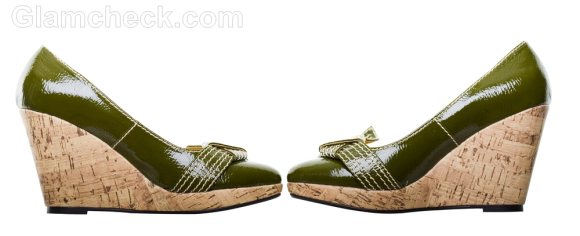 The chunkiness of platform or wedge heels complements the flare of boot – leg jeans nicely without creating a break in the visual flow of the ensemble. Choose flirty, floral printed shoes for a feminine and cute look without compromising on the style quotient.
Loafers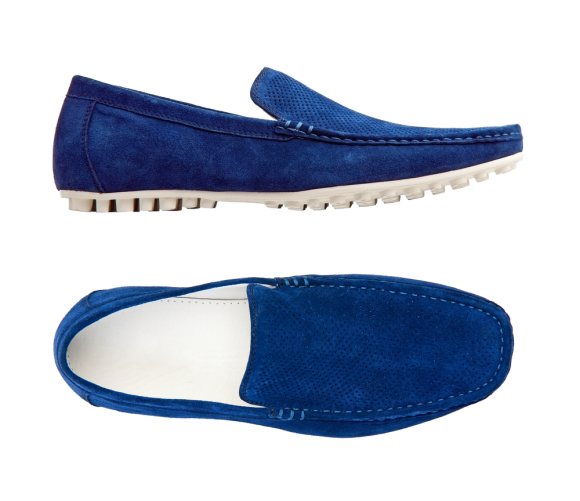 Loafers in sturdy leather or the like go well with the overall bulky look of boot – leg jeans. A nicely waxed pair of leather loafers can be used well in a business casual or dressy look. You can wear preppy color socks with your outfit for a more fun and relaxed look.
Shoes to wear with Boyfriend Jeans
Boyfriend jeans, the latest trend to hit the shelves, have a fit that seem to be borrowed from a guy's wardrobe. Low rise, loose fit and cuffed hems are characteristic of these jeans and they are quite forgiving of your love handles and those slightly chubby thighs. The trick to carrying off the boyfriend jeans look is to not actually borrow a pair from your lover's wardrobe but get a pair which sits nicely on your hips and thighs. The look is very casual and it becomes important for you to maintain an overall feminine look. The best kind of shoes to pair up your favourite pair of boyfriend jeans are flat shoes, be in the form of gladiator flats or ballet flats or even converse-style shoes. If you must wear heels, go for wedges or chunky heeled pump shoes.
Converse-style shoes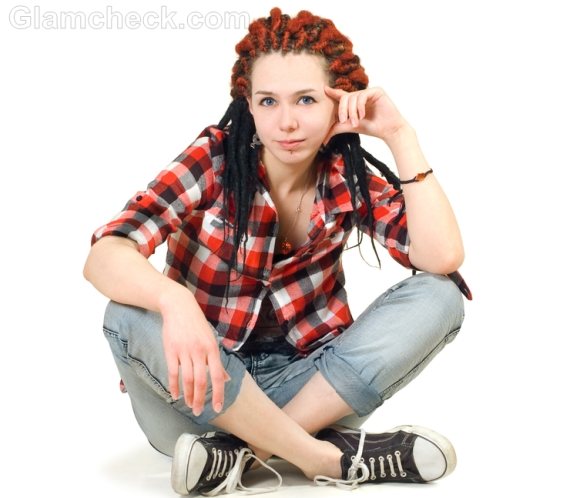 Canvas shoes look particularly stylish with boyfriend jeans, especially the cuffed kinds which show off a bit of ankle. They are great for running around and getting work done without compromising on your style quotient.
Gladiator flats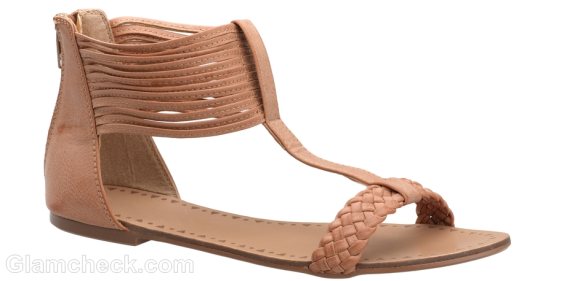 Gladiator flats add the right edge of femininity to the masculine silhouette of boyfriend jeans. The open toe flat sandal-style shoes show off those perfectly pedicured toes and ankles as you make a sweeping fashion statement.
Ballet flats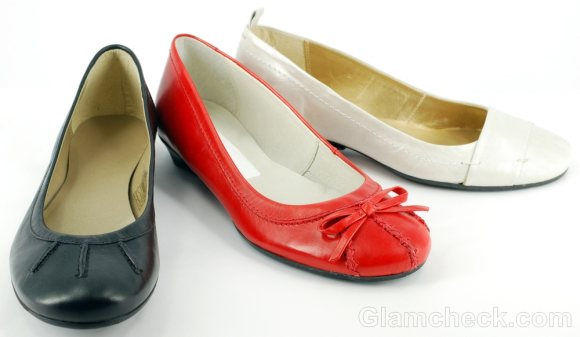 Ballet flats in cute flirty, floral prints will complement the loose fit and the casual look of boyfriend jeans beautifully.  Ballet flat shoes can also take up a formal look which is dressy but casual and look smart whilst being hassle-free.
Heels
Shoes with dainty heels do not gel well with the casual hanging bodice of boyfriend jeans. Instead, opt for wedges or chunky heel pumps which create a visual balance and give u a longer, sexier appearance.
Now that we have given you tips on which shoes to wear with jeans, go out and put your best fashion foot forward, no matter the occasion and the kind of jeans that you opt for!
Image: Shutterstock