Socialite and reality TV star Kim Kardashian cut blunt bangs into her long brown hair, debuting her new look at the New Years Eve Bash that she hosted at Tao Las Vegas at the Venetian Hotel and Casino in Las Vegas, Nevada on December 31.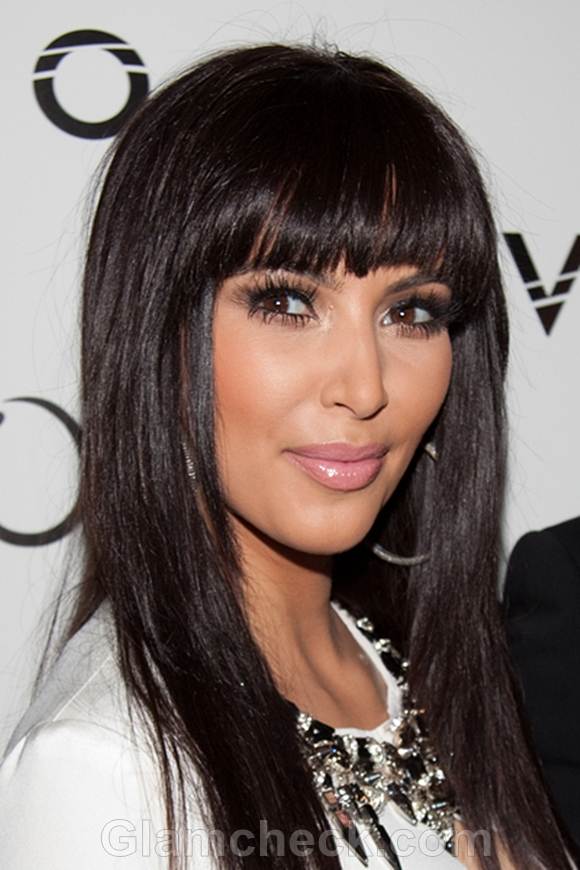 Kim's new brow-grazing blunt bangs do a great job of shortening her long face and softening her features. The way she has left her hair loose frames her face beautifully and gives her a very finished look.
Looks Best On
Blunt bangs are best suited for those with long faces as it makes the face seem shorter and the features more defined. If your face is too wide from the eyes, avoid blunt bangs like the plague as they will make your face look extra long.
Maintaining Blunt Bangs
Maintaining blunt bangs is not always easy. But you can make it simpler for yourself by blow drying just the bangs, if not the rest of your hair, after every hair wash. This will keep your fringes straight until the next time you wash your hair. Make sure you go for a hair trim every six weeks to keep the growth in check.
When and How to Wear Blunt Bangs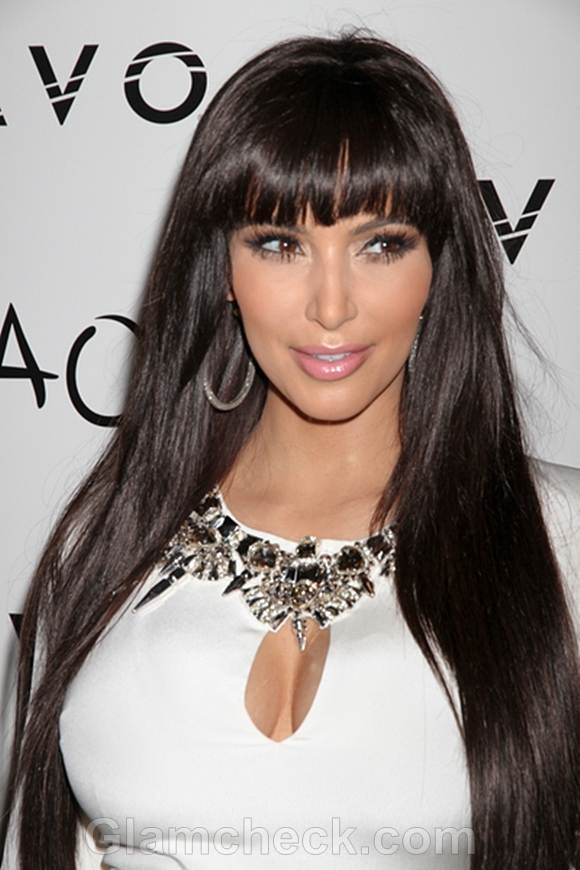 Bangs went out of style in the mid-90s and they only started to make a smashing comeback in the last couple of years. This is an easy, cheap way to look trendy and feminine.
There is so much you can do with your bangs that we could write a book about it. But we'll just give you a few tips here while we're putting that opus magnus together.
Texture
– You can cut your bunt bangs in a choppy texture to give you an edgy look.
Color
– You can give your bangs a makeover simply by highlighting them.
Hairdos for Blunt Bangs
– Straight bangs look great when worn with a messy or wavy hairdo.
– Make your blunt bangs stand out by framing them with milkmaid braids.
Don't like the idea of living with bangs till they grow out? No problem. You can always get a bunch of clip-on bangs or fringes and style them any way you like, and sport the look only when you want to.
Where to Wear Blunt Bangs
You can wear your blunt bangs on any occasion. You should ideally style your hair to make the bangs more suitable to the outfit you have chosen.
Image: P R Photos