Pantone Color of the Year 2012  "Tangerine Tango" has been huge recently. A color trend so influencing that we have seen it translating into the choice of color palettes by the top fashion houses of the world as a part of their garments, prints, accessories and make up. Rooney Mara, Scarlett Johansson and Fergie have worn the orange shade and demonstrated the freshness associated with the trend. Gucci's Spring Summer 2011 perfected the color blocking trend by using orange pop of color with purple, we take the same as inspiration for the Beauty How to. Wear the color block eye shadow and make a high fashion statement.
How to get it right!
The Pinks and the Reds are the classic shades, but since orange is the mood of the season it definitely is the best time to experiment. If the tangerine eyes intimidate you, then here's a reason for you to try it out, make it easier for you and make the trend your own!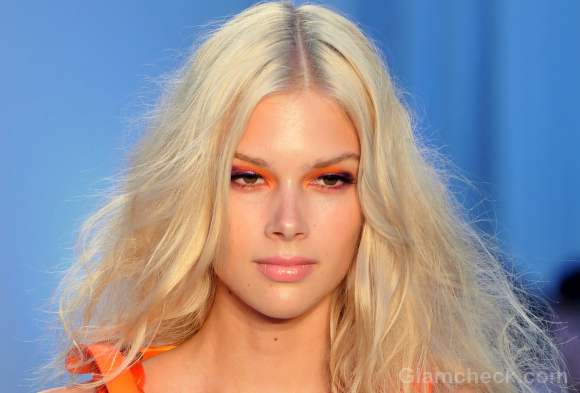 Basics
Without the right base, any work on the face can result in something untidy. Avoid that by cleaning your face, moisturizing it and applying a suitable foundation that matches your skin tone. For a daily wear base nothing works better than a tinted moisturizer or the popular BB cream which brightens up your face and smoothens it out.
Color
Dolores Cortes highlighted the eyes with the vivid color combination to match her swim suit collection at Mercedes Benz S/S 2012 collection.
Invest in a good quality set of brushes. Use the fluffy blending brush to apply the cheerful orange.
Use orange as the base color and apply the eyeshadow on the upper lid and the lower lid and form a contour. Use a hint of pink as the wash eye shadow to brighten the look.
Match a suitable purple with the shade of orange. Purple being the darker shade makes for a better option as the highlighter color.
Apply the shade of Amethyst with a suitable brush and blend the colors with a blending brush.
Finish the look with lining the upper lid in black, brown or purple liner and mascara.
 Keep rest of the face understated by using nude lipstick and subtly blushed cheeks to keep the focus on the statement making and fun eyes.
Tips: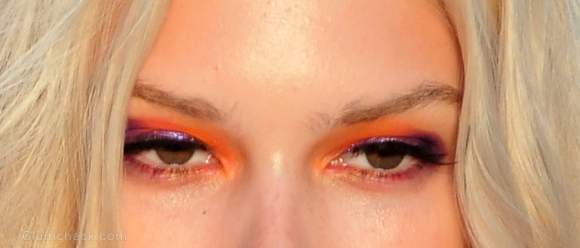 Orange is a good option to choose if it contrasts the color of your eyes. Hence, the color might not flatter brown colored eyes.
Purple and blues work as good contrast with orange and hence make a good option to use as the highlighter.
Lip color is best when nude because any other shade will confuse the look.
The dramatic eyes are most suited for a fun event. The look goes well with your tropical shades of resort wear, an evening out or you can also wear it to work if you are in the creative field where the look will be welcomed.
Image: Shutterstock