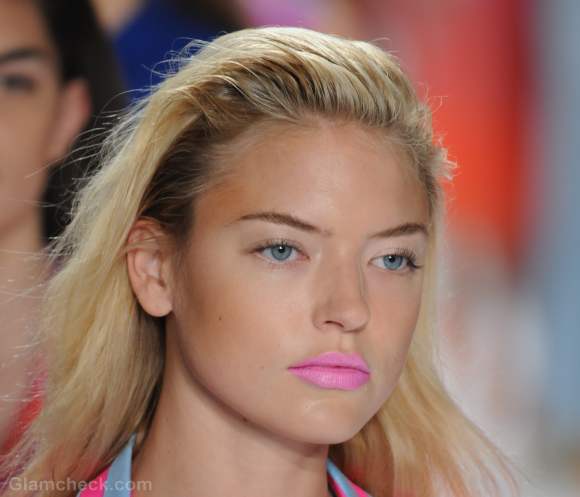 Flash the pop-hued tones on those luscious lips with coats of orange, fuschia, purple and their palettes. Bringing in the retro look again, this look was observed on the runways of Jil Sander, Fendi, Marni & Diane von Furstenberg. The flowers spray their colored tints on our pair of lips, this spring. So, let's celebrate another way of making this dull life colorful. Nanette Lepore shows us how to get this sultry look with her Spring summer 2012 collection presentation during New York Fashion Week, held on September 14 2011 in New York City.
To get the best out of your lip shade, follow these easy how to guide:
How To:
Begin with a clean slate and hence, scrub the lips using a fruity or sugary lip scrub. It not just smells nice, but tastes great too! If home remedy is your thing, you can rub sugar crystals mixed with some olive oil on your lips to remove the tanning and the dead skin.
A great base for make-up is essential and hence the lips should have a base applied too. Use a lip balm to moisturise as well as seal the lip texture, for the base.
Blend the lip lines and skin around the lips using a concealer lightly, for a more flawless look. The emphasis will be on the lips this way.
Use a lip-liner to outline the lips for a more shapely and defined look.
Using a lip brush, begin painting your lips with any neon shade you like. No fixed rules for a shade matching or contrasting to your outfit, and no hang-ups about your skin tone being dark.
The neon shades look uber-sexy on every face cut and skin tone.
The lips need to be painted patiently with every part of the lipstick being even. One can use gloss as a sealant or for more sheen, but the matt has its own class.
So, before you utter those golden words! The lips have already done the talking Be bold and opt for this snazzy style, you will never have your party pictures looking better.
Tips:
If the lipstick has benefits of being a sun-protector with SPF and has moisturizing hints. It's a cherry on the cake!
Make sure you use matt colors instead of going bizerk with color plus sheen unless you are daring enough.
Make sure that the lipstick application is smooth and uniform and does not form patches.
Image: Shutterstock