Every woman has a passion for displaying soft and sensuous feet within stylish sandals at parties and other get-together. However how to get soft feet has often been an intriguing question that troubles most women. Dry, rough looking and cracked feet are a common phenomenon arising out of several factors most of which are unavoidable in nature but can be easily countered by adopting suitable preventive measures.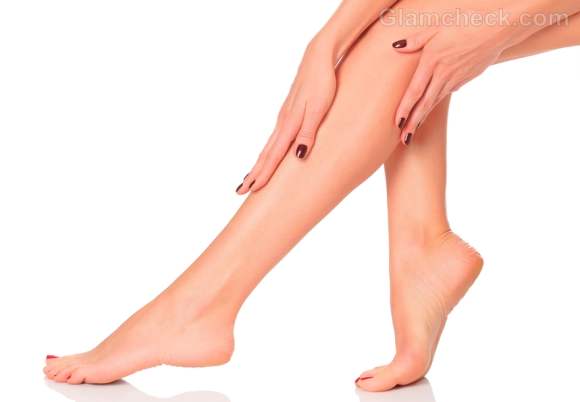 In order to be sure about how to get soft feet for yourself, one must first categorically understand the specific causes that are damaging the looks of your feet. Each individual has a particular reaction to environmental factors which produce typical reactions in the feet. So if you are keen to display touchable and soft feet which will enhance your personality you need to analyse what are the impediments and then work out a prevention and cure formula suited to your feet and working conditions. Loss of moisture remains the greatest enemy of soft feet in most cases and therefore all preventive measures and cures are aimed at retaining moisture. However in certain cases excessive moisture leads to fungal infections which are counterproductive to the cause of soft feet.
Causes of Rough Feet
Technically speaking your feet comprises of 26 bones and 33 joints along with a host of ligaments, tendons, muscles and blood vessels which contribute to the shape, flexibility and overall looks of the feet. In order to get soft feet it is imperative that the various reasons behind cracked, rough and sore looking feet be understood in entirety. Some of the most common causative factors are discussed in detail in the succeeding paragraphs.
Moisture is the primary culprit for this condition and most commonly affects athletes and other active people who tend to sweat more than the others. Not wearing socks or using one for a long time without washing creates a fungal infection that spreads across the feet. People who are exposed to warm and moist environment are more likely to be affected by such infection that starts with discoloration and then progressively results in skin peeling off in the affected areas. The Skin becomes dry and parched with increasing redness and itching.
Popularly known as eczema this condition arises out of environmental as well as hereditary factors. This disease is more permanent in nature and requires prolonged care and treatment in order to recover soft feet. The usual symptoms of this condition are dryness, itching, redness, scaling, peeling and crusting of the skin in the affected areas.
People who are diabetic are unable to absorb insulin into the body properly which results in a condition known as diabetic neuropathy which simply implies that the nerve endings in the feet area are damaged. The usual symptoms of this condition are sores and cracked feet.
Several conditions which most women encounter in their daily lives also are detrimental to having soft feet. These factors are often linked to their lifestyles rather than any physical disorder. Excessive use of soaps often results in loss of moisture which turns the skin of the feet rough and ultimately cracking commences. Wlaking through detergent water bare feet is yet another common cause that many fail to anticipate. Frequent baths also aid the condition by breaking down the lipids which otherwise act as barriers to moisture loss from the skin. Using hot water for bathing aggravates the situation. Women working in moist places tend to develop infections easily and unless timely action is taken the condition becomes irreversible.
Preventive Measures to get Soft Feet
Prevention is always better than cure. Those who always wonder how to get soft feet must start with a few measures that will ensure that such condition is never reached where they are shy to display their feet.
Exercising is probably the best means to ensure that blood supply to the feet is maintained at all times which the secret to soft feet that are supple.
Using the right fitting foot wear especially during periods of active physical activity ensures that the feet are free from scratches and bruises which often act as the starting point for fungal infections. The footwear must have ventilation facility to keep the feet dry by evaporating the sweat.
Regular footbath in the evening with warm water and a pinch of salt is yet another time tested means of ensuring soft feet. Adding glycerine or emptying a vitamin E capsule adds to the effectiveness of the foot bath. Remember that a minimum of five minutes of the foot bath is required to derive any benefits from it.
Regular foot massage not only enhances blood circulation to the feet but also can be combined with essential oils to make the skin appear supple and glowing along with making the feet soft.
Drying the feet properly after foot bath and applying talc or moisturizing lotion as per your skin type is mandatory activity towards getting soft feet.
Daily Foot Care Regimen to get Soft Feet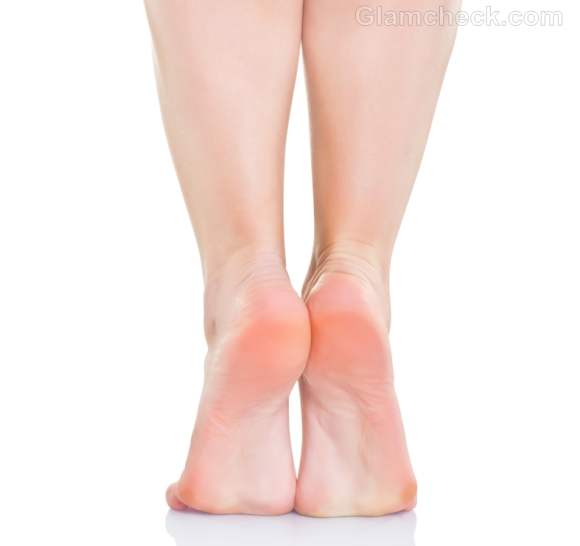 A well maintained pair of soft feet require care on a daily basis using some homemade as well as off the counter commercial products. A proven and easy to perform foot care regimen is suggested in the following paragraphs.
Commence with soaking the feet in luke warm salt water for 20 minutes and then clean the feet by gently scrubbing with a sponge or brush. This helps in removing the accumulated dirt and dead cells from the surface of the skin of the feet.
Next step is to apply an exfoliator and rub it vigorously so that it enters the skin properly. Now rub the feet with a proper pumice stone concentrating on the heels and the ball of the feet which tend to dry up faster and hence will have more dead skin. The exfoliator can be rubbed off now.
 Apply oily sugar scrub over the entire area of the feet and massage well before rinsing it off and drying the feet.
The last stage of this regimen involves applying petroleum jelly over the now soft feet and putting on a pair of socks for at least one hour so that the moisture is retained for that period.
Home Made Lotions to Get Soft Feet
Despite the availability of a wide range of commercial products that can be bought off the counter in order to have an effective foot bath for those great looking soft feet most women prefer creating their own lotions using home based products that can be used for equally great results. One of such lotions is suggested here.
For foot bath use water mixed with lemon juice is abundant portions.
For feet massage lotions mix a tablespoon each of almond oil, olive oil, wheat germ oil and fragrance oil. Having created this mixture, remember to store the container in cool dry place to be used for massaging when required.
For those who are seriously wondering how to get soft feet without having to undergo costly pedicure at beauty salons, the best formula is to undertake the foot bath and petroleum jelly massage on a daily basis and have a thorough scrub with the pumice stone at least once a week. The results will be visible within a couple of weeks and you can proudly display soft feet that add to your overall elegance. While in winters dry and rough feet can be hidden under shoes and socks, come summers the secret will be out. Only a few easy preventive steps undertaken at home will ensure that you are ready to put on gorgeous sandals to showcase soft and sensuous feet.
Image: Shutterstock