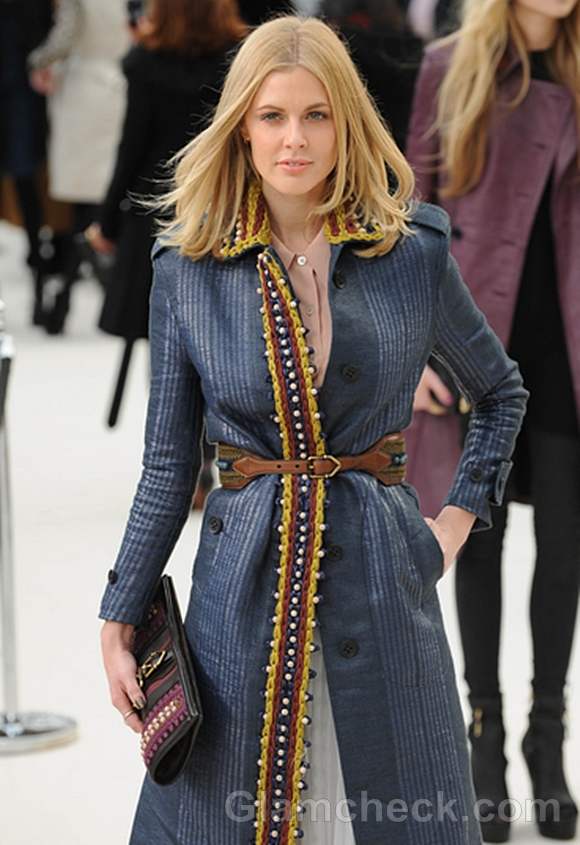 The biting London air had most attendees to the London Fashion Week Autumn-Winter 2012 covering up with tights, stockings or pants. But Donna Air decided to show a little leg in a dramatic ensemble that seemed to be borrowed right out of a fashion photo shoot as she arrived at the Burberry showing at Kensington Gardens on February 20.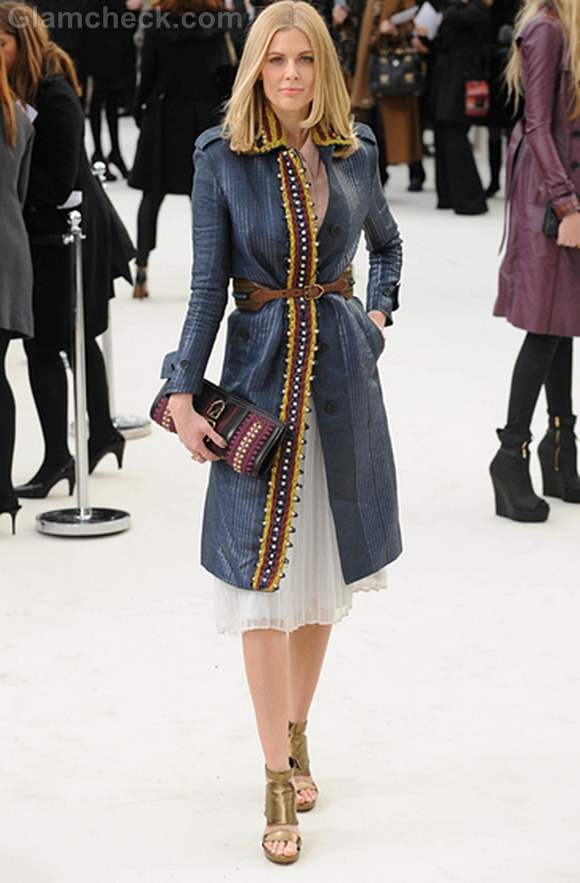 The 32-year-old TV presenter and actress paired a flowy white knee-length chiffon skirt with a peach front-buttoned blouse. Over these timeless colors, she wore a modern knee-length blue overcoat with a vertical band of yellow, blue and red which started at the collar and spanned vertically along the length of the overcoat right to the hem line. The band was interspersed with white beads, a detail which made it worthy to be worn at Fashion Week. No buttons on this overcoat – it was held close with a classy brown belt at the waist.
The overcoat was quite a show stealer. But it wasn't the only eye-catching piece in Donna's ensemble. She held on to a delightful pink, white and black embroidered clutch purse. Plus, she wore a pair of striking gold heels. We always welcome a burst of color so we're rooting for this look precisely because she has so beautifully incorporated so much flavor and life into her outfit.
The blonde beauty completed her look with natural makeup, hair center-parted and left loose with curls at the end.
Get The Look
Donna's outfit is actually quite simple. But what gives it the boost of glamor is the attention-grabbing overcoat, the heels and that pretty little clutch. Accessories play a huge role in the success of any outfit. So before you leave the house in your boring jeans and T-shirt, think of how you can accessorize your look in small ways to enhance your assets and make more of a statement.
Image: P R Photos