Self-made and self-learned Pnina Tornai showed the magic of feminism and sensuality with an haute couture bridal wear collection straight from the heart of Israel. Pnina puts her imagination into reality with her Spring-Summer 2012 collection presentation at New York fashion week held on October 17th.
The runway show left the audience awestruck, as they couldn't get their eyes off the collection which revamped old traditional Christian wedding gowns into precious bridal creations and ball gowns. The collection is exclusively sold at Klein field and is a perfect choice for an attention seeker.
Inspiration
Paying homage to her mother, who Pnina lost the same year, she took inspiration from her undying love for pearls and combined it with precise details from the renowned architecture of Manhattan. She looked at tears as pearls, and that's how this collection came into being.  The main theme of the collection is 'tears of joy', which translates to pearls of joy for a bride on her wedding day.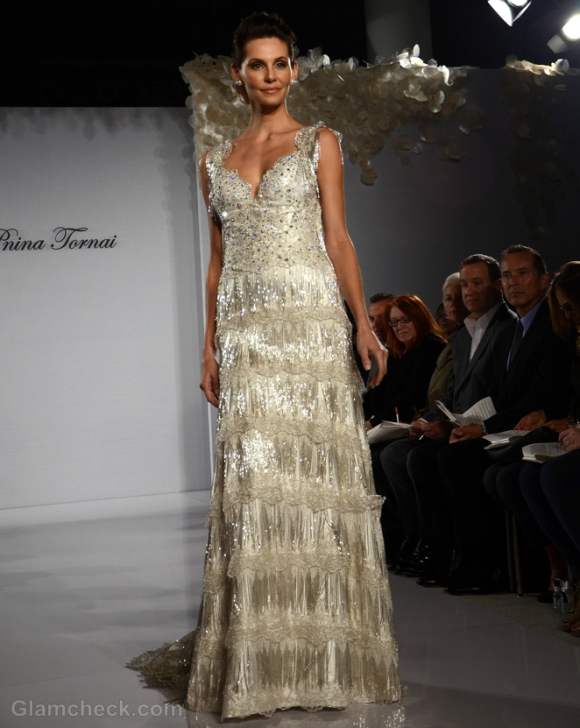 This exquisite collection was loaded with the perfection of pearls, genuine Swarovski crystals, and precious stones and showed her love for the elite New York City.
Fabrics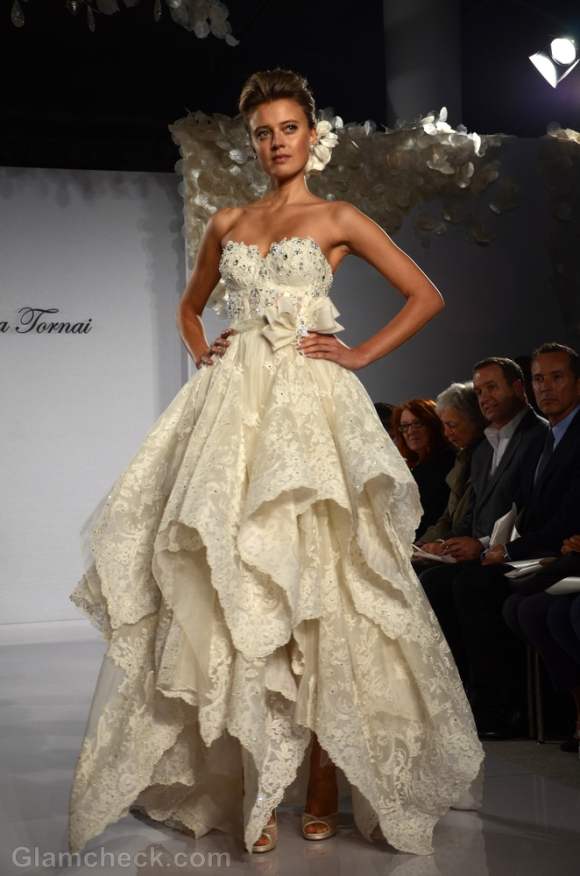 Pnina expressed her love for the finest of fabrics and perfect fits, with this extravagant collection of hand sewn and hand embroidered gowns. She used fabrics imported from Europe including shimmered tulle, jewelled vintage lace, luxurious silks, charmeuse, satin and organzas for creating these timeless pieces.
Silhouettes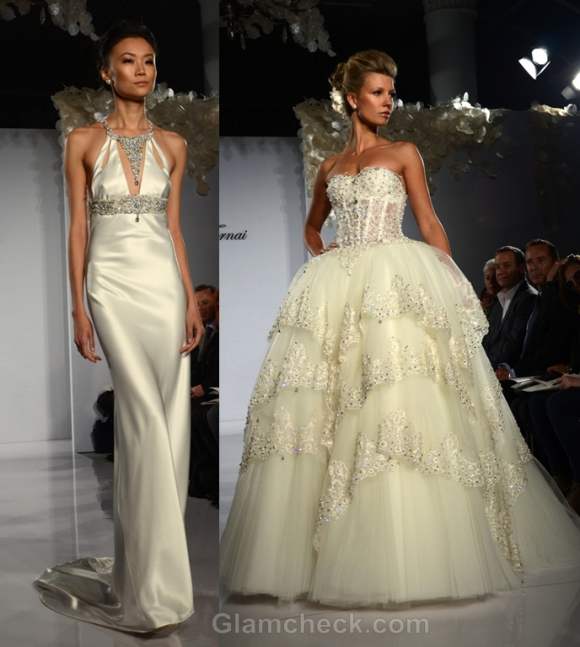 The gowns ranged from classy clean lines to ball gowns with emphasis on detailing. From cleavage showing, to body flattering shapes these dresses revealed that sexy back. While some dresses were fitted till the waist or hips and got flared below, the others were strapless dresses with corset on the top and a bouffant starting at the waist. We couldn't get enough of the tiered skirts in the ball-gowns with illusion sweetheart bodices.
From a wide variety of silhouettes to choose from, Pnina adds a personal touch to each dress which shows through the confidence of each of her happy and satisfied customers, disregard of their shape or size. She tries to make a gown to make the body-silhouette and the curves satisfied and looking forward to more compliments.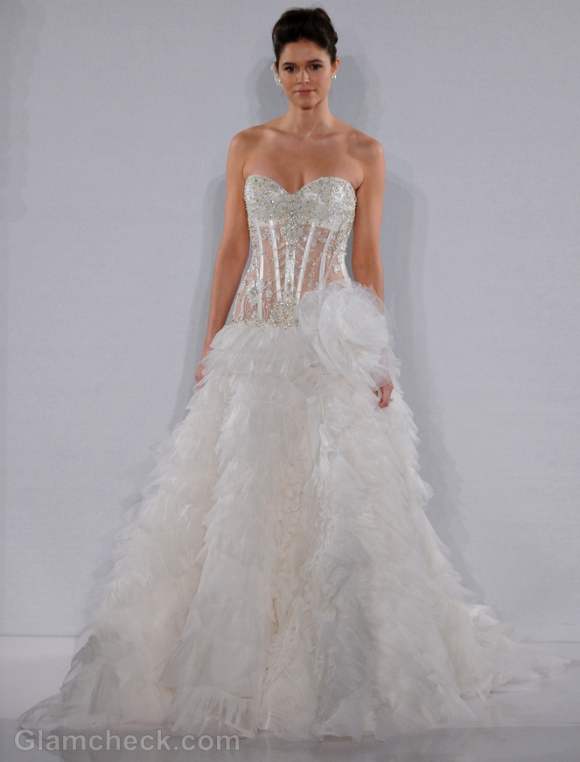 Some dresses were blingy-bodycon fit sheath dresses of mini-cut length, worn with a detachable flared skirt for a more purposeful spending. Some strappy dresses were red-carpet dresses with a floor-sweeping hemline and power to catch the attention. Shrugs came along with some dresses and the most favoured one was which, came with a mother-of-pearl shrug. We also saw a variation which went from a gown with dividers to bell bottoms at the end. With a fetish for corsets, Pnina married corsets with flare for the look with smaller waistlines, big fuller bust and cleavage oozing out oomph. The peplum trend was also highlighted well in a strapless sweetheart neckline dress with a pearl encrusted bodice.
Necklines
The necklines varied in each gown from sweetheart necklines to asymmetric one-shoulder styles. Halter necklines also hit the right note with straight, sleek and long gowns.
Design elements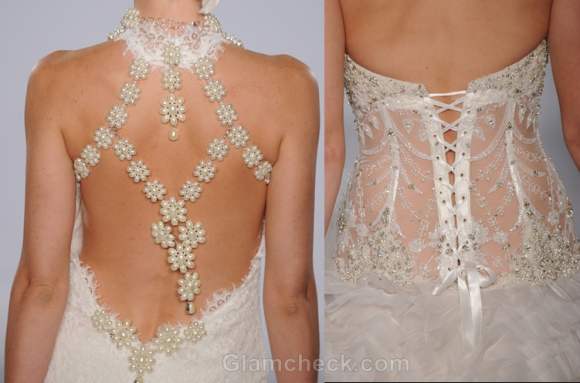 Use of bows, lace and pearl clusters brought about a whiff of romance and delicacy in the air. Some dresses carried off well the back-ribbon tie-ups with big bows at the end, adding the touch of feminity and sex appeal.
Surface & Embellishments
The glitz and glamor was created by use of layering and jewelled dresses from top to bottom. Every dress had an element of sheen which made the dress more pleasing and impactful.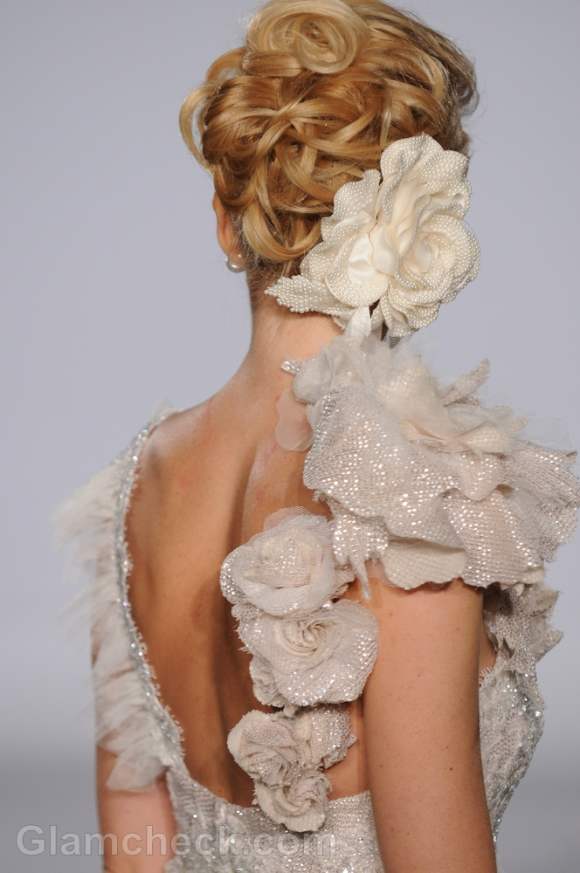 Flower detailing was seen on the neck and shoulders of some of the dresses and it added to the flamboyance.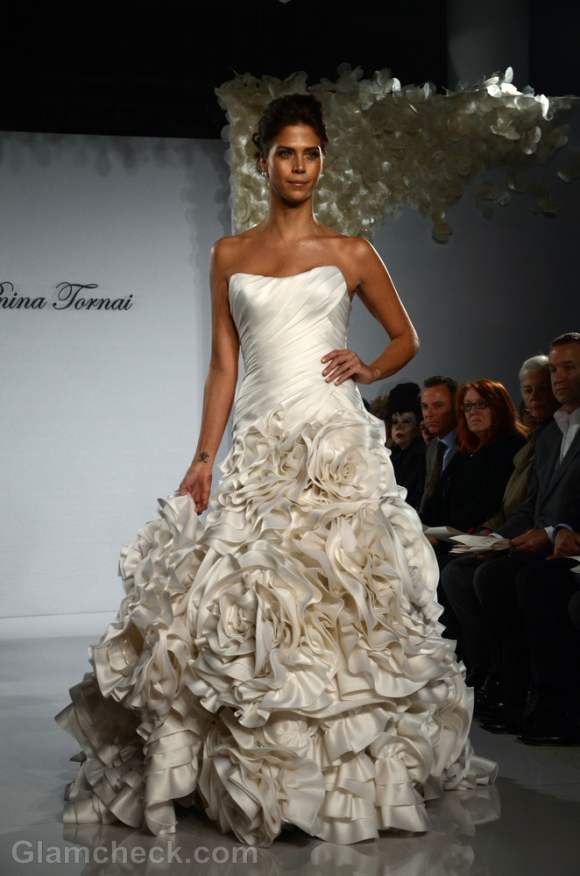 Layering was the key using frills, ruffles panels of different fabrics joined together at different lengths and levels.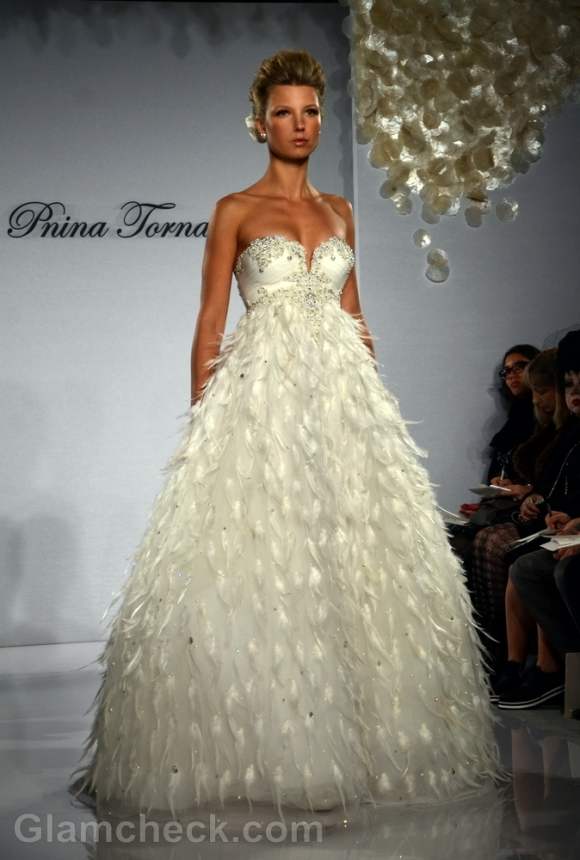 Some gowns had a dropped-waistline with a 3D effect made using floral folds on fabric teamed up with a matching bolero jacket. A trend still in demand, feathers were used in a big way on this jeweled bodice gown.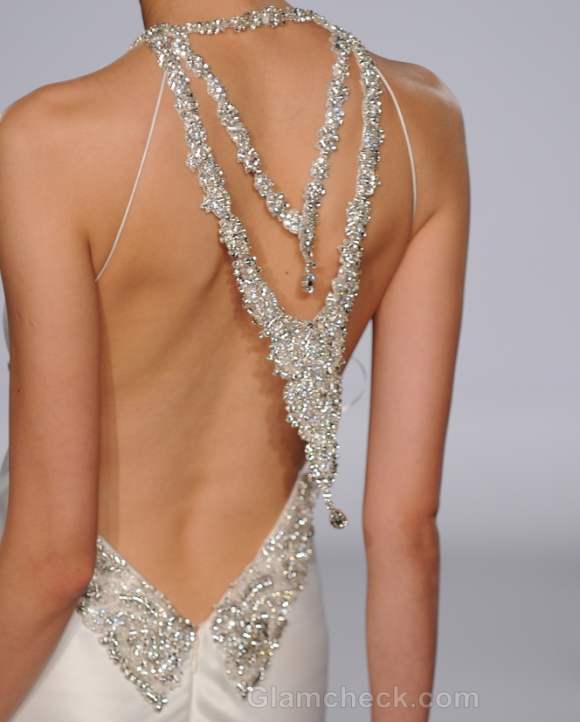 Some necklines showed the bare back complimented with embroidery panels or stone-work put together as a jewellery piece. Strands of sheen, panelling, cut-work, stonework, and use of shimmery linings were some of the other tactics to have our heart beating faster.
Accessories
The dresses were carried off with glitzy open-toe heels and flowers in the hair. The dresses spoke for themselves, rather scream out the "look at me" factor enough and did not need support of accessories.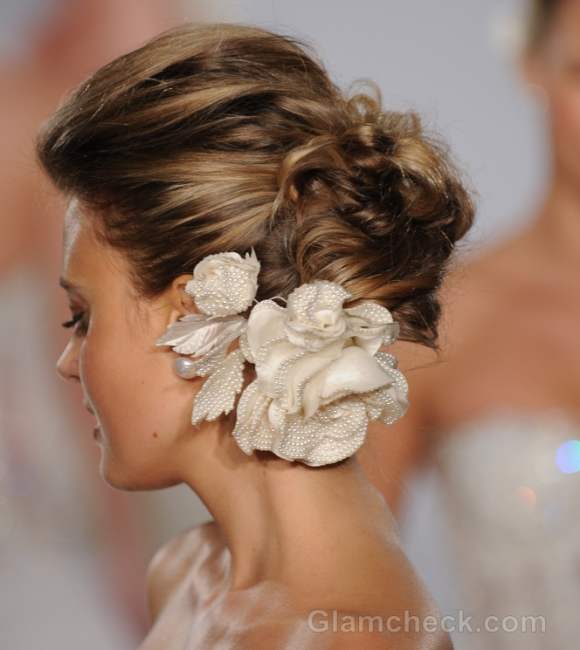 Hairstyles were mostly buns formed out of braids or knotted ponytail hairstyles, completed with flowers as a hair accessory on to the side. Nude makeup was the key to highlight these dresses and let the colour white show its magic around.
Showstopper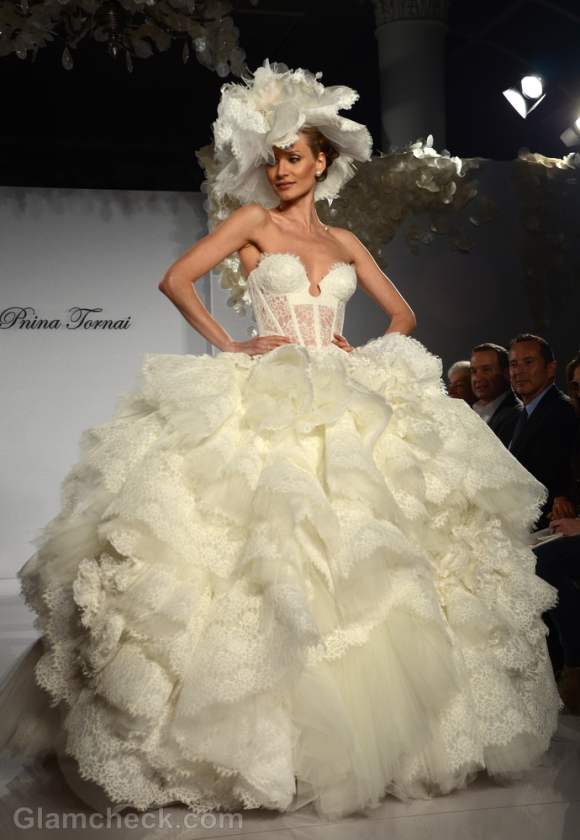 The "star of the show" had an elaborate headgear made out of fabric and did not need bling to show her style off. Her cleavage exposing gown was the gossip of the town for the use of lace, frills and panels. The bouffant was big enough to occupy the whole ramp at once and close enough to be able to touch, as resisting the temptation to do so was impossible. The gown was perfect skin-show, with exposure of well-carved collar bones, that beautiful long neck and those well-toned arms.
For love happens once, and your wedding too…so invest in one Pnina Tornai dress for instant allure and turn into a glam-queen within minutes. As the rich and famous say, "Say yes to that dress".
Image: Shutterstock