Like the androgynous look, jumpsuits are another stylish red carpet outfit for days when the celebs just don't want to put on a high-maintenance evening gown. Don't be fooled though. Jumpsuits have as much class and elegance as anything couture. Look at the black jumpsuits, for example, that were seen recently at star-studded events. Paz de la Huerta and Leslie Mann both sported the versatile garment on March 12, but at two separate dos. We bet you'll have a hard time deciding which one is better.
Paz de la Huerta
Actress/model Paz de la Huerta was spotted at Le Crazy Horse in the city of love where she was attending the VIP premiere of Feu by Christian Louboutin.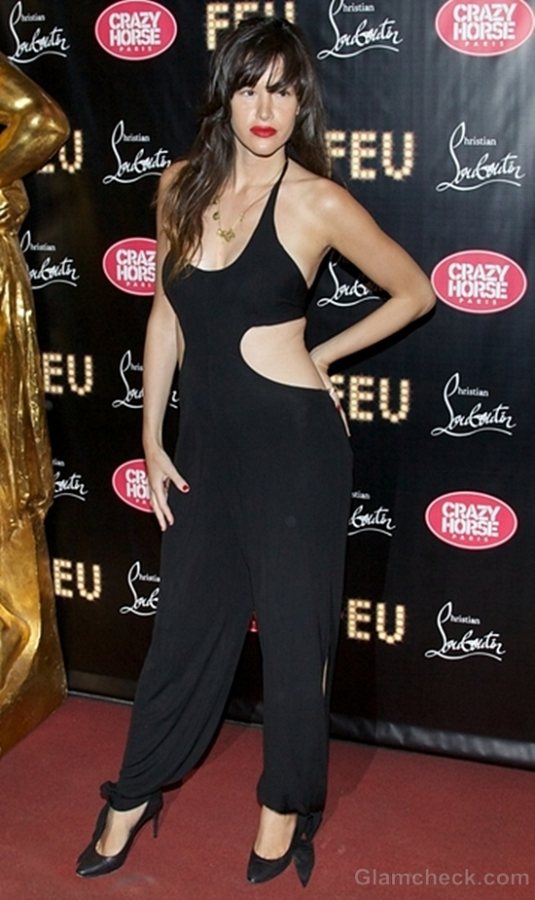 The sultry brunette wore a revealing black jumpsuit with a low neckline and cutaways on the waist. Featuring harem-style pants and a knot at the ankles, this dramatic number made Paz look like a modern-day Persian princess with a penchant for partying.
She accessorized her look with pointy heels and a gold neck piece, using  bight red lipstick and nails to add a pop of color to her ensemble.
Leslie Mann
Meanwhile, across the ocean, actress Leslie Mann made her way to the Los Angeles premiere of "The Hunger Games" at Nokia Theater L.A. Live in Los Angeles, California in a black jumpsuit that was very differently styled from Paz's, but with its own unique style that made Leslie stand out on the red carpet.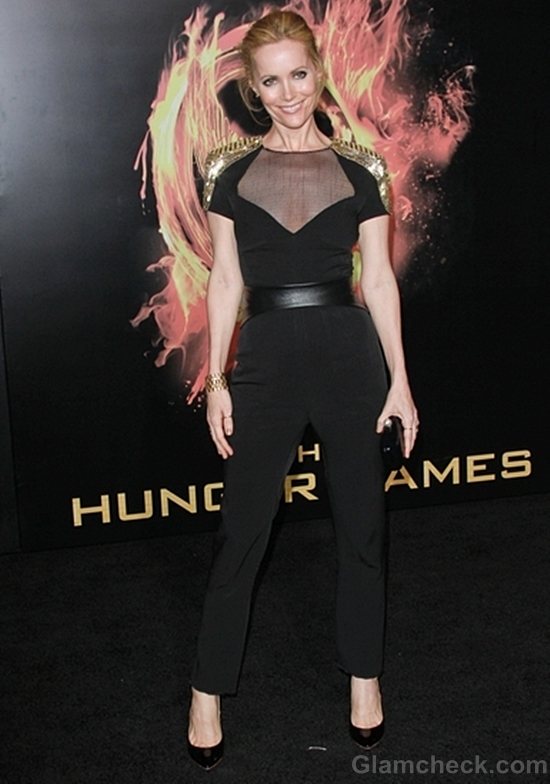 The black jumpsuit from the Monique Lhuillier Fall 2012 collection was fitted and tailored with a built-in black belt, sheer paneling on the neckline and gold detailing on the shoulders that ensured that this jumpsuit beat the typical variety hands down.
Leslie's black jumpsuit has a rock-star feel to it. It's a bold choice for the red carpet which she pulls off to perfection.
To accessorize, she chose patent black pumps and gold jewelry. She let her dark eyes be the focus of her face, with only a nude shade on her lips. A little color on her lips would not have been amiss because she looks just a tad washed out, but we suppose that her radiant glow makes up for it, no?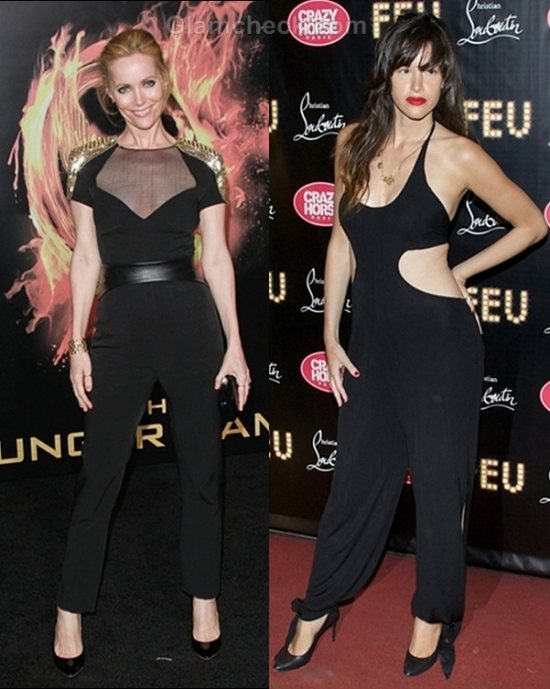 Now that you've seen both celebrity black jumpsuits, which one do you you think rocks harder? Which overall look do you prefer? Can you see yourself in either of these creations? Or do you think that these celebrity black jumpsuits will only look good on… well, celebrities?
Image: P R Photos