Young Victoria Justice may be young, but her fashion sense is highly developed. The 18-year-old actress/singer always floors us with the simplicity but sophistication of her red carpet looks. She wowed us again on March 17 as she attended the Los Angeles premiere of "Mirror Mirror" at the Graumans Chinese Theatre in Hollywood, California.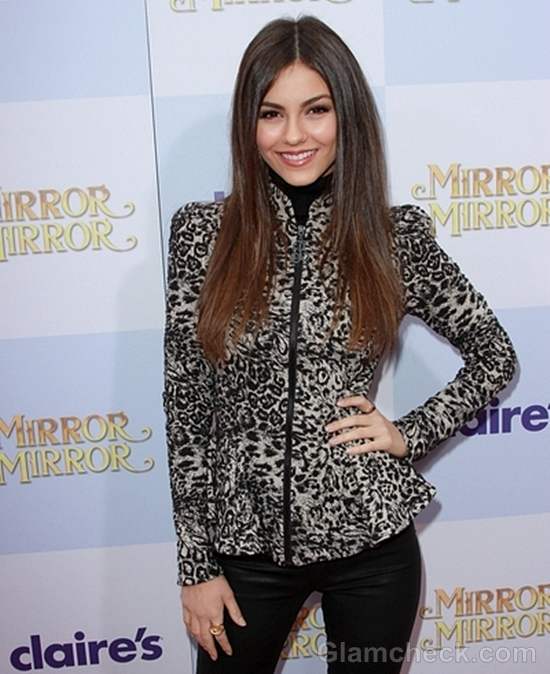 The young starlet paired black leather pants with a front-zippered, high-necked, animal-print jacket by Betsey Johnson. The jacket had a slight flare to it on the lower half, so although the monochrome and style of the ensemble made her seem more mature than her age, that little flare is all it takes to make it youthful while still maintaining the elegance of the jacket.
Victoria went simple with her accessories – black pumps, a gold ring and a Chanel clutch which isn't pictured in the images we've got.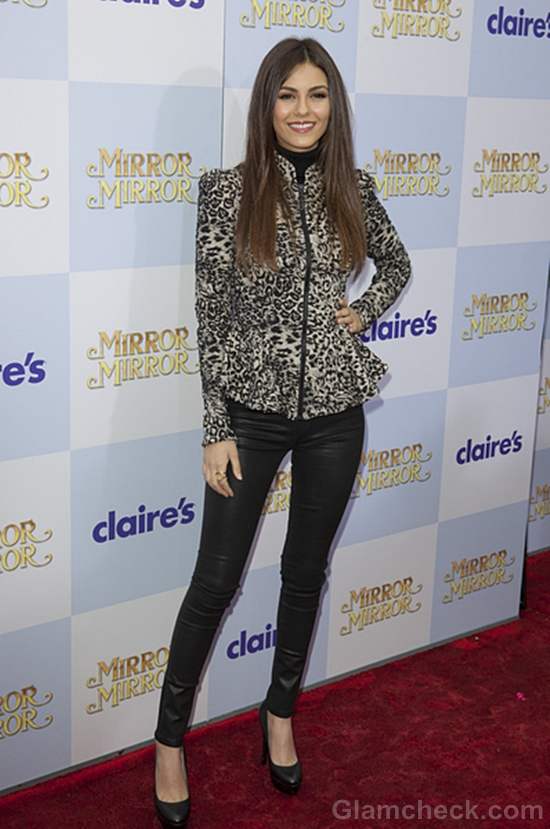 As usual, her makeup was natural and fresh with only a touch of color on her lips and cheeks to even indicate that she had any on. She left her long hair straight after a center parting – her patent style which could use a little change now and then, don't you think?
Post the screening, Justice tweeted that she loved the movie and thought that her friend Lily Collins who plays the lead role was flawless in the portrayal of Snow White. She also talked about how awesome the costumes for the film were. There go her honed fashion senses again.
Get the Look
Although animal prints usually add a wild, untamed element to an ensemble, you can see that the way Victoria has put her outfit together eliminates those elements altogether. She has done an amazing job capturing the grace and power of the big cats rather than their primal side. Clean, straight cuts can usually do that. If you like an animal print but do not want to give out a wild vibe, then go for a piece of animal-print clothing which has neat lines without ruffles or loose flowy fabric. The way that an outfit is cut and streamlined will contribute as much to conveying your message as the color or the accessories you choose.
Image: P R Photos