Nikolay Krasnikov showed some very interesting floral outfits at her S/S 2012 collection at the Mercedes Benz Fashion Week in Moscow. But, what was an interesting part of the show was her use of an overcoat in a collection that is meant for spring and summer.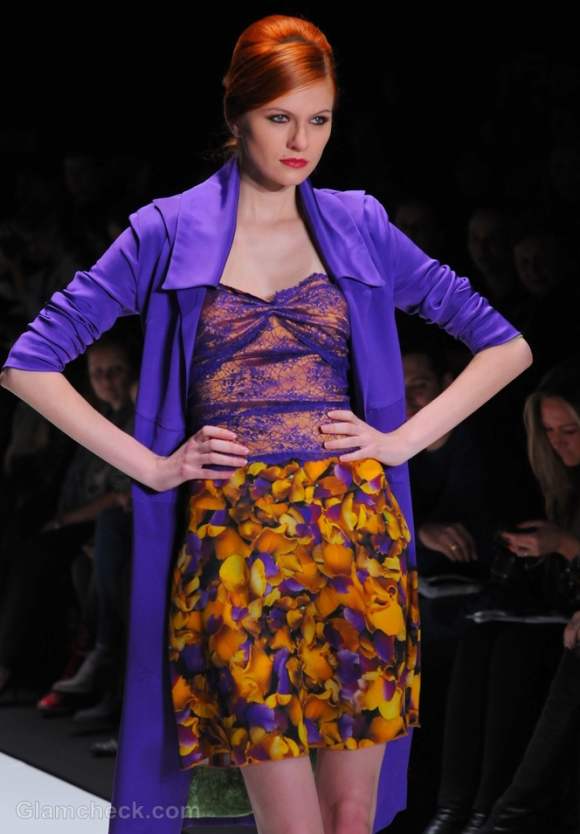 Therefore, her innovative use of the overcoat, as summer wear, makes it our Style Pick of the Day.
Overcoat during Summer?
For all of you, and I am sure this includes most of you, who think how is it possible to wear an overcoat in summer without being ridiculed or passing out due to the heat – well, here is the main point. When we say overcoat – this not mean the warm trench coats/woolen coats that constitute winter wear.

Overcoats like the ones showcased by Nikolay Krasnikov are made out of light material that makes it ideal for summer wear. The main purpose of these overcoats is to give layering to an outfit – which in itself have a lot of style advantages.
It can help one conceal extra flab and rolls without anyone knowing it.
One can wear it on top of a skimpy/sexy outfit, and therefore get the best of both worlds – skin show in the right amount.
A "too" dazzling/vibrant/jazzy outfit can be toned down by wearing an overcoat like this on top.
It is great for those occasions when you have to go out for a party but are not too sure about traveling the entire way in your party clothes, either because they draw too much attention or simply because you are uncomfortable. An overcoat like this can definitely come to your rescue for times like that – and, let's face it, a lot of us have gone through this scenario!
So, an overcoat can not only add style to your outfit but also smartly conceal flaws and inhibitions, which makes it a "friend in need".
Image: Shutterstock