Michael Kors put up a great show for his Fall winter 2012 collection presentation during Mercedes Benz fashion week held on February 15th, 2012 in New York. His collection breathes the very essence of rugged elegance and luxury of a modern day. A "classic, sportif" look with weathered cheeks and red lips was used to hot up these plush outfits.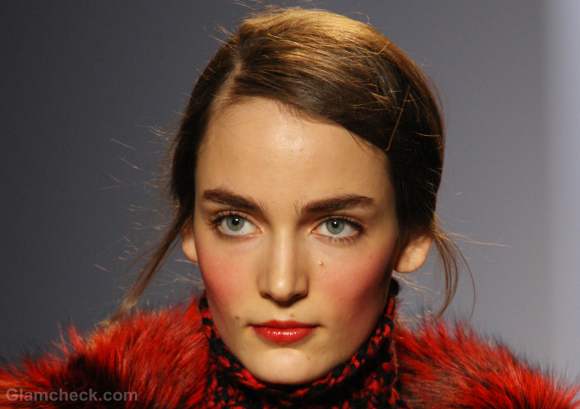 The "weathered cheeks" trend is used to full advantage, on a flawless face to highlight the cheeks so that they appear like a sun-kiss tan or a blush. Also, the red lips during fall are to die for and cannot be given a miss and here seemed to perfectly gel with the emphasized cheeks.
We show you in few steps how to achieve this stunning look and make it your all-time favorite.
Beauty How To: Weathered Cheeks, Red Lips & Natural Eyes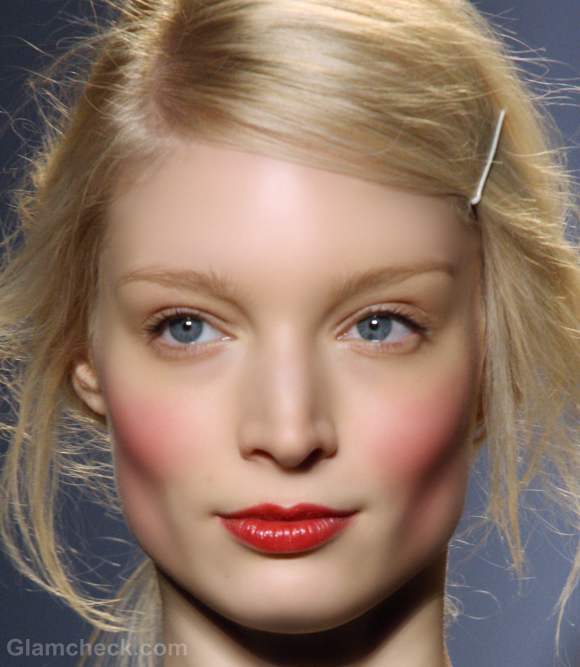 Base:
Begin with washing your face and cleaning and moisturizing it, so that we have a clean canvas to start painting.
Apply a foundation base, so that the skin appears even and conceals all the marks and color-patches.
Cheeks:
The chevron-shaped flush can be achieved by applying blush (which is concentrated with some water) on the cheek bones, using a foundation sponge. Add some foundation on the top for more sheen.
Eyes:
For the natural look on the eyes,  the brows need to be highlighted. Apply a mixture of two-three shades of brown shimmer cream-based eye color , depending on the skin-tone and hair-color.
Using a fluff brush, apply a mixture of gold and white luminizing face colors and blend well going from the inner corner of the eye over the complete eyelid.
Using an eye-lash curler, curl the lashes enough to give a soft appearance. One can even curl the lashes, such that they look dramatic and crimped.
Apply a thin coat of mascara on the upper lashes to complete the eye-makeup.
Lips:
Apply a base of foundation, on the lips to tone down the natural lip color and make the lips appear even in shade.
Carefully and patiently apply, a Rouge colored lipstick using a brush or directly from the stick.
To avoid, lipstick clogs on the lips, wipe the excess with tissue and re-apply it one-two times for more precision and deeper color.
Once, the lips are done you are good to go!
Dipping yourself in such a look will not only make you stand in crowd, but have people asking you for make-up tips and advice? What better way to pass for a movie-star, if it can just be done in such few minutes with such less make-up essentials. We have a hunch you are dying to doll up in this look!
Image: Shutterstock