With references dating back to the time of the ancient Egyptians, the Mike Vensel Fall winter 2012 collection presentation in Audi Forum during New York Fashion Week held on February 16, 2012 in NYC was remarkable and intriguing. Titled 'Horus Hawk', the collection was all about clean lines and rigid forms and had the models look edgy, classy and elegant with their sleek and neatly put together hairdos.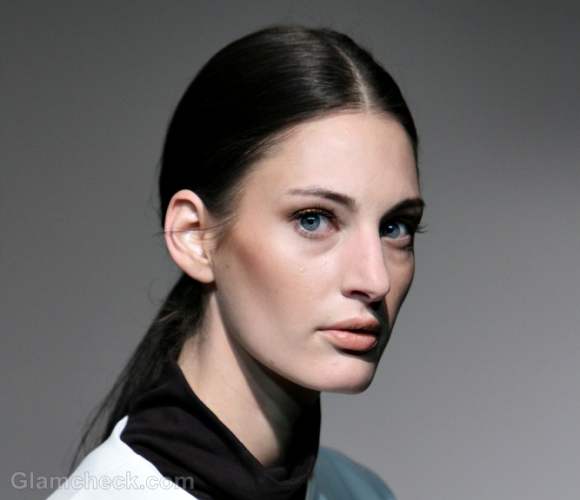 If you are running late or don't feel like getting dolled-up, just transform yourself into the girl-next-door with these simple steps to achieve this minimalist look. The sex-appeal of this hairstyle lies in its simplicity and is a must-try for an everyday look. The hairstyle is the simplest one can achieve and was best suited for the beauty and geometry exuded by the opulent garments in Mike's collection, made for the woman of today. We provide you a quick-how-to guide on to get this ponytail right.
Hairstyle How To: Sleek Ponytail With Center Parting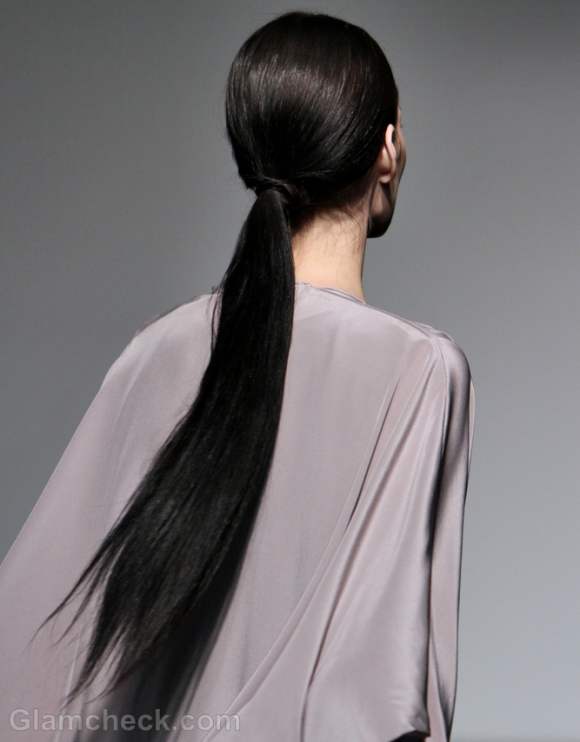 After washing your hair thoroughly, blow dry them completely.
Check for breakage and knots, and remove them if any. Now divide the hair into sections.
Using hair tongs or hair-iron, start ironing each section.
Depending on how straight you want your hair to be or how sleek you want your ponytail to look, straighten your hair. One can experiment with pokey straight hair or the natural straight hair.
Now using a tail comb, draw a center parting starting at the forehead and till the crown of the head.
After the parting, comb the rest of the hair and tie it up into a low ponytail at the end of the head or starting of your neck.
Comb the ponytail again and tighten the hair-tie, so that the hair remains in place.
The neat and classy hairdo is ready.
Image: Shutterstock