Curly hair is one type of hair style that is more in fashion than out. It is a unique, fun hair type. Straight hair makes everyone look alike. Curly hair seems to bring out the individual streak in each person, enhancing their personality even more. You may not feel so lucky if you have curly hair because of how challenging it is to take care of it. Maybe you can take solace from the fact that a majority of the straight-haired and wavy-haired girls out there are wishing they had your gorgeous locks. Fairytales tell of princesses with long, curly tresses, not straight ones. Hollywood divas spend hours in hair and makeup trying to tease their hair into curls. Your friends, family, colleagues and even strangers have surely gone green with envy at least once on beholding your abundant curls. So the next time you are cursing your curls because they are so tough to handle, just think of how much other people wish they could be you. Take pride in your tresses, curly-haired girl!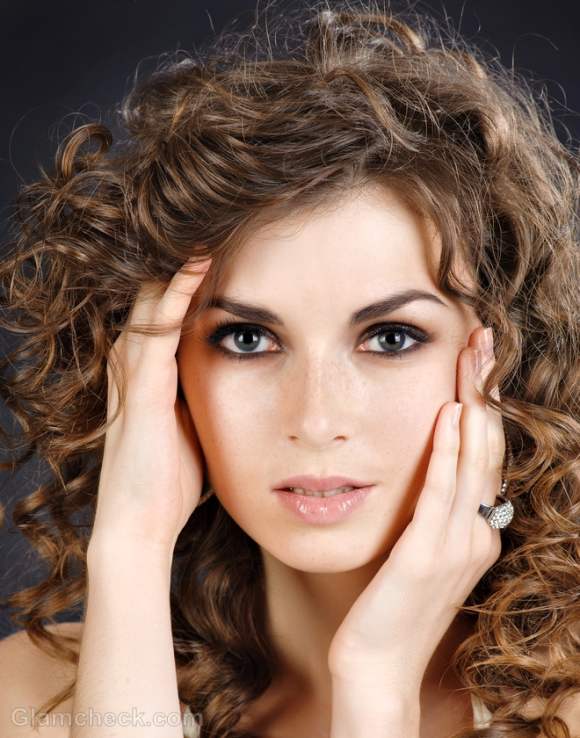 That being said, yes, we know – curly hair is difficult to look after, and that's under-stating the facts. Many women with long, curly hair have a love-hate relationship with their hair type. Curls can look absolutely brilliant but they can be very frustrating to take care of and manage. Let's take a look at just some of the problems that those with curly hair have to deal with.
Challenges of Having Curly Hair
Curly hair takes forever to blow dry and style since it is so much more dense than wavy or straight hair. Your arms get tired holding up that blow dryer for so long.
Those with curly hair generally have dry hair because the shape of the hair does not allow the oil from the scalp to travel down through the shaft and to the ends. This means that your hair is desperate for moisture and will soak it up wherever it can find it. So in a humid climate, your hair literally gets drunk on the moisture in the air, which causes the cuticles to expand. This in turn leads to frizzy hair.
Since it is more dry than other types of hair, curly hair is more vulnerable to the side effects of dry hair like breakage, shedding and split ends.
You can expect your hair to get dirtier too as curly hair is a magnet for dust, environmental pollutants, smoke, grime, etc.
Curly hair gets frizzy very quickly after a bath as it generates higher amounts of static due to constant friction between the curls. Straight and wavy hair do not have this problem as much since they pretty much hang down and there is minimal friction between individual tresses.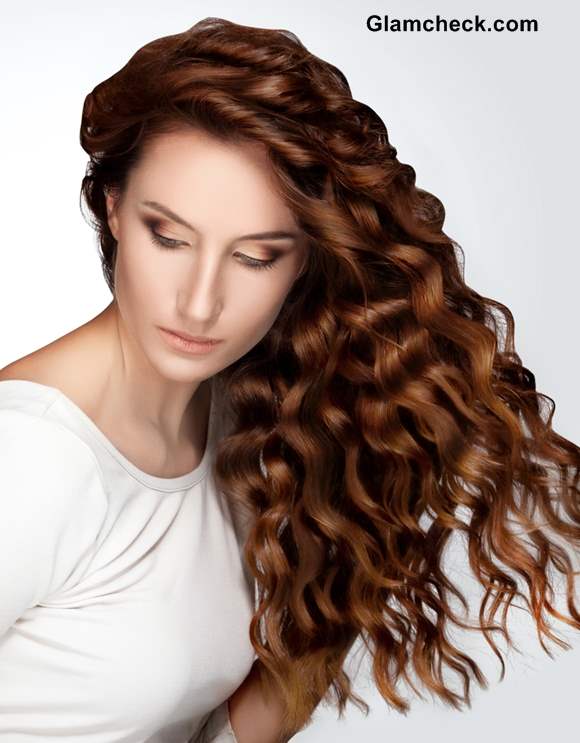 Curly Hair Care Tips
There is a right way and a wrong way to take care of curly hair. Your daily hair care routine has to differ slightly from what everyone else follows. Here are some curly hair care tips for everything from shampooing your curls to styling and managing it through the different seasons. Hopefully, once you have read through these tips you will realize where you have been going wrong and will finally be able to get your curly hair woes under control.
Shampooing Curly Hair
Curly hair should not be shampooed too often as it strips the oil from your scalp and makes your hair even more dry, adding to frizz and static. Twice a week is more than enough. Some women who have long, curly hair have reported being able to go for a month without shampooing with excellent results. You may not be inclined to resort to so extreme a method but if you do you can be assured softer, more manageable hair.
While shampooing, do not scrub your scalp or your hair too harshly. Your movements need to be firm but gentle. Scrubbing too hard will dry out your hair even more.
Use a shampoo that is specifically designed for use on curly hair. Those that are meant to 'replenish' or 'moisturize' hair will usually do too.
If you have oily hair, you may be forced to shampoo more often if your lifestyle makes it dirty every day. Make sure the shampoo your use on a daily basis is gentle and made from natural ingredients as these are not as harsh as chemical-based shampoos. Baby oil is a good alternative if you have to wash every day.
There is a popular method for managing curly hair called the 'no poo' (combination of the words 'no'  and 'shampoo') system. This involves limiting the use of shampoos with sodium lauryl sulfate (SLS) to as few times a year as possible. SLS is a harsh industrial solvent which is used in almost every cleaning and beauty product on the market today. It is an unhealthy way to clean your hair. What's more, since curly hair is actually quite porous, a residue of all hair care products will be left behind on your tresses no matter how much you wash it.  It is this very residue that causes curly hair to get even more frizzy. By limiting the use of shampoos with harsh ingredients, you reduce the level of residue left in your hair thus reducing the frizz as well as all the other problems associated with it like extreme dryness and breakage.
Conditioning Curly Hair
Although shampooing every day is not recommended for curly hair, conditioning is an absolute must otherwise your curls will get frizzy and unmanageable. Conditioner is curly hair's best friend.
Condition your hair every day if possible even if you do not shampoo it. Conditioner is enough to get the dirt out and to lock in the moisture that your hair so desperately needs to stay tamed. All conditioners contain surfactants which, using the friction created when you rub it into your hair, is more than capable of removing all traces of dirt, dust and oil from your hair and scalp. So you should do a conditioning rinse every time you wet your hair while taking a bath or shower.
Use a leave-in conditioner every alternate day.
Choosing a Conditioner for Curly Hair
We usually just pick up our beauty products based on their name rather than their content. Start to be a little more inquisitive about your hair care products if you want to avoid long-term damage. An ingredient-list on any conditioner is like a crash course in chemistry. There's a whole bunch of chemicals on there which you can't make head or tail of unless you have a bit of a background in science. It would be great if you knew what each was and how it affects your hair, but that is a whole article in itself. For now, we'll cover a few thing that should definitely be in your curly hair conditioner for better curl definition, smoothness, softness and shine.
Humectants like honey, vegetable glycerin, penthenol or sorbitol. Humectants are the most crucial ingredients in a conditioner for curly hair. They basically absorb and lock in moisture by bonding with the hydrogen atoms in water. You'll find humectants on hair products designed for damaged, dry hair.
Proteins like soy, keratin, silk, amino acids or wheat. Proteins will do a temporary repair job on your hair and protect it from damage for as long as it remains in your hair. The effects wear off when you next wet your hair. That's why conditioning is crucial after every wash.
Emollients like nut butters, glyceride, vegetable oils and liposomes. These make hair smooth and soft and lend it a healthy shine.
Moisturisers like aloe vera and amino acids. They make your hair softer and more easy to control.
How to "Wash" Curly Hair With Conditioner
Wet your hair thoroughly.
Pour the amount of conditioner that you generally use to condition your hair into the palm of your hand.
Use your fingers to apply conditioner right on to your scalp and massage in the same way you do when you shampoo.
Repeat step two and three until you have gently but firmly massaged your entire scalp. The massaging is necessary as the friction is what will remove the dirt from your hair.
Wash off with warm or cold water, never hot, massaging your scalp with your fingertips at all times.
Once you are done with this, condition your hair as usual. Detangle knots with your fingers or a wide-toothed comb after applying the conditioner, leave in for a couple of minutes and wash off. You can use a richer conditioner for this step.
If you want extra softness, just clip your hair up after applying the conditioner and go on with the rest of your shower or bath. Wash off with cold water when you are done. The cold water helps to lock in the moisture. Hot water will strip it away which is why it is not recommended for the rinse. If you cannot stand washing your hair in cold water, at least let the final rinse be in cold water or all your efforts will be for naught.
Tips for Drying/Styling Curly Hair
Curly hair is more vulnerable than straight or wavy hair. As you may already know, blow drying dries and damages hair if done too often. Those with curly hair should avoid blow drying as much as possible.
After you have washed your hair, squeeze out all excess water with your hands.
Do not wrap your head in a towel or even rub it. Instead, tilt your head forward and use scrunching motions which will serve to blot out the moisture from your hair.
If you feel the need to dry your hair further, use an old T-shirt made of soft material for the job. Remember not to rub your curly hair dry. Always use scrunching motions. This helps to get your curls into shape.
Apply a curly hair care gel which is silicone-free. Scrunch it into your hair.
Never use a brush on curly hair. It will just create more frizz.
A wide-toothed comb is better suited to groom curly hair. A far better and healthier option is your fingers.
Let your curly hair air dry. Do not keep touching it or primping it while it is drying. Allow it to set into its natural form.
Blow Drying Curly Hair
We've already mentioned that you should avoid blow drying curly hair as much as possible. However, there can be times when you cannot wait for your curly hair to air dry and stepping out with still damp hair is not a viable option. If you take steps to protect your curly hair before blow drying it and learn the proper blow drying techniques, you will minimize the damage as well as the frizz.
After your have squeezed out all excess water from your hair, wrap your hair in a dry T-shirt for about ten minutes so it can blot up as much moisture as possible. The longer you air dry your hair before blow drying the better.
Detangle knots with a wide-toothed comb. Start in small sections at the ends and very gently work your way up to the scalp.
The next and most important step is to apply a styling gel which is designed to protect your hair from the heat of the blow dryer.
Divide your hair into four sections or more for easier blow drying. The number of sections you need will depend on the length and volume of your hair. Each section should be only as large as you can comfortably blow dry.
Put your dryer on a low or medium setting and start to blow dry one section from the roots. It is better to use the diffuser setting if you want your curls to set well and to minimize damafe. The diffuser spreads heat equally through your hair without hampering your natural curls.
Run your fingers through your hair to shake out the curls as you blow dry. This makes them look bouncier and more alive.
Repeat the last two steps with the remaining sections of hair.
Finish off with a hair spray made for curly hair.
Other Tips for Blow Drying Curly Hair
There are several curly hair care products available in the market which can help with frizz. Use an anti-frizz spray after your shower to make hair more manageable and to prevent frizziness after blow drying.
Remember to keep the blow dryer at least six inches away from your hair. If using the diffuser setting, you can bring it closer.
Never use a brush on your curls. Not before, during or after you blow dry.
Going for a voluminous curly hair look? Make little circular motions as you are blow drying to lift curls and give your hair volume. Another way to achieve volume is to lift your hair up and blow dry it from underneath.
Go slow when blow drying curly hair. Take each section at a time and finish each properly before moving on to the next.
Always point the dryer down while blow drying. Pointing it up will cause more frizz.
Blow drying often will also cause your hair to get more frizzy so don't do it unless you really have to.
Other Curly Hair Care Tips
Curly hair tends to grow in all directions. Trim your hair regularly to keep hair in shape as well as to prevent and contain split ends.
Deep condition your curly hair at least twice a month.
Avoid styling products with alcohol as these dry out hair even more.
The more you fool around with your curls by touching them or scrunching them, the frizzier they will get. So once you have dried your hair with that T-shirt, just leave it alone.
Do not use a fine-toothed comb on your hair.
Never make a parting down the middle. It will look very strange.
When hair is wet, twist it around your fingers to form intricate curls.
Seasonal Curly Hair Care
Like your skin, the type of hair you have will bring on different challenges as the seasons change. The summer makes hair oily and dirty, the monsoons make it soft but frizzy and far too voluminous, while the winter cold makes it drier than ever. If you follow the curly hair care tips we've seen so far, you will have minimal trouble with your hair even when the seasons change. However, here are a few additional curly hair care tips for each season to help tackle the unique little annoyances that crop up.
Curly Hair Care Tips for Summer
Summer is hell for curly hair, especially if the climate where you live is high in humidity. The challenges of curly hair are most obvious and aggravating in the hotter seasons.
Here's the most important tip to help you with your curly hair in the summer – ditch your flat iron. You'll spend over two hours, often much, much more, trying to straighten your curly hair and all your work will be for nothing. The moment you step outside, your hair will start to misbehave and gradually become curly again. Save your time and energy. Go natural. It's more in keeping with the season too and you'll be freeing your time up for summer fun.
A leave-in moisturizer is preferable in the summer as it will keep your hair hydrated so it won't feel the need to suck up the moisture in the air.
Before you get into the swimming pool or the sea for a dip, apply conditioner to your hair and do not forget to wear that swimming cap to protect it from chlorine.
Curly Hair Care Tips for Winter
Curly hair needs extra care in all seasons. Since curly hair is more prone to dryness anyway, it can get drier than ever in the winter.
Wear a hat or head gear that is lined with silk when you step outdoors. This will protect your hair from the elements and keep your ringlets soft.
You'll probably be covering your head a lot to keep warm. While this is practical, it can leave your hair looking flat. Fortunately, plumping up your hair again is not that tough. Just run damp hands over your curls, then massage your scalp with your fingertips to push hair away from the roots and regain volume.
Or you can just put your hair up and then wear your head gear. When you remove it, simply let your hair loose and your curls will fall back into place.
Deep condition your hair at least once a week during the winter.
Use a brush or comb only in the shower when your hair is dripping wet. Use your fingers to style or comb hair after.
Never step out in the cold with wet hair. It will make hair brittle and cause it to break easily.
It can be difficult to wash hair in cold water but remember that this is necessary if you want to lock in the moisture from your conditioner.
Curly Hair Care Tips for Monsoons
High levels of humidity during the rains can make managing your curly hair a daily battle. There's not much you can do about the weather, but you can prep your hair to deal with the inherent problems of the season.
A leave-in conditioner is imperative if you want to avoid frizziness.
Avoid any hot air treatments including blow drying and straightening.
If you tend to get caught in the rain often and your hair gets wet, make sure you both shampoo and condition your hair when you get back home as curly hair is more susceptible to fungal infection from dirty rain water and god knows that the rains today are full of environmental pollutants.
Image: Shutterstock