Change and evolution are the strong forces that drive the progress of the fashion world. The need for change is pretty much the major inspiration behind creativity which is forever looking for new ways to translate into existence. Owing to the change gone are the days when a clutch bag was just an accessory for an evening out. Today the utility and the style aspect of this category of bag have extended beyond the expected. So if one is comfortable in holding something in their hands throughout, then the clutch bag is a great way to accessorize and stylize an outfit. It is an effective tool to embrace a lot of trends and the fur version of it showcased by Max Azria at Mercedes Benz Fall/Winter 2012 is our style pick of the day.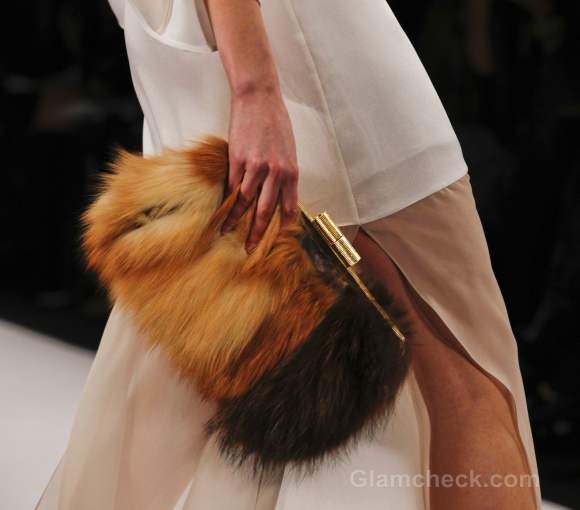 Max Azria's fashion philosophy for the Fall/Winter 2012 was stated by color blocked sober tones with hint of brights in the form of coral, orange, royal blue and purple. The collection saw a major inspiration in geometry and one of the accessories adding artfully to the collection was the fur clutch that is recycled and real. 
The fur clutch in the hues of gold and chocolate brown is tastefully crafted with the gold colored metallic hardware. The clutch bag is a catch and a conversation starter. A versatile piece that will easily add sophisticated glamour to a lot of outfits.
Styling Tips:
Not everyone can connect to fauna inspired fashion and accessories become a great introduction or just the right amount to start with. Fur is an epitome of luxury and does justice to it with this statement making fur clutch bag.
Fur has a strong character of its own. Balance it out with monotones of black, white, dark blues, deep purple and beige.
The clutch makes for a super option for an evening gala but experiment and make it a day option by teaming it with a smart color blocked dress.
Wearing a similar footwear option in terms of color and texture is always a safe bet. Marry the bag with smart boots in winters and with sheer fabric for the summers.
Tips to Maintain the Fur:
Store the fur clutch bag in a cool dry place. Heat and humidity destroy the color and the feel.
Ensure the fur clutch bag is stored in a place with some air circulation. So storing is in a cotton bag is much better than plastics.
Avoid crushing the bag with other articles.
Get it cleaned every season and ideally by a professional furrier.
Clearly, fur today is not just a practical and an age old method to keep warm but it has a huge decorative value as well and Max Azria's fur clutch bag is a fashionably roaring example of that.
Image: Shutterstock