Just when you thought that you almost knew what will the next trend ruling the roost be, you come across yet another surprise. That of sporting, well, salt and pepper hair!  Such is fashion world, one which never ceases to amaze and surprise us.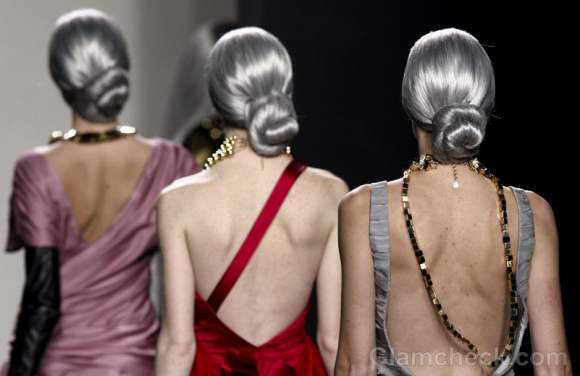 María Barros in her fall-winter collection during the Mercedes Benz Madrid Fashion Week presented the next big trend for hairstyles and color for the coming Fall winter 2012 – that of sporting salt and pepper gray hair. Previously seen on runways in Paris to red carpets in New York, and sported by fashion divas such as Lady Gaga, Kirsten Dunst and Kate Moss, the trend of sporting salt and pepper hair is here to stay.  
Which Hairstyle to sport in salt and pepper hair?
Maria used the salt and pepper color in two to three different hairstyles. Some models wore their long hair open, with the hair swept back and a small middle parting.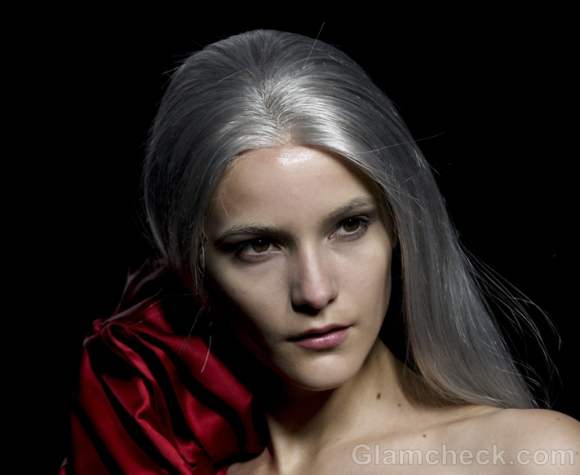 Others wore their salt and pepper hair neatly tied in a bun, resting at the nape. Needless to say, the salt and pepper color looked great on both hairstyles.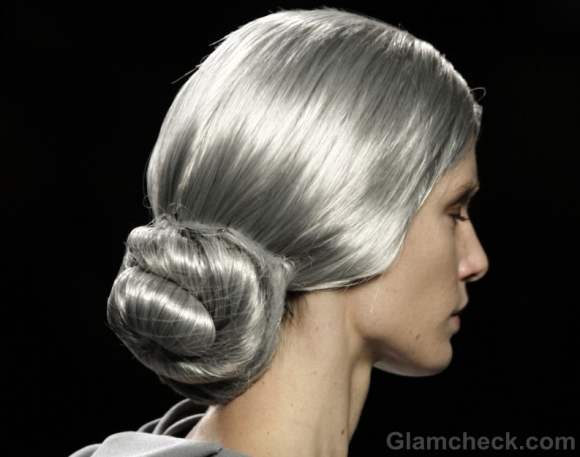 Perhaps what also worked for the models was the fact that the hairstyles were simple and not over the top, balancing out the unusual hair color choice.
How do you adopt the salt and pepper hairstyle?
With the global hair color companies now having various shades of salt and pepper to choose from, there are obviously many shades of gray you can pick from, ranging from a gray with more black, silver gray, gray with tones of pink etc. If you have the guts to carry off the color, almost any hairstyle that you are currently sporting will look great with the salt and pepper effect.
Some tips which will surely help you carry off this color are:
Avoid elaborate hairstyles with this color. The hair color should be the focus, and choosing the appropriate style will balance the complete look. A simple blow dry open hair look, or a loose pony, neatly tied bun, French or fish tail plaits, all look great.
The beauty of sporting this color is the almost dramatic effect it has by sporting an aged look on younger skin. While sporting this look hence, ensure that you choose makeup which makes you look fresh and younger. It is perfectly okay to sport a bright red lipstick with the peppered hair, if it suits your skin tone.
Perhaps one of the sure shot winners with this hair color is that the color of your ensemble can also be daring – a rich red dress will look equally cool as a gray pinstripe suit. Being neutral, the peppered hair style will go with almost any color of your ensemble.
Carry this look to a sit down formal dinner, an informal movie screening or to the office – the peppered hairstyle is great for every occasion.
Salt and Peppered is an unusual choice for hair color. Perhaps sporting this effect, as your hairstyle will break one of the biggest myths of fashion world – that of color gray being synonymous with looking old. With women in their late teens and early twenties sporting the look, salt and pepper hair color is definitely here to stay.
Image: Shutterstock