Tracy Reese, the talented African-American designer presented her Fall-Winter 2012 collection during Mercedes Benz Fashion week held at Lincoln Centre, Manhattan on February 12 and managed to leave each one flabbergasted like always. Her collection had a play of bold colors like orange, teal, yellow and purple that blended well with luxe textures and edgy silhouettes she had to offer.  Her collection was sophisticated, alluring and invoked feminity and strength.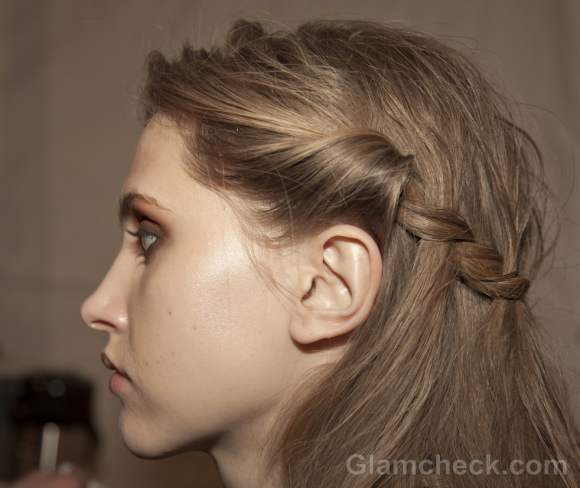 The hairstyle and makeup was kept subtle so that it complements the elaborate patterns and textures used. The hairstylists Jeanie Seifu and Nikki Reed, were inspired by the "natural street style" and portrayed it well in this accessible, everyday look. The look was a side braid done on unkempt hair, to give a casual yet edgy look. We provide you a step-by-step guide, on how to get this fun hairdo right.
Things You need:
Bobby pins
Hair-tie
Mousse
Hair spray
Tail comb
Step-by-Step instructions: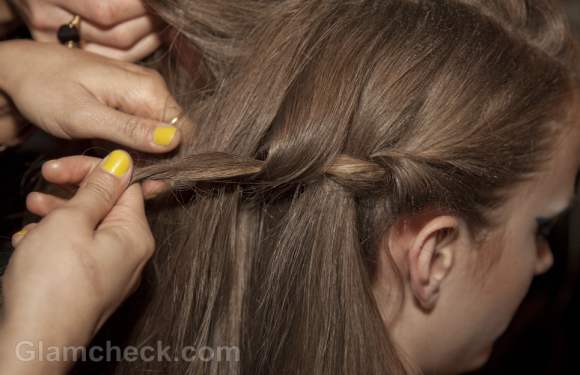 Wash your hair thoroughly and blow dry till completely dry.
Now part the hair sideways, using a tail comb.
For giving it an undone texture, apply some mousse. Now run fingers through the hair, so that the mousse gets well spread and the rough texture is attained.
Using a double-barrelled curl iron, tease some sections of the hair to achieve irregular curls.  This will add a wavy effect to loose hanging strands of hair.
The texture achieved would be natural and unkempt.
Take the front section of the hair, from the forehead to the crown. Leaving 2" of hair from the scalp, start braiding the section loosely.
Keep twisting each section while braiding.
Braid it till you reach the tips and secure the braid using a hair-tie or an elastic band.
Since, the look is messy, let the loose strands hang around everywhere.
Pin up the hair on the other side, behind the ear using bobby pins. This hair can also be braided and secured behind the ear.
This gives a neater yet an asymmetric look to the hairstyle.
Finish the hair-do by misting the look with hairspray.
Tips: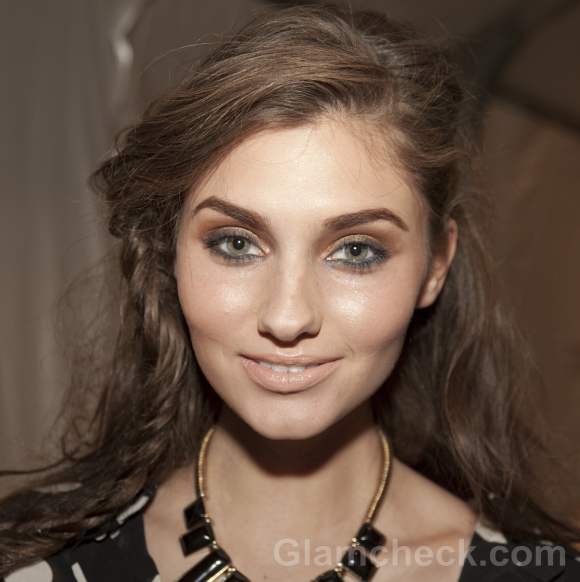 You can experiment, and do more than one braid going in different directions.
Braids can be symmetrically done on either side with a middle parting.
Jazz up this hairstyle, by using a blingy hair accessory or subtle flowers.
Weave fabric into the braid, for a more school like look.
Try the same hairstyle, with fishtail braids for a unique look.
This hairstyle is a Bohemian version of the Milkmaid braid and great to wear with your maxi or sun dresses.  It can be used on the same day or slept over with, and flaunted the next day. We know you are itching to try this one since its easy, quick and can create a lasting impression.
Image: Shutterstock