You don't generally see the color black around in the summer. In fact, several summer outfit guides will outright advise against wearing black, but would it really be such a crime against fashion if one did don the much-maligned shade during the hotter months? As she walked around in Hollywood, California on May 20, Amra-Faye Wright proves that you can break the rules and still look fabulous.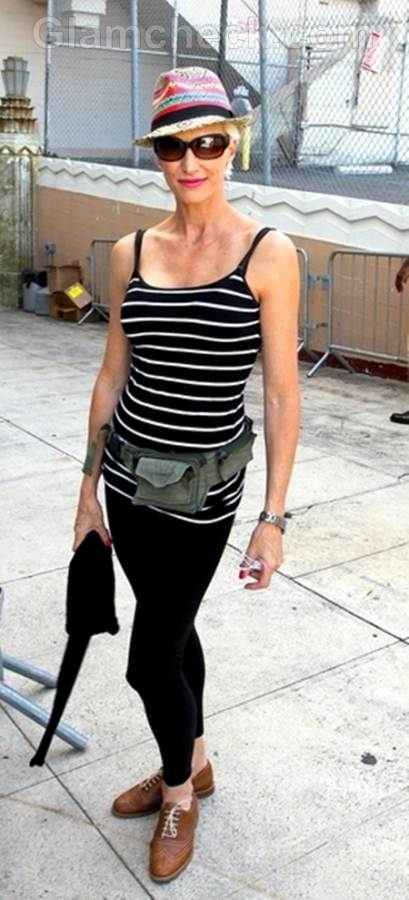 She wore black leggings with a black tank top that featured white stripes, accessorizing her outfit with a grey money belt, tan walking shoes, a silver bracelet and diamond clip-on earrings. Her cropped blonde hair dispels the need for any specific styling. She warded off the heat with a colorful striped hat and dark sun glasses. The final burst of color came in the way of her deep pink lip color and her subtle pink blush.
Get the Look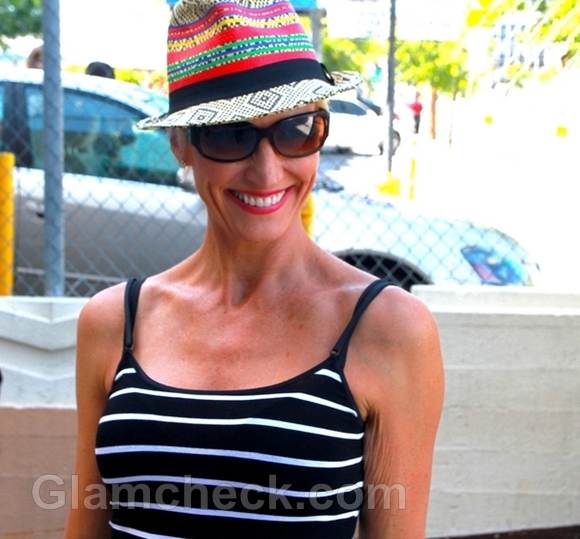 The reason that Amra-Faye's outfit works so well for day wear despite the dark color is the colorful hat and lip shade she chose to sport. That small but eclectic splash of color is all it takes to transform this into a great summer ensemble for a day out.
So if you do plan on sporting darker colors this summer, just ensure that you (a) break the monotony of the darker shades in the outfit with a lighter one in the same way that she does with the white stripes on her top, and (b) add a dash of something colorful in the way of an accessory like a scarf, hat, shoes or bracelets to brighten up the mood. Don't forget to wear a vibrant lip color too.
Image: P R Photos