During an interview Marilyn Monroe once commented, "Give a girl the pair of right shoes, and she will conquer the world". By saying this Marilyn truly echoed the sentiments of a shoe aficionado, after all a great pair of shoes can easily convert a plain-jane to a head –turner.
Today footwear has bloomed into a section which is fast –gaining grounds with apparels and accessories. The trick in being a "shoe-diva" is matching and mixing the right pair of shoes with your attire. One of the trickiest situations that you can encounter during your 'shoe –matching' sessions is what shoes to wear with shorts. Even the biggest of fashionistas go wrong here.
So, here we would solely advising you on the do's and don'ts of finding that chic pair of shoes that you can don with shorts.  While on shoe-hunt always remember that with shorts your shoes are the only accessory that protrudes out most. Pants, trousers and long skirts tend to take away the attention from the foot-wear but in shorts you can't help highlighting your shoes. Therefore special care must be taken for finding the appropriate shoes to wear with shorts.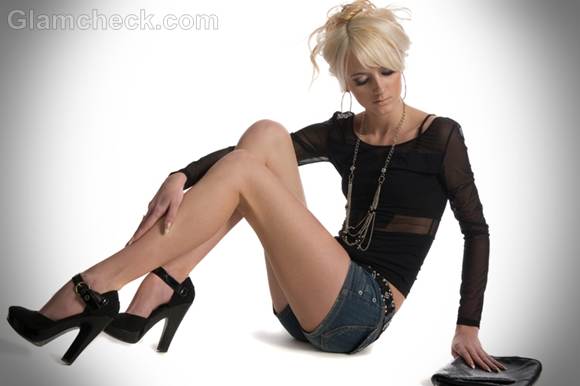 Since shorts scream "casual", your shoes should also follow the tone. Anything that looks dull or too sober will kill the look of shorts. Moreover if you want full attention on your shorts your footwear must not be too catchy. Go for lighter shades, which do not look grave.
Versatile Wedges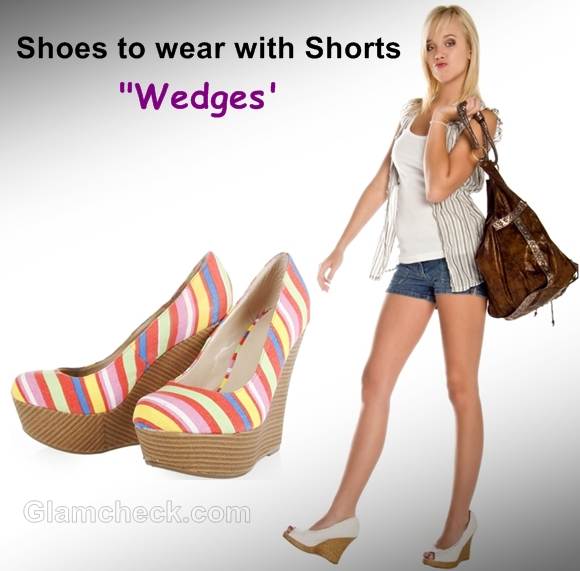 Wedge shoes which are a current favorite of fashion police can also be worn with shorts. Wedge shoes are near cousin of high heels and give the appearance of wedge from the side view. Wedges are one of the most versatile types. They are available in different types like low wedge, medium wedge and high wedge From evening dresses to summer shirts they go well with a broad range of dresses.. Since here we are looking for shoes to wear with shorts, low wedges would be the most appropriate choice for us.
Sneakers & Sandals for casual & relaxed look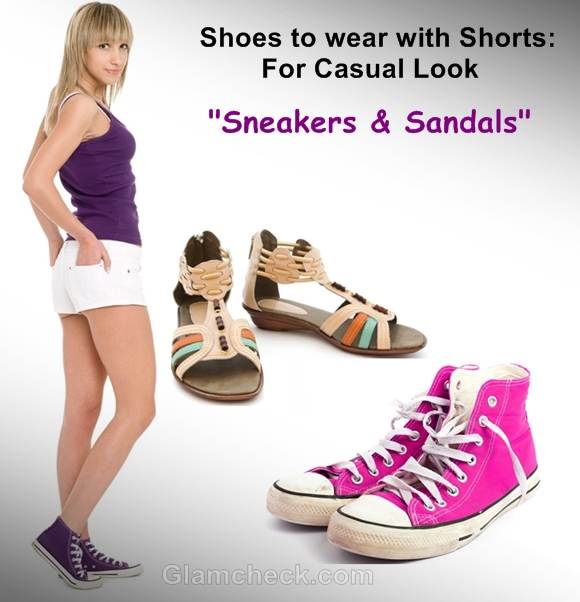 While searching for shoes to wear with shorts, open-toed shoes can be a good option. They have a casual feel and will also not take away the attention from your attire. Floaters and sandals also work well as they are well suited for summer and are not too heavy. Running shoes or sneakers also make a great pair with shorts. They are available in every closet and will save your precious dollars too. Read a separate article on how to wear sneakers. Footwear of heavier material or leather must be totally avoided as it look too formal with shorts.
Kitten heels for feminine look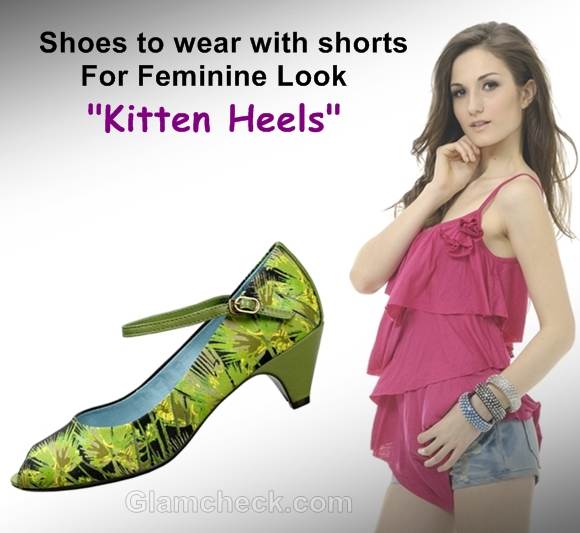 Kitten heels, the hottest trend in the world of heels also gives a sexy and glamorous look with short. Kitten heels are the shoes with a thin-based and low length heels (although versions in higher heels are also available). The heel is set from the back of shoe and traditional kitten heels were usually one and half inches or lower. Kitten heels suit the shorts well and provide a very feminine look to your attire. Kitten heels are a way to go in your search of the shoes to wear with shorts.
Wear stilettos with high-waist shorts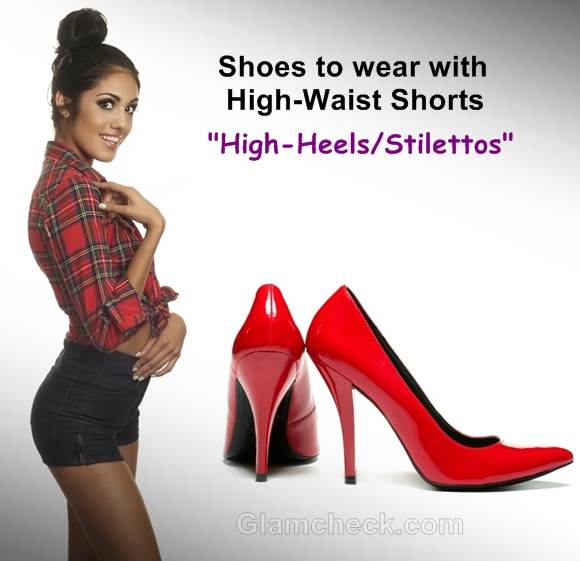 For those who love to experiment with high-waisted shorts high heels can be an option too. Stilettos or high heels beautifully complement the high-waisted shorts. If you are not the high-heel kind of a person or some medical reason somehow restricts you from opting for high heels then look for anything that gives your body an elongated look. For some more styling tips read: celebs inspired 5 cool ways to wear your high-waist shorts.
Boots for a bold look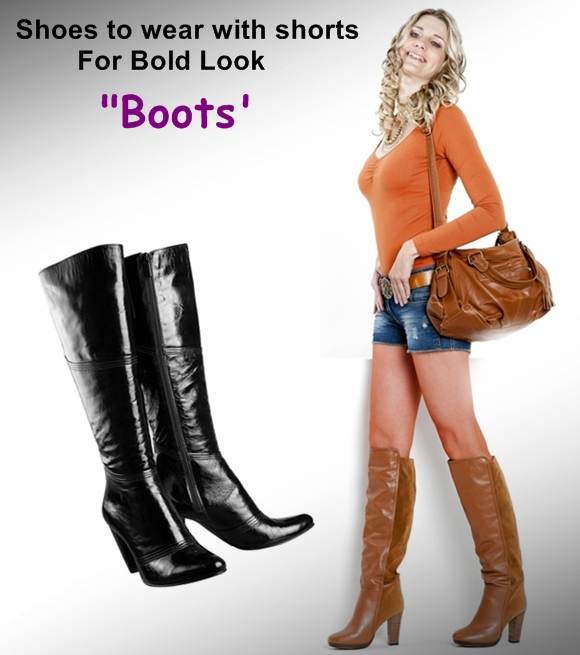 Those with guts and enough confidence can also carry boots with shorts. Mind you not everybody can carry boots with shorts in a glamorous way, most of the people trying so turn into a fashion disaster. But if you have made up your mind to do so then you can pair up your shorts with ankle-length boots. Also remember the color of the boots is also a critical factor. Choose the color that matches your shorts. Read more on Boots for Women.
Strappy Heels for dressy look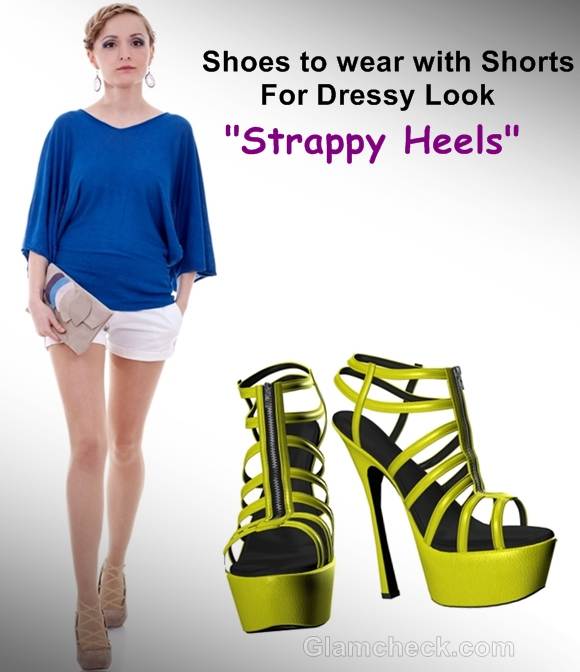 If the shorts you wear are for some special occasion or are dressy enough then you can opt for strappy sandals too. Strappy sandals are one of most comfortable footwear for summers and give an elegant look to the dress. In your search for shoes to wear shorts a pair of strappy sandals is perhaps the best option.
Flip-flops On the beach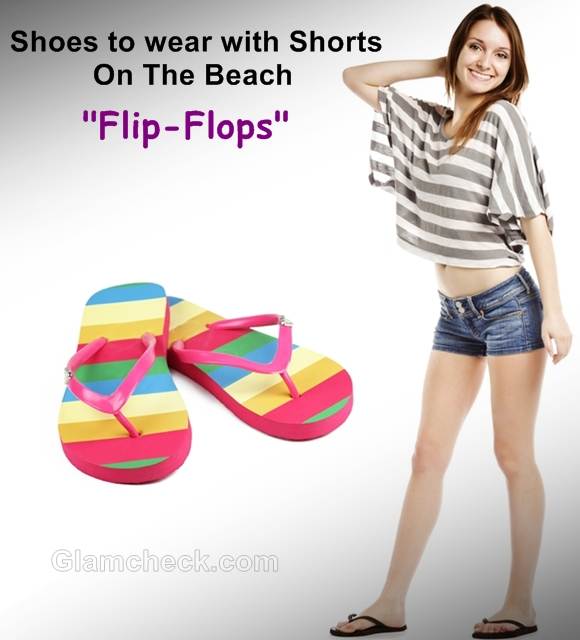 If you have purchased your shorts with the purpose of using it as a beach wear, then nothing except flip-flops will serve the purpose for you. A trendy pair of flip flops gives a uber-cool and super casual look. They are available in wide range of colors, styles, designs so it is hard that you wouldn't find your perfect shoes. Ultra-glam flip-flops with a little heel can also be worn in a special occasion. Flip-flops in a true spirit are the shoes to wear with shorts.
Osho Chappals for comfort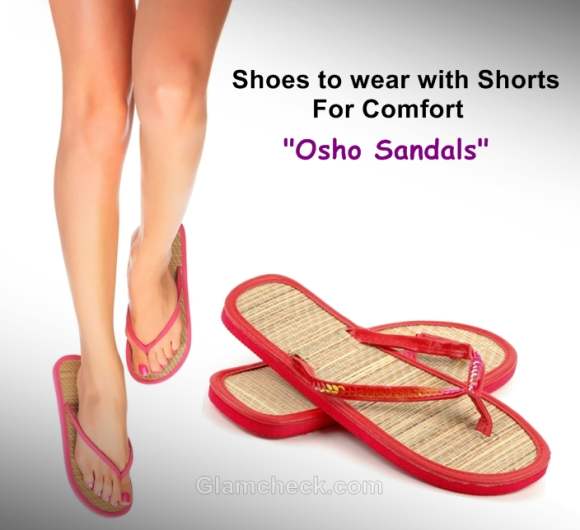 Teaming up your shorts with hermetic and ascetic style Osho Chappals is also a good option.  Osho-Chappals are super-comfortable in hot –stinking summer and even eco-friendly. Made up of jute, they are feather-light and extremely benign on your pocket. Osho Chappals have been given thumbs up by both men and women and are slowly catching up in the fashion circuits also. Although, Osho Chappals would not gel well with dressy shorts but for a casual pair of denim or Bermuda shorts Osho Chappals would easily fit in.
In your hunt for that perfect pair of shoes to wear with shorts, remember that more than the type of footwear it is your attitude which will make or wreck your dress.
Image: Shutterstock.com