The pleasure and comfort granted by certain types of clothing is forever unmatched. A perfect pair of shorts does just that and owing to the styling character this kind of clothing can take multiple looks. Shorts today not only play the role of the perfect holiday outfit but have translated into a red carpet option too making a great change to what we see usually and the beige version of these spotted at Toronto's World MasterCard Fashion Week also makes our style pick of the day.
The Runway Look: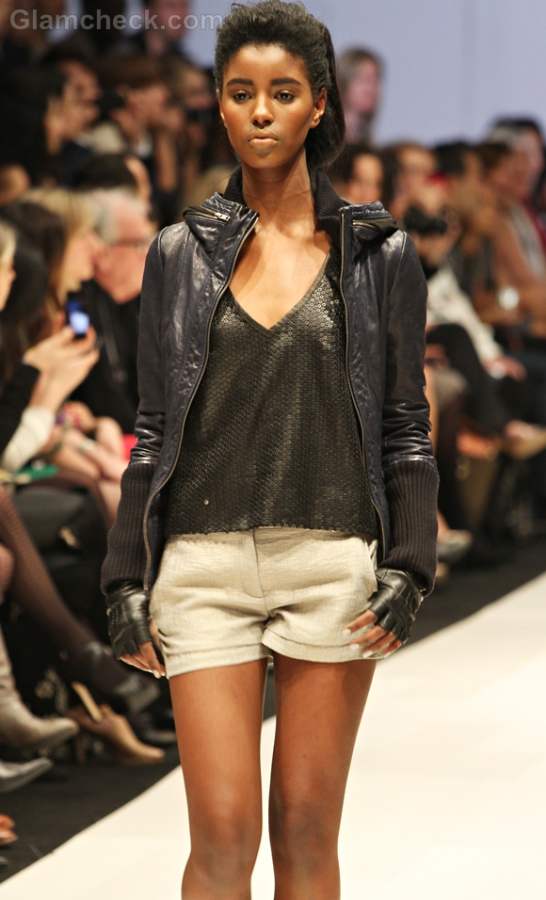 Style Pick : Versatile Beige Shorts Holt Renfrew Fall 2012
Combining the classic feel of Black with Beige was a look put together by Holt Renfrew with layered jacket and V-Neck blouse in textured black made a striking contrast to the beige shorts. The look is simple yet edgy and the pair of beige shorts has been translated into Fall Winter attire. The shorts though have a rightful place in the summer wardrobes. However, this is not a set rule and Holt Renfrew definitely did not abide by it.
Styling Options: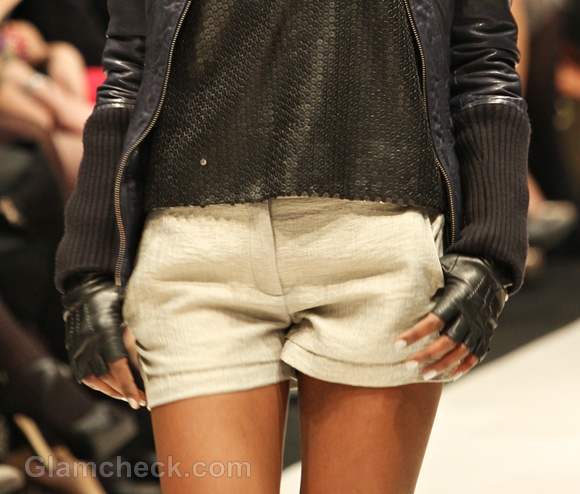 There is nothing really or not much that can go wrong and not fit perfectly with the style pick of the day. Here are the ways and means to use these stylishly versatile pair of shorts to their optimum capacity:
The Beige Shorts for the Summer:
Endless prints: Be it Floral, Aztec , Colorful Stripes , Dots, Ethnic or Tribal. All these prints in bright colors and various cuts will give a new look to these summer short pants. One can follow the trending prints to be more trends specific. Accessorize according to the multiple tastes and kiss the summer with style.
Team with solid colors and metallic accessories, dramatic heels and go heavy on your eyes or dominate with ruby red lips to make a strong statement.
Nothing does more justice to a stylish pair of shorts than proper toned legs. Proper worked out legs is always pleasing and more specifically in summers.
The Beige Shorts for the Fall:
Layering: A dressy sheer blouse with layered structured jacket translates the beige shorts to its dressier version.
Style the shorts with a dark pair of stockings and a smart blazer and boots to make it apt for the Fall Winter.
Team the shorts with a well fitted leather jacket. This look is pretty much on the same lines as Holt Renfrew's look for the fashion week.
The color of the pair is soft and enables one with a galore of styling options and a great room of accessorizing making it a delightful pick of the day.
Image: vortexdigital / Shutterstock.com