We have seen a lot of variation and experimentation on the runway this season. From color juxtaposition to surface ornamentation, everything has been different from each other yet a little similar. But our job is to tell you what is the hottest thing this season and the "Style pick of the day" is the bird print t-shirts from The Rodnik Band by designer Phillip Colbert which was showcased at ZAGREB FASHION WEEK show on May 10 2012 in Zagreb Croatia.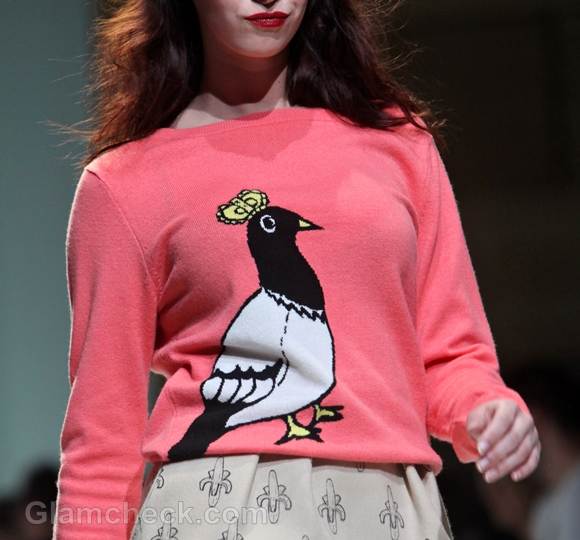 Style Pick : Bird Print T-shirts The Rodnik Band by designer Phillip Colbert Fall 2012
The collection was all about pop art, something which hasn't been seen since a very long time. The single chest print full sleeve knit t-shirts with bird motifs and skirts with the old brasso bottle print. It was like reviving the old products through fashion and making them a fun and interesting part of your wardrobe.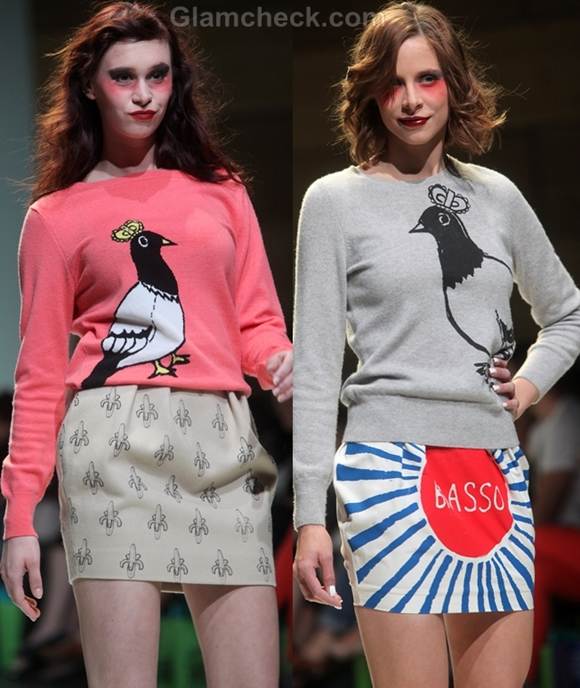 The colors were a mix of bright and pastels with accentuates. It definitely brought about the whole pop art era into being all over again. The sensibility of mixing art and fashion has deep connection since long and it always excites the person to look at something which is not commonly seen on the roads.
Styling Options: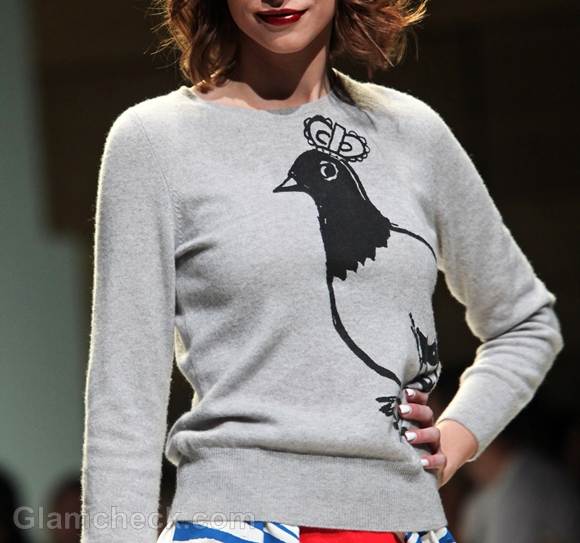 Go ahead and experiment with this collection in some of the coolest ways given below –
Casual Look:
Pick up a large size t-shirt and wear with denim shorts and some funky canvas painted shoes or simply pick up a printed skirt and team it up with a tank top and some jazzy bag.
Party chic:
Pick up a long t-shirt a bit above the knee level, tie a belt around the waist and match with a shrug or a 3/4th sleeve jacket and a pair of sexy pumps or stilettos. You can also pick up a funky print skirt and match it up with a single top and a waist coat and a chunky neck piece.
Mix-n-Match:
Pick up colors which will create a vibrant combination and set your accessories and footwear in accordance with that. Just keep in mind that it should not look like you have just stepped out of a circus. A bright color with a subtle but slightly elated pastel could do the trick.
Back to School:
You could pick up a t-shirt and pair it up with your old school pants or skirts and accentuate the look with a tie and a pair of classic denim converse shoes. 
There are more ways and styles to experiment. We hope you do follow these and come up with your own and share it with us.
Image: Zvonimir Atletic / Shutterstock.com