It was just another day in the life of BBC presenter Fearne Cotton as she hurried down the streets of London on June 4 to get to work. As usual, the 30-year-old sported a stylish daytime look.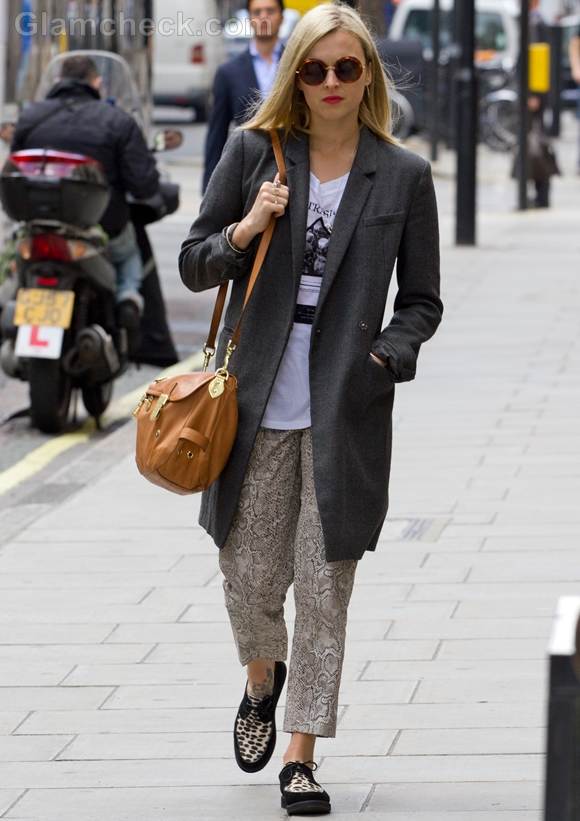 Fearne donned a V-neck white tee and snakeskin-print pants under a dark grey overcoat.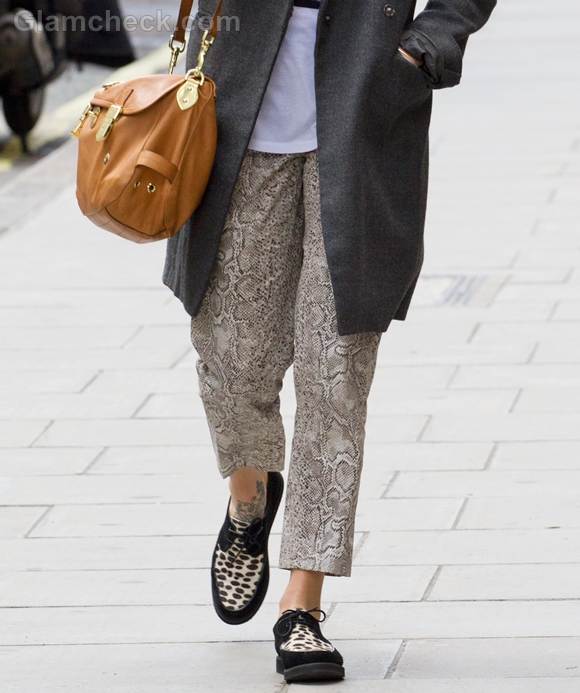 Snakeskin print pants
She accessorized with a tan-colored satchel purse – the kind she's most fond of toting to work – large, amber-framed sun glasses, a few finger rings, and laced-up, flat shoes with cheetah spots on the front.
Her blonde hair has grown out now. She wore it sleek and straight, although still with that wonderfully endearing wind-blown look about it.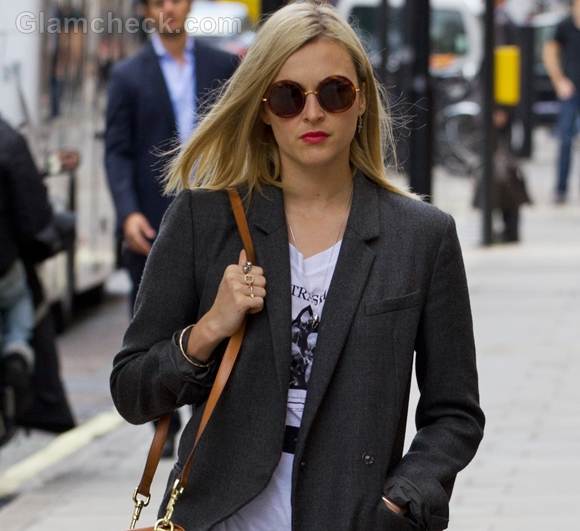 Street Fashion : Fearne Cotton Rocks Grunge Look
We love that red-hot lippie. She usually goes for natural lip colors, which is great because a natural daytime look is always in fashion, but you have to admit the vibrant shade makes her look sooooo much sexier.
What's always so wonderful about Fearne's street looks is that they are so totally doable. She's no slave to trends but she looks modern and fashionable. Her outfits exude a charm precisely because of the distinct personal styling that goes into putting them together.
Get the Look
This look is all about comfort. And as any woman who has ever felt bloated knows, there's nothing better than over-sized clothes for comfort wear. Over-sized clothes cover up both a skinny frame as well as a chubby one. They camouflage problem areas and bring the focus on the style instead of your body, especially if you go for some nifty layering.
You can sport this type of casual ensemble whenever comfort is key, especially for a long period of time. So an extended shopping trip, a cozy get-together with friends and even a day at work are all ideal scenarios for this look.
Image: waynehowes / Shutterstock.com