The asymmetrical hemline has been making quite a wave this summer, and has been seen on many celebrities in different avatars – which reaffirms its popularity and makes it a trend to watch out for.
There is something quite summery about this type of a hemline, primarily because it brings to mind breezy days which play with the lower part of a dress.  An asymmetric cut on the hem of a dress manages to combine shy and sexy in the right manner, because it hides and shows at the same time. This makes the whole effect rather tantalizing, and in a good way.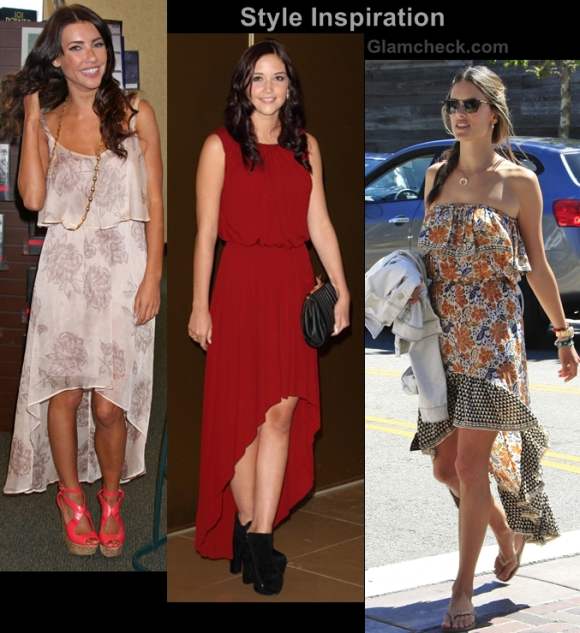 Style Inspiration : Wearing Asymmetrical Hem Dresses
Let us look at some beautiful divas that are our style inspiration for sporting an asymmetrical hemline in their own way, and doing total justice to the look.
Go Casual
Alessandra Ambrosio showed us how to keep the asymmetrical hemline casual while she enjoyed a walk on a hot day in Malibu, California.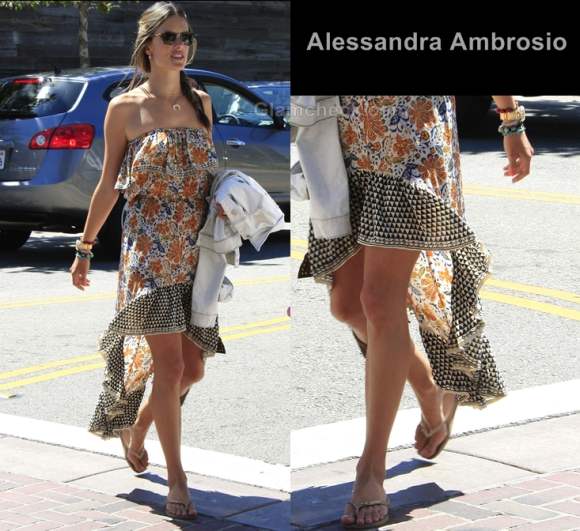 Her floral tube dress was perfect for a laidback day and the frilly asymmetrical hemline added the right chutzpah to the attire. She paired simple thong flat sandals, chunky bracelets and an interesting pendant with her outfit. Eighties glasses and a side swept messy plait completed her look. She is the perfect style inspiration for showing us how to wear the asymmetrical hemline casually.
Go Funky
Jacqueline MacInnes Wood put in a funky appearance in her asymmetrical hemline at the William J. Bell Biography Book signing at Barnes and Noble in Costa Mesa, CA.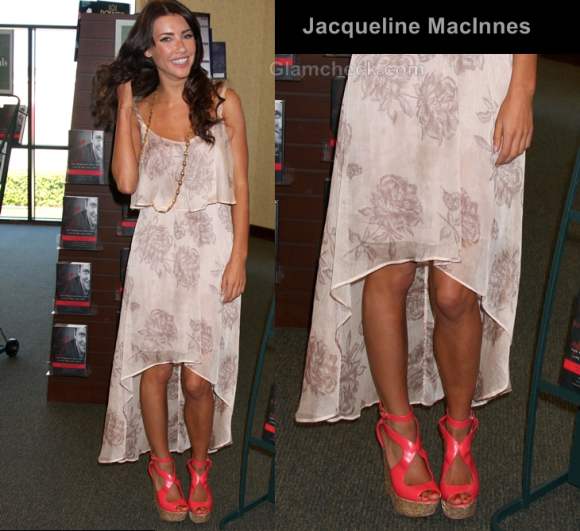 She wore a layered string strap dress in off white with brown floral prints. Her coral wedges added a funky element to the ensemble. A long golden necklace was her only accessory. She kept her hair styled in beach girl waves. Her attire gives us the style inspiration to know how an asymmetrical hemline can be sported to semi-formal or luncheon events.
Go Formal
Jacqueline Jossa gave us inputs on how to wear the asymmetrical hemline for formal occasions and parties, when she appeared dressed in one for the "Magic Mike" European Premiere at the the May Fair Hotel in London.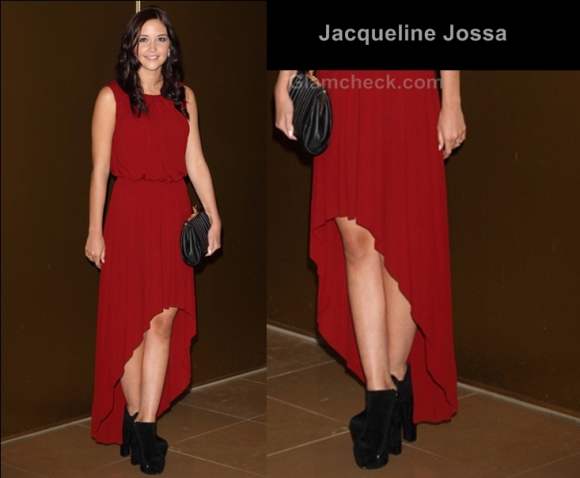 She looked quite becoming in her sleeveless Grecian style red dress, though we just wish she had chosen a different pair of footwear – in fact, anything but what she is wearing! She would have looked nearly perfect then. However, overlooking her choice of shoes, she is quite the style inspiration for carrying the asymmetrical hemline so gracefully at a red carpet event.
More tips for wearing asymmetrical hemline
Since this type of a hemline has a very dainty and feminine look, therefore choose your footwear correctly. You can pair stringy strappy stilettos and sandals with your outfit.
Don't restrict yourself to wearing only one piece dresses that have this cut, rather you can even choose skirts with asymmetrical hemlines. They would look best with camisole tops, halter necks, tubes, peasant and stringy tops. However, try not to pair them with t-shirts.
Wavy and curly hairstyles add more pizzazz to asymmetrical attires, so you could try those out. You can even wear your hair in a voluminous messy side plait if the occasion you are getting dressed for is casual and fun.
 So, go ahead, and let your legs play peek-a-boo in asymmetrical hemlines!
Image: Shutterstock.com