With the summers here, classy swim wear has become a must to have in every modish swimmer's wardrobe. Swim cover ups look great and enhance your over all style quotient. Not only are they a great way to cover yourself when you come out of the water, they look uber trendy too. Our style pick of the day is a must have item in your wardrobe, a stripe beach kaftan from Mara Hoffman's Swimsuit spring summer 2012 Collection, showcased during the Mercedes-Benz Swim Fashion Week at Miami, last year in July.
Decoding the style : Stripe Beach Kaftan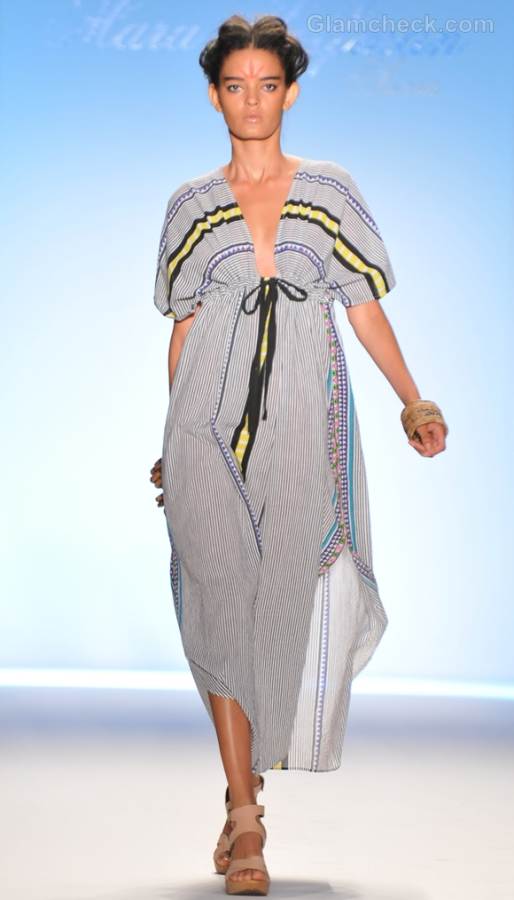 Swim cover ups are a great way to spruce up your look this summer. While you do get shorter kaftans, this Mara Hoffman kaftan is almost ankle length, making it a great style for all body types. With the stripes being in this summer, the style essentially also captures the hot trend. The placement of broad yellow and black stripes across the top bodice and around the center front, with multi-color boho border print at the side seams imparts a unique beauty to the style.
What carries the boho chic look of the kaftan forward is how well the model has accessorized the look. The multiple wooden bangles worn on the hands, almost unkempt hair style, nude colored strappy sandals and the nude make up, with a big symbol marked on the forehead all add oodles of glamor to the simple beach kaftan.
How to adopt the stripe beach kaftan : Glamchecks' top tips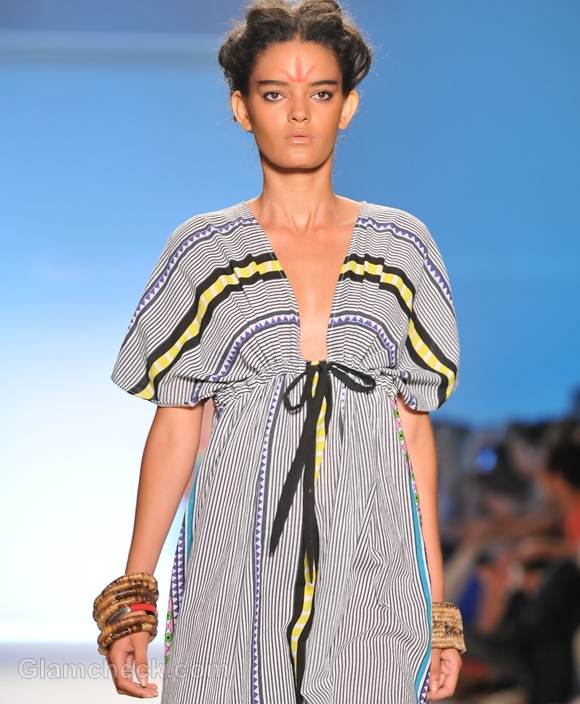 Bohemian is the flavor of the season. And when you combine same with an ever green style a beach kaftan with beautiful summery stripes, you have a winner in your hands.  A few of our top tips will surely help you get this look right.
While an ankle length kaftan looks great, if you have an hourglass figure, don't hide it in the layers of fabric, opt for a shorter length beach kaftan. The short length is sure to get you admiring looks for your well toned leg muscles.
Vertical stripes look great on short as well as tall people. Don't opt for kaftans with horizontal stripes, if you are short or on the heavier side as this may make you look shorter / stouter.
Color blocking looks great when paired with stripes. Go for vertical color blocking if you are tall.
Summery colors always are a sure shot way to nail the look. The ocean blue and white stripes remind you of the sand and the ocean. You could opt for other such shades to look uber cool.
Wearing accessories such as a printed bandana, inspired by the Bohemian theme will look great, while serving the all important purpose of protecting your hair too. Hawaiian hair clips or hair bands with orchids are a great way to add to your look too. 
Opt for flip-flops over sandals; choose from the wide range of  colors, prints and patterns available.
Makeup should be minimal. If you do intend on wearing any make up at all, ensure that it is waterproof.
Last but not the least, if you plan to sun bathe or be in the sun for a longer duration, don't forget to carry a sun block with the appropriate SPF.
Try out our style pick of the day – a stripe beach kaftan and look gorgeous this summer!
Image: Anton Oparin / Shutterstock.com