Popular Hollywood actress Angelina Jolie is easily the poster girl for getting body tattoos.
Rumoured to have been inked at 12 different places on her body, her tattoos offer a deep insight into the person that she is. Each tattoo that she displays has a lot of meaning and is a reminder of some event or person that has helped her to be the person she is today.
We discuss the tattoos that she displays on her arms and what do they stand for, their significance in her life.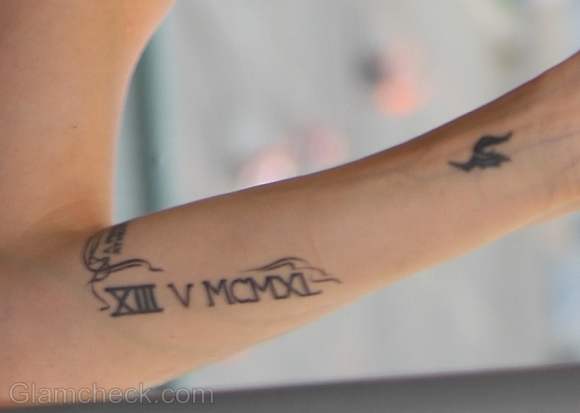 On the left arm inside wrist, the tattoo of the letter H is visible and the figure is reminiscent of a Rune. The letter H stands for her brother's name James Haven though speculation is rife that allegedly, Angelina got the tattoo for her then boyfriend Timothy Hutton.
The Roman Numerals that are inked on the left forearm have been done in two parts and can actually be attributed to two separate reasons. Angelina got the Roman no. 13 (XIII) tattooed to show that she does not believe in the superstition surrounding the no. 13.
Later on, the date V MCMXL was added to the tattoo. V MCMXL stands for 13 May 1940, which is the date when Winston Churchill gave a famous speech, in which he said: "I have nothing to offer but blood, toil, tears and sweat". Perhaps by the way of getting this tattoo inked, Angelina is echoing Winston Churchill's sentiment.
The rows of numbers and alphabets on her left arm stand for the geographical coordinates of where her children were born. Denoted in the form of degrees, minutes and seconds notation, they hold a special meaning for her.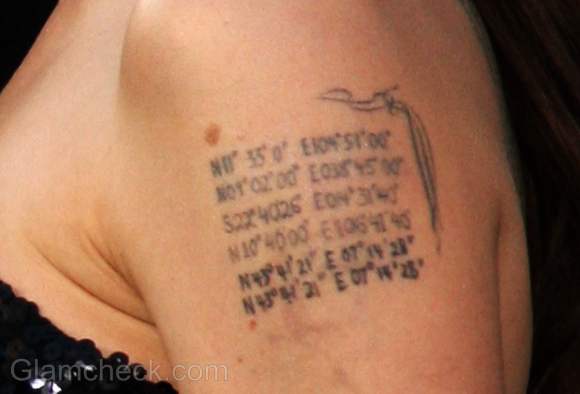 N 11º 33′ 0″ E 104º 51′ 00″ – pinpoint a spot near a pond somewhere near an airport in the Cambodian capital of Phomn Penh where her eldest son Maddox, was born.
N 9º 2′ 0″ E 38º 45′ 0″ – is the coordinate of a house in the Ethiopian capital of Addis Ababa where her daughter Zahara was born.
S 22º 40′ 26″ E 14º 31′ 40″ – is the coordinate in Swakopmund (Namibian beach resort) where Angelina gave birth to her biological daughter with Brad Pitt, Shiloh      ( the peaceful one)  in 2006.
N 10° 46′ 0″ E 106º 41′ 40″ – refers to the coordinate in Ho Chi Minh City, Vietnam where her adopted son Pax was born.
The two tattoos which both read N 43º 41′ 21″ E 07º 14′ 28″, were added later showing the birth locations of the hospital in the French city of Nice where her twins, Knox and Vivienne, were born.
She has also recently added a 7th coordinate, which stands for where her husband famed actor Brad Pitt was born.
The coordinate tattoo covers the area where previously there were the tattoos of her ex husband Billy Bob's name and a dragon. The same were removed and in their place, the coordinates were inked.
Angelina's many tattoos reflect her sensual and exotic personality. 
Image: Shutterstock.com