We've been envious of Jessica Biel's pretty nail art at the Los Angeles Premiere of "Total Recall" at Grauman's Chinese Theater on August 1 ever since we caught sight of it. The beauty sported half-moon silver bits on a background of white nail polish. A little research proved that this look is not that difficult to do.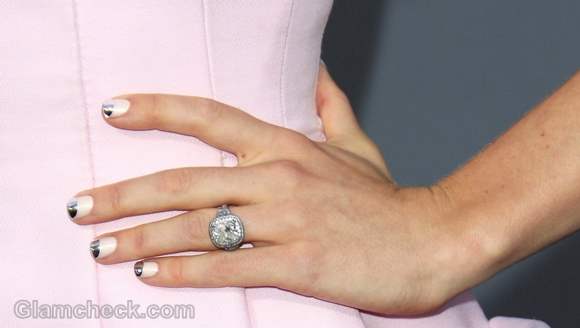 Check out our simple guide on how to re-create Jessica's nails in the comfort of your home.
What you will need:
Nail polish of your choice for the base
Nail wraps in a contrasting color
Top coat
A steady hand
Method
Use that steady hand to apply two coats of your base nail polish. Wait till the first coat is dry before you apply the second one. This will prevent smudging and uneven layers.
Get out those nail wraps. Cut them into half-moon shapes. It's a good idea to do this beforehand so that you don't mess up your newly-painted nails by mistake.
Resort to that steady hand again to stick on the half-moon shapes on the tips of your nails.
Finish off with a top coat.
You can infuse your personality into your nail art. Summer is a great time to try out this explosive, sassy trend. You can go wild with bright colors for the day and neon shades when the sun goes down. Check your local cosmetics store for nail wraps in different colors and patterns and keep a good supply of them at home so you are always equipped to do your nails Hollywood style. 
Image: Helga Esteb / Shutterstock.com