Luxe beach rompers are easy to stash in the bag and equally easy to carry off with elan. It's one style essential that does not require the hassles of matching your outfit. Don't we all spend enough time rejecting outfit combinations each day back home when getting ready ? So who needs that on a holiday! The same emotion goes behind our style pick for the day – a cover up romper by L Space Swimwear Collection spring summer 2012 showcased on 14 July, Mercedes Benz Swim Fashion week, at Miami, Florida.
The Runway Look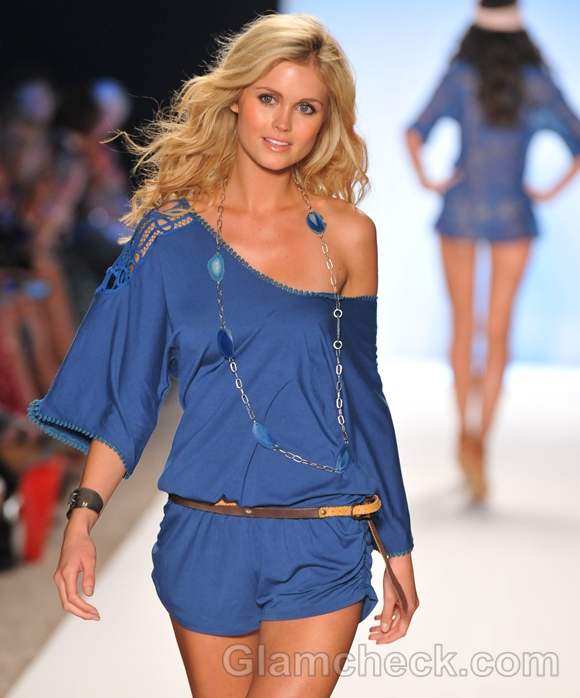 Style Pick : Romper by L Space swimwear Spring summer 2012
Monica Wise came up with a very relaxed yet sexy romper in Klein Blue this season. While looking at her collection we know that comfort is on her mind constantly without comprising on style. Our pick features an off shoulder neckline with and a crochet detail at the shoulder and hemlines. The ruching detail along the sides of the shorts is the right mix of sporty and chic.
The silhouette too, is easy on the waist curves by cinching at low waist with an elastic and defining the rear.
She amplified the effect by using just the right accessories in the form of a long matching neckpiece in chain and beads. Along came a contrasting belt at waist in brown and ochre. A metal wristband was a bold twist to the breezy look.
From Runway to 'Realway'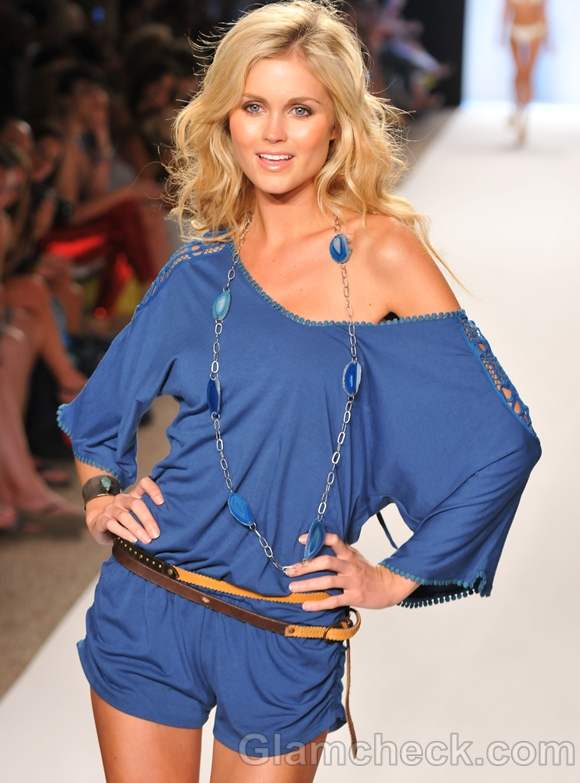 To strike a beach statement with this look, choose a bold hue and highlight your gorgeous skin tone with it. A lighter skin carries off tangerine and teal very well. A more tanned or dusky skin looks gorgeous in blues and corals. Ironic to some, but the darkest tones of skin carry off fuchsia and neon hues beautifully.
 When wearing a solid color piece, the little details added like crochet or faux leather trims or fringes definitely make the outfit more chic and appealing. So deliberately look for standout details.
Choose a style that flaunts your best body parts. If you are blessed with a long neck and high collar bones, off shoulder is the way to go. If a toned pair of legs are your gift, don't shy away from the shortest romper lengths.
Wearing this cover up to the beach? Add a cutesy flip flops and a solid color sun hat too. A tan colored or a straw one can look great with the above romper. To wear it to an evening yacht party instead, slip into raffia wedges and add a statement neckpiece.
If a neckpiece is not your thing, wear your hair up in a messy bun and complete the look with statement earrings and a classic pair of sunglasses. Alternately, to give jewelry a miss altogether, just sport a pair of funky tea shades or cat eye sunglasses.
Image: Anton Oparin / Shutterstock.com