A beautiful skin is an asset which takes over you completely. Great looking skin is often a reflection of good health and care. One can wear the best clothes or tip toe in the most fantastic shoes but a bad skin can take away all of it from you and never in a good way. The glow and radiance of a good skin instantly adds freshness leaving a person with fabulous touches.
Various other fashion options one uses to layer that bring out the best and successfully hide the flaws are ultimately exterior attempts to make you look. However, a good skin is like a good body where the results are strongly dependent on the your diet , lifestyle, care regimes and products used by you.  Every effort made is manifested in some form.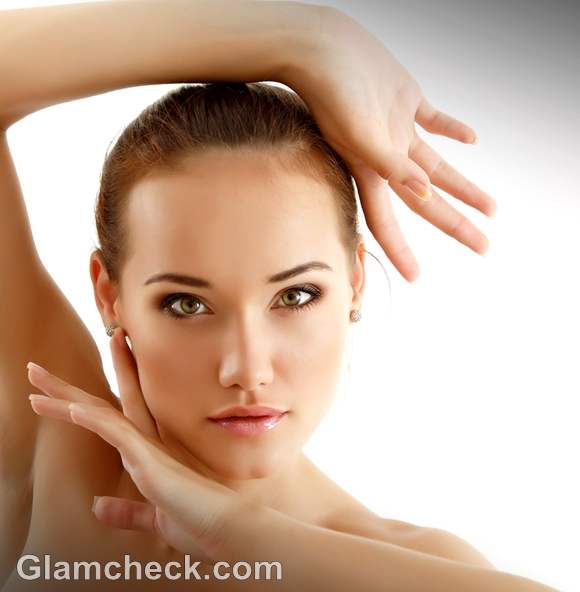 Here are a few ways for you to get a skin that will be relished starting with the intake options:
The Natural Approach:
One can use a million products to reflect a good quality skin, but finally it is the base that always matters which means that even the best of the products can fail when applied on an unhealthy skin. For the skin to look good from within certain factors play a major role, and the major ones have been spelled out:
Hydration:

This is pretty much the first step to not just a healthier skin but healthier everything. Water keeps the skin hydrated from within resulting in a younger looking skin sans the wrinkles and constantly helps it keep moisturised. At the same time it is also important for you to keep washing your face to keep it clean and avoid dust clogging which can have horrible effects on the skin.

A High On Fibre Meal:

Fibre and roughage is extremely important of blood purification which in turn works wonders for your skin. High on fibre elements from the food chart should be the best pals for your skin ranging from apples, flaxseed and whole grains.
Salt & Sugar: Maintaining a balanced amount of salt and sugar can do a lot to the way your skin looks. Excess of either should be avoided at any cost.
Circulation: A decent blood circulation is the next essential thing about your body that one needs to have a skin worthy of flaunting. The only way out for this is a routine of workout which increases the blood flow and at the same time the sweat is a great way for the skin to throw out its waste. Choose your type of workout approach and stick to it.
Eat Fats: Though the idea of the fat might drive one and all further otherwise but the brilliant effects that it has on skin holds them from doing so. It definitely helps the skin be tighter.
The External Effects:
One can't completely write off the effects some of the products have on the skin. Most might be chemicals to be applied for momentary effects but some products really know how to make the difference. A healthy skin is aptly justified with fantastic layers of powder and foundation that takes over it. A great skin devoid of the layers too can end up looking bland. Here are certain skin care procedure and products and a beauty appreciator will love to here about.
Cleansing: This is the first step and for obvious reasons. Cleaning the face and making it devoid of dust attracted through the day, leaves the skin soft and supple. Ensure that you use a mild face wash as a stronger soap can have a harsh effect on the face.
Toning: Try rose water if artificial skin toning aids are something you prefer to stay away from. Beyond that there are a lot more elements that have a great impact on the skin. Maybe not immediate but over a period of time, definitely.
Moisturizing: The third important step and a cardinal rule to skin maintenance is moisturizing it. Dry skin looks erratic and flaky. It is the firmness and softness of the skin that is achieved by this step and surely is an unavoidable.
One should know and be well aware of the skin type and colour. A skin type might at times change with the season but it is important to use the right products accordingly for maximum benefit as an oily skin needs a different care composition as compared to a dry or a combination one.
Foundation, face powders and concealers are some of the most popular approaches to give temporary finishing touches to the way the skin looks. A foundation evens out, concealers is for the darker features of the face and a face powder does a fantastic job of the same by avoiding the shine on the face.
Other Tips & Tricks:
External application of products like honey, milk , lemon juice helps the skin even out and since the approach is natural there is less harm and side effects of chemicals to deal with.

Exfoliation:

Brushing the skin with something rough but mild enough to avoid damage is also important. Coarse lentils or oatmeal has a good effect on the skin and the natural oils aid in its well being.
Try not to pick on acne and boils as it only triggers permanent marks one might have to live with for the rest of the lives.
Get a good sleep. This is a golden rule. A tired body shows its signs and the skin is one of the first ways to do so.
Wear Sunscreen: UV rays are strong and harsh. Avoid it by a good use of sunscreen that successfully manages to block the damaging rays.
Green Tea has anti ageing properties. The right amount of it can be your magic potion.
Ensure you remove the make up every night before going of to sleep even if it is basic face powder as it can create a havoc.
Follow these and make them your golden rules, any kind of regime is always hard to adopt initially but once it becomes a part of life it actually is a habit. And that is when even skin care seems an effortless approach. A glowing skin can win a lot for you and if it is a sign of the good health then why not strive for it!
Image: Shutterstock.com