As we welcome spring, to meet it's newly blossomed flowers and an all colorful landscape – the only meaningful thing to do would be taking a picnic. But do you plan on wearing your 'work hairstyle' to picnic? Give a fun hairstyle a chance instead. Brighten up, dress up spread the cheer through your hairstyle too! Read on to find an array of styles to choose from, to each its own!
Trendsetter A.k.a Be chic!
If you identify with the words above, the key word for your hairstyle would be accessorizing. Look at bold but chic options teamed up with quick and simple hairstyles.
Try a retro hair band
We chose a red polka dot here, with a bold knot. It can be worn on natural open hair – long or short. Contrast your hair color and choose a band without bling – as it should look a daytime accessory and outdoorsy at the same time.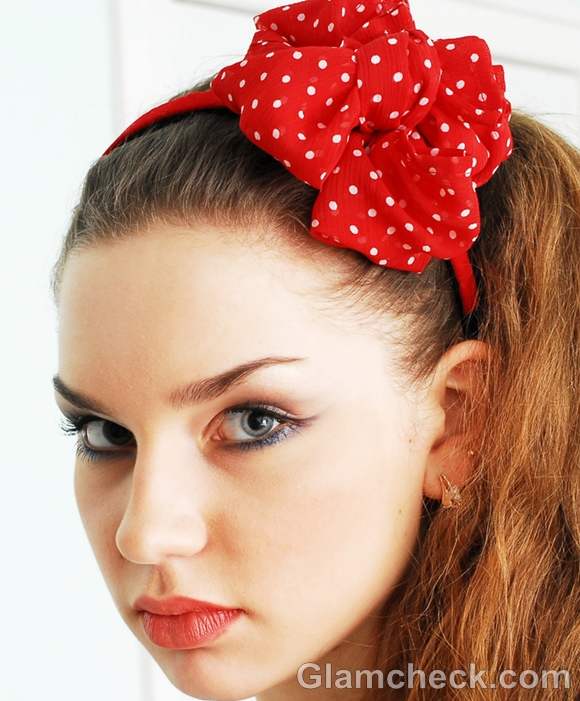 You can also try tying a scarf like a hair band with a knot at the top of the head, similarly to the hair band above. Choose bright florals or cute conversational prints!
Tip: Think of a Spanish dancer while doing the make up for this look. Bold red lips and defined eyes gel very well.
Sun hats are the way to go!
These are very functional on a picnic as they definitely provide your face with sun protection as well as turn your whole look around from ordinary to remarkable.
Sun hats look beautiful with loose hair shoulder length or longer. You could have them straight or sport a wavy out of the bed look. Messed up hair look portray you are not trying hard and add the right charm to a relaxed picnic. Use a  hair spray to make them stay in place.
Tip: Pair up with your favorite glasses and a natural pink pout.
How about a head band?
A free spirited picnic calls for a helping of hippie dressing. Choose a solid color – a burnt orange or a red or sea green.
And not only a head band, fashion turbans these days are rocking fashionistas the world over – with chic colors and prints to choose from, who would say no.
Straight loose hair complement this updo. Do not part your hair while sporting this one. In fact puff them up a little while wearing the band.
Tip: Natural lips with kohl on the rims of your eyes (and a little white accents on the inner corners) look perfect alongwith.
Girl Next Door a.k.a Keep it simple!
For those who believe beauty is in simplicity – these are the right hairstyles for you.
Braids
Part your hair on your natural side. Tie a braid but it should sit in the front of your shoulder on one side. Let the hair on the other side loose, as a few strands that way look pretty and unassuming.
Be natural with the makeup here with only gloss and mascara.
Tip : Make up for the simple hairstyle by wearing a cheerful color in clothes.
Do you have naturally curly hair?
Perfecto Perfecto! It's maybe all you need as it adds a character of it's own to any dress any outfit.
Wash your hair before, to achieve fresh curls. If you need to hold them in place, puff a few strands in the centre and pin them up.
In case you are not blessed with curls and long this hairstyle, read a quick How to Curly hair.
Tip : Shape your brows and flash a smile!
Try a different braid this time
Tie a fishtail side braid.
To add more to the style part your hair from the very corner and upwards – as shown in picture. Do a double braid. One primary – holding your first strands together and then the secondary braid that holds all of your hair together.
Let the loose strands be, and do not try to be very neat with this hairstyle.
Tip: Smoky eyes with blushing cheeks and rosy pink lips are ideal to spruce up this hairstyle.
Straighten your hair, but not to perfection
Let them look natural and not machine done. Part your hair to a side. Add a small amount of volumizing  spray to prevent the hair from appearing flat.
Tip: Wear a rose pink lip color and kohl lined eyes. Also, check shirts look as laidback as this hairstyle requires.
Enfant Terrible a.k.a. Stand Out!
For the bold and fearless ladies out there, these hairstyles are a must try. But there are degrees to fearlessness too. So we start at the top and gently slide to the less daring.
Usher in your Milliner friend to create a custom piece that defines spring
Get roses, apple blossoms, grapes and the entire garden to sit pretty as a metaphor on your mane. A classic fringe bob haircut, neat and no fuss is enough to be the backdrop for your head gear.
Tip: Natural lips, flimsy gold accessories and manicured nails – Ah what final touches to the look!
Be Eve!
What do you think she would have worn to please her Adam? Of course a flower crown!
Make a bunch of your favorite – glory lilies, cherry blossoms, peonies or prim roses. Needless to suggest a natural loose hairstyle, combed with fingers only.
Rosy pink lips with eyes defined lightly with kohl.
Tip: A white tube dress will add the touch of purity.
Spring Flowers
If garden hats and flower crowns are a little too bold for your taste. Why don't you braid your hair on a side and don it with spring flowers.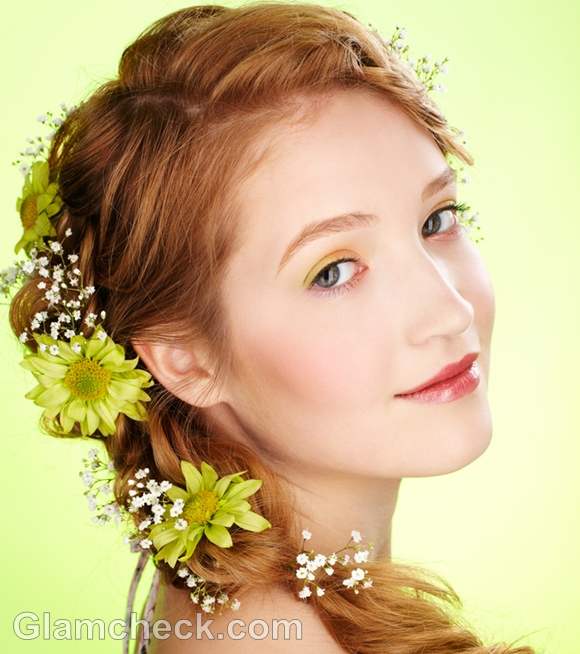 Use a mix of small twig like flowers and the bold and bigger ones. Part your hair to one side and let your braid rest on the other. You could also tie your side bangs into a mini braid.
Tip: How about using an interesting color of flowers (natural or artificial) like green. Match them with a dewy eye shadow in green and a light warm orange. Blush up your cheeks and wear a delicious pink lipcolor.
How about a hairstyle twist?
Sport the princess Leia look with two side buns. Add a zerbera or a sun flower on side. This hairstyle sets you apart and the added flowe speaks of spring.
Tip: Go for natural dewy pink lips with defined eyes and brow. Add your favorite earrings too
If opting for a regular loose ends bun.
Don it with an eye catchy flower too at the back.
This in fact is the perfect example of how to twist  your 'work hairstyle' to fit into a 'picnic hairstyle'
Tip: As the emphasis is at the back, wear a deep neckline at the back and add a neckpiece to the front.
Image: Shutterstock.com