Talk of long, lustrous hair and the story of Rapunzel throwing her hair from the tower for her prince to climb upon to take her far away come to ones to mind. This story that you might have read in your childhood days might have made you to dream about growing such long, strong and healthy hair, but can you really do that? The answer to the question is that although you may not end up growing such a long hair but you can undoubtedly have healthy, shiny and lovely one if you keep yourself informed of the factors that make your hair dull and if you inculcate hair friendly habits.
What Makes the Hair Dull?
Some people blame their hormones, genes, stress for a dry, dull and falling hair but they just don't recognize that there are the following factors which make it so:
When you over wash and shampoo your hair much more than it needs, it actually does more harm to your hair than making it healthy. Shampooing your hair more than two or three times a week soaks away the shine producing moisture form your hair!
Usage of unhealthy dyes can make your hair strands brittle and your hair lifeless. Dyes containing ammonia and PPD(p-phenylenediamine) manipulate the natural structure of your hair, its better to go for a low PDD and ammonia free dye.
Research shows that too much exposure to sun's rays abates the hair's protein and causes the hair's discoloration.
Many people nowadays use many heavy styling products like gels, sprays, waxes on their hair. These products may in turn build up on the hair, making it seem brittle and making you feel as if there's some residue still left after you wash off. The best remedy usually is the costly hair detox treatment that you might have to undergo.
Blow drying the hair may prove to be suicidal for the hair especially when you hot blow dry your hair after every wash. When you regularly blow dry your hair, it causes the hair to break down easily, makes it dull and takes away all the natural shine from it in the long run.
Dandruff and a dry scalp make a good pair for making your hair weak and dull. Dandruff comes due to lack of a proper nutrition and lack of sleep.
Healthy Habits that Lead to Healthy Hair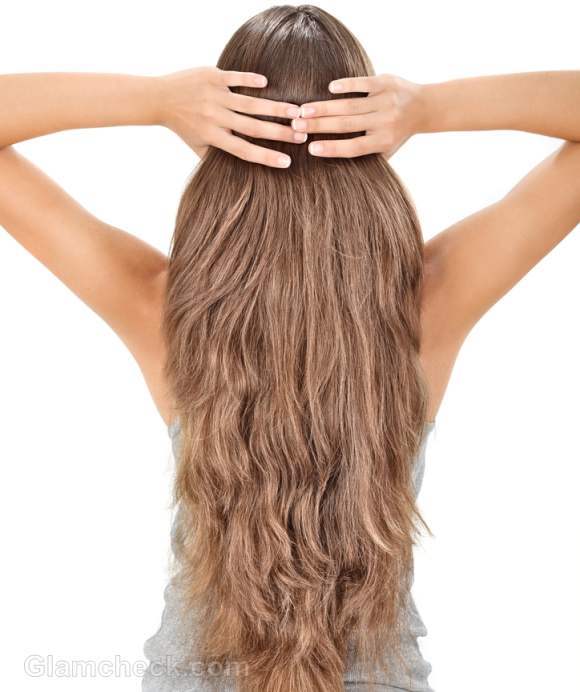 Taking care of your hair isn't too cumbersome and you won't need a dictionary to learn the habits that you can cultivate for a shiny yet strong hair. Make sure that you include the following habits in your lifestyle:
Combing your Hair Everyday:
This habit might sound too basic, but there are some who comb their hair alternatively and just bunch the hair up so as to skip the efforts of combing it. Brushing your hair properly from the root to tips daily helps spread the natural oils on your scalp in turn making your hair look shinier and healthier.
Maintain a Moist Hair:
There are millions of tiny scales that cover your hair, so when they dry, they stand up making your hair look wiry. So to prevent such a situation, you might use a high quality conditioner to keep the hair locks moisturized. It is also recommended that you drink at least a lot of water everyday to keep your scalp moisturized.
Hair-friendly Diet:
If you think that what you eat doesn't effect your hair, you are mistaken! Nutrition deficiency is the common reason why a hair looks lifeless. It is extremely essential that you eat a protein rich diet (which includes cheese, eggs, gram) and make sure to boost the intake of iron, omega-3s and silica that provides that extra strength to your root hair and prevents hair fall.
Regular Trimming:
As your hair grows longer, your hair ends move to the bottom. They are the often the driest and the oldest parts of your hair. Make sure that you make it a habit of snipping just an inch or a half of these hair ends every two or three months, otherwise they become so dry that a daily moisture would do them no good.  This makes sure that your mane's ends remain shiny and give your hair a fresh look always.
Oil your Hair:
You all know how much relaxed you feel after a good massage so why not massage you hair with any nutritious hair oil. Oil massaging the hair, unclogs the follicles, breaks away the hard fragments on your scalp and moisturizes the hair. You can oil your hair, one or two hours before your bath or if its okay with you leave it overnight and then use a good shampoo to give that extra shine that prevent the hair from looking oily.
Let Your Hair Breathe:
It is important that for a couple of hours a day you keep your hair free form clips, rubber bands or scrunches. This ensures that the pressure around your head is released which helps it regain its normal blood circulation. It is also advisable that you handle your hair carefully when they are wet, gently squeeze the water out of them and don't tie your wet hair locks soon after a bath.
Cover your Hair at Night:
This is one of the most inexpensive ways of keeping your hair healthy. Slip a silky or a satin hair cover under your tresses before sleeping rather than putting your hair on those cotton pillowcases that soak up all the moisture form your hair. Not everyone likes a hair bonnet, so you can instead try a silky pillowcase. It will be equally effective and will ensure that you wake up in the morning by touching your soft hair not the one that has been dried out.
Scalp Care:
Your scalp can actually give you hints as to how to care for your hair. If the scalp is dry then that means your hair is also dry and will probably break while on an oily scalp the roots of your hair fall flat by midday. It is advised that you choose a shampoo that is suited to your scalp and choose a conditioner for your ends whether they are curly, damaged, dry or colored.
Proper Hairstyling Tools:
This is one aspect that you might skip while taking acre of your hair. It is advised that you avoid using-accessories with hard edges, combs with little space between its teeth and old metal plates to straighten your hair. Only those tools should be used that don't rip, tug and pull your hair.
It can be concluded that there are many factors that come into play when you look towards maintaining those tresses of yours. The key doesn't lie in being able to spend good bucks on your hair in saloons, spas or parlors as it plays a very small role but instead in taking the right care that your hair deserves on a regular basis. So from now on stop blaming the hair gods if you have a ruffled hair but remember that you have more power over your hair than what you probably think!
Image: Shutterstock.com