White shorts are a very adaptable piece of clothing that can be made to form a part of a plethora of looks, one such take is the cowgirl style. A simple addition or two can make you look completely in sync with the Wild West woman in you.
This look has a very casual smart feel to it and you can sport it on lazy summer days when you want to spunk up your style with minimal effort on the clothes department.
Rock the Fashion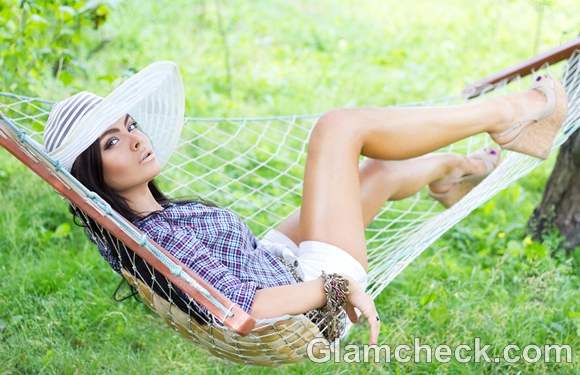 A basic plaid or checked shirt is one of the mainstays of this ensemble, which has to be paired with white shorts. You can also opt for white denim shorts, instead of a cotton one.
Rock the Beauty
To apply the makeup seen in the photos here, start by applying a thin base to your face. This can be done with the help of a light foundation.
A light lilac colored eyeshadow should be used on the inner corners of the upper and lower eyelid.
Apply a gray or a brownish eyeshadow on the crease and the outer corner of the eyelid.
A thin line of kohl on the lower eye rim and a dash of mascara will complete the eye makeup.  Make the cheekbones look sculpted by applying blush right under your cheekbones. Finish with a nude lip gloss.
Leave the hair open in their natural style. Apply some shimmering lotion on your legs to exude more oomph.
Rock the Style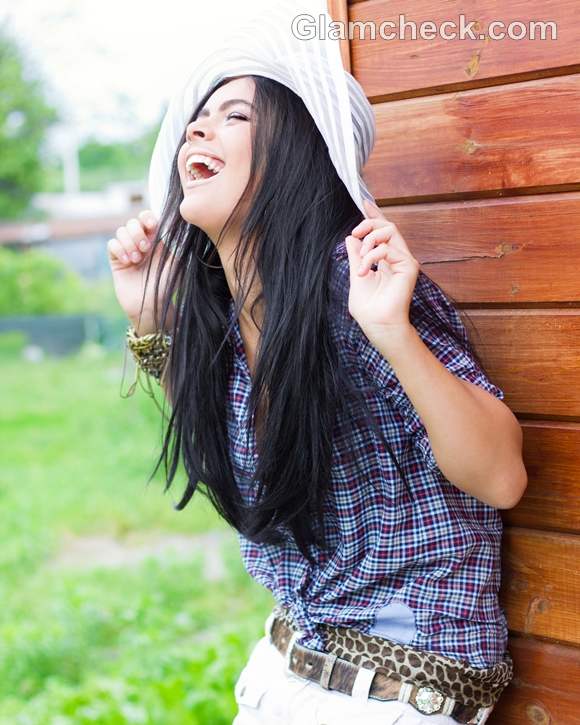 The stylization is one of the key factors that transform this normal shirt-shorts combination into one that exudes cowgirl style charm. And, a lot of this can be attributed to the addition of a hat. However, here you have to ensure that the hat you pick looks like one that belongs to the Wild West and not something that looks more suited for a sundress. If you cannot get your hands on a felt tip hat then opt for a wide brimmed hat.
Add chunky bracelets and a belt, you can also opt for a cowgirl patterned one. A pair of high sling back wedges will look stylish. If the weather permits, and is not too hot, you could choose a pair of boots or booties.  
Glamcheck's Rocking Tips
You could wear a white vest inside and keep the buttons of the shirt undone, and tie the shirt in a knot around the upper waist.
Alternatively, you can wear a denim sleeveless jacket on top of the shirt and keep the buttons of the jacket undone.
Image: Shutterstock.com