The wedding season approaches again and brides are armed with a list of must-haves for their wedding night. Every girl wants to look like a Princess on her Big Day and so do we, but the nights want the princess to look better than her best.
Weddings are a serious affair and that perfect wedding night has to be flawless after all. You definitely want to add a zing even after the celebration is over, is it not! Here's a guide to tell you how!
Selecting the Perfect Bridal Lingerie:
Bridal lingerie's are sensual pieces of clothing crafted to keep your husbands under your spell all through the honeymoon and even after that. You shouldn't worry about the place you are proceeding to for your honeymoon because that piece of art will always bring him closer no matter where you go.
Pure as White
The color white denotes chasteness and undefiled love. The color will look sensuous on you and soothe his nerves.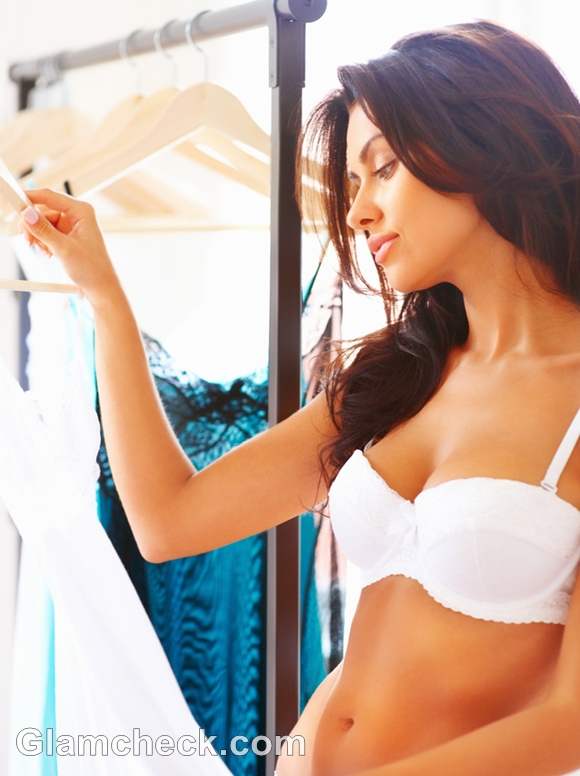 Spicy tip: Go for pastel shades like cream, baby pink and so on to make him see you as his Grecian queen.
Lacy and Racy
Would you like to know the effect of lacy underwear on your man? You should check it out at once.
Lace him (pun intended) with the delicate fabric when he sees you in the solitary room, and clings to his senses for all that he can. No one can perceive the effect that beautifully crafted lace underwear can have on him.
Spicy Tip: Look racy with sexy baby doll dress which exposes the lacy underwear beneath.
Stalk him with Stockings
Silk or nylon stockings with a hint of lace can make a bold statement. Stocking always clings to your porcelain skin and is a sensual way to show off those long, dainty legs.
Spicy Tip: Seduce him with gossamer stockings up to the thighs. Look at the picture above and fantasise about the pure indulgence.
The Garter-effect
Garters are bands of fabric used to keep the stocking in place. Suspenders can be worn for the added effect.
Spicy Tip: Suspenders draw attention to your legs. Make sure you flaunt them with elan.
Be the Diva
Sprinkle some sauciness, a bit of attitude and oodles of confidence and jazz it up with some make-up to be the glamorous diva he always thought you to be.
Spicy Tip: Let your inner diva shine through. Do not let the girl-next-door image bug you. You must look and feel glamorous on your special night.
Secret of the Hourglass Frame: Corset
Corset is a bustier like garment which is boned to stiffen and give shape to the body. It forms the hourglass figure and is favorable for women who are busty. It stream lines the body and makes you look desirable in more ways than one.
Spicy Tip: Wear a hot G-string lace bottom to complement the corset. We bet your man cannot take his eyes off you.
Perfect Lingerie for your perfect body
Wear the perfect bridal lingerie especially sized for your body and look flattering in it. He is bound to sing, "Your body is a wonderland".
Accentuate your best assets by knowing your body-type. If you are busty then wear corsets to streamline your body or wear a daring neckline which shows ample amount of cleavage. If you have an amazing derriere then go for boy shorts. Padded lingerie gives you a well-rounded look and gives an illusion of a flawless, voluptuous bust. Wear padded if you are lacking in volume. If you want to hide that extra large tummy of yours then go for flirtatious teddies which hide the mid-abdomen and are open on the sides. Last, but not the least, feel sexy.
There is no lingerie in the world that can make you look sexy if you do not feel it. Your man is standing with open arms to embrace you, just go for it.
Spicy Tip: Do not obsess with the tiny bit of flab on your abdomen or the negligible tyre around your hips; he is bound not to notice it. You need to have confidence in what you wear. Exude sexiness with your attitude.
Your wedding gown will lock all eyes in the room in wonder but the woman underneath the gown will behold the gaze of her beloved. Arm yourself with the best of bridal lingerie and look every bit the princess that you are.
Image: Shutterstock