Get ready for some exotic beach holidays with gorgeous beachwear from the Caffe 2013 S/S Swimwear Collection by designer Paula Saavedra. Her creations were on display during the Mercedes-Benz Swim Fashion Week on 21 July in Miami this year.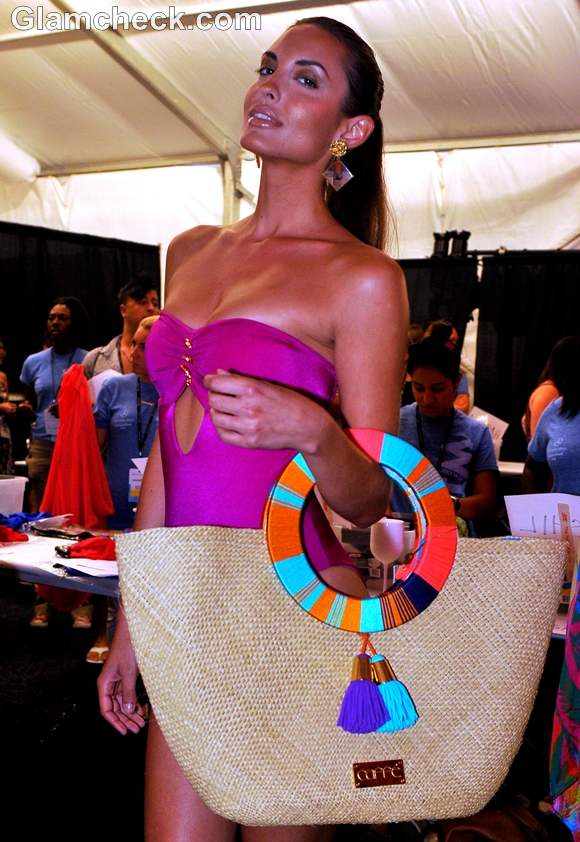 Caffé Swimwear Collection S/S 2013
A combination of the latest fashion trends with influences from her journeys involving different cultures and experiences served as inspiration for this Spring/Summer collection that consisted of a wide range of colorful and glamorous bikinis, swimsuits, cover-ups, kaftans and beach bags.
The Collection
Amongst the swimsuits, we saw a variety of styles and cuts. And not only were the styles creative, they were chic and sexy too. 
There were elegant one-piece swimsuits, multi-colored halter and single strapped bikini tops, bandeau bikinis, string bikinis with ruffles and triangle top bikinis. Some bikini bottoms had side tie-ups and others had side rings.
Besides being available in these different styles, the bikinis were also mixed and matched; alternating between combinations of solid colors and prints.
The color palette for the collection was vibrant and exquisite and the fabrics used were in shades of black, white, bright pink, fuchsia, coral, blue, navy, yellow, green, turquoise, tangerine and red.
Colorful beach handbags were used as accessories in a wide range of shades, shapes and sizes to complement all the swimwear on display. Hand clutches, shoulder bags and tote bags were the predominant bag styles displayed with large coloured tassels attached to them.
 Prints with a tropical influence and prints that captured the shades of the sea were seen on chiffon and cotton cover-ups and kaftans. These prints were also seen on the swimwear with different colour combinations.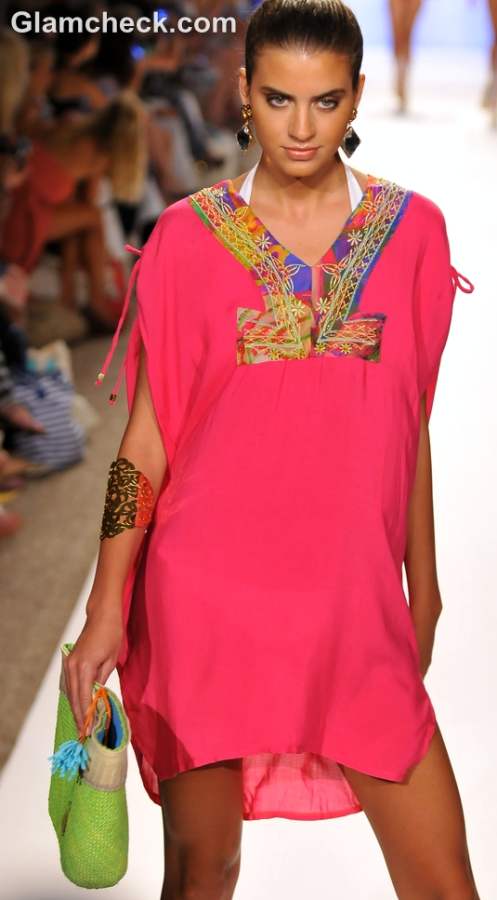 Some kaftans and cover-ups had hand-embellishments & detailing that definitely added a new glamorous look to the entire ensemble.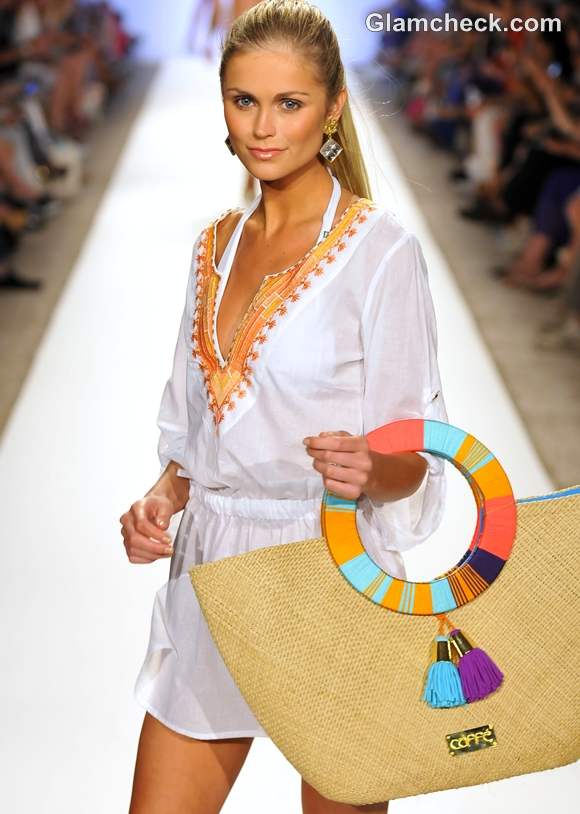 These kaftans and cover-ups are great to look chic and trendy especially at night and can be worn anywhere, at any time.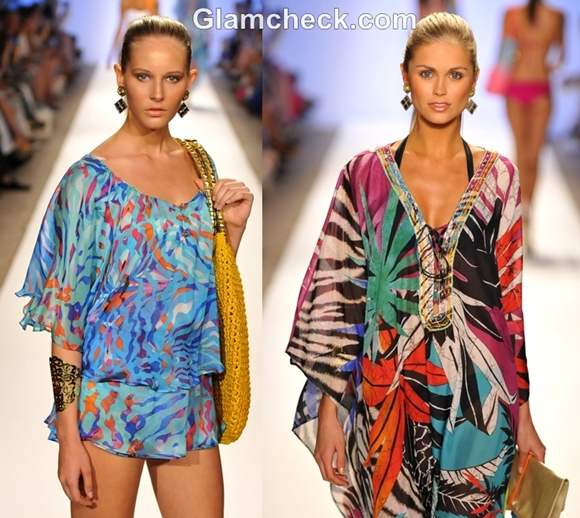 As for the makeup, it was made to look as fresh and natural as possible with a hint of colour on the models lips. Their hair was tied-up into a straight, high ponytail, perfect to beat the summer heat.
 We also noticed that most models were walking down the runway with a large gold cuff bracelet on their arm, square earrings and metallic gold wedges. All these accessories were in addition to the beach bags and complemented each other beautifully.
Overall, this collection is all about easy elegance, style, fit and comfort. When asked to describe the Caffe brand, Saavedra says: "it's a lifestyle of relaxed luxury." And what better way to cater to her audiences than by providing them with just that.
Image: Anton Oparin / Shutterstock.com